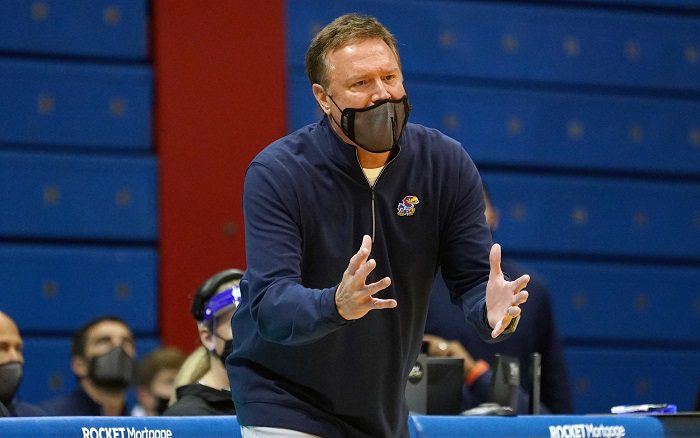 Here is the Heartland College Sports Big 12 men's basketball power rankings as of Dec. 7.
Big 12 play finally started with Oklahoma facing TCU on Sunday. But the rankings look pretty familiar this week, as most of the conference enters their final week of consistent non-conference play before dipping into an early start to league action this coming weekend.
1. Baylor (3-0) (Last Week: 1)
Results this past week: def. No. 5 Illinois, 82-69.
Due to COVID-19 concerns in the Gonzaga program, we did not get the hotly anticipated game between No. 1 Gonzaga and No. 2 Baylor. Honestly, you could have billed it as No. 1 vs. No. 1 (the Bears are No. 1 in the Coaches' Poll). But in their only game last week, the Bears proved they are worthy of being among the top teams in the nation, defeating then-No. 5 Illinois, 82-69. Illinois presented challenges in the paint and on the perimeter and the Bears handled them both. Baylor showed off its depth in this one, with Adam Flagler coming off the bench to lead the Bears with 18 points. Jared Butler had a huge first half, but finished with 12 points. Davion Mitchell had 15 points and MaCio Teague had another 11. We expected the Bears to be guard-driven. But the emergence of Jonathan Tchamwa Tchatchoua is worth watching. The 6-foot-8 forward is coming off the bench right now, but he's averaging 9 points and 8.3 rebounds. The Bears need him to remain that consistent and then get a bit more out of Flo Thamba (3.3 points, 3.0 rebounds) and that, in combination, would put the Bears in Freddie Gillespie territory. To me, the Bears remain the best team in the Big 12. But their first Big 12 test is coming soon against Texas.
2. Kansas (4-1) (Last week: 3)
Results this past week: def. No. 20 Kentucky, 65-62; def. Washburn, 89-54; def. North Dakota State, 65-61.
Kansas struggled in the first half against the Wildcats. But in the second half Jalen Wilson, the redshirt freshman, became a man, scoring 21 of his 23 points in the final 20 minutes as the Jayhawks took the win. Wilson ended up with a double-double (10 rebounds). Christian Braun had his second big game on the glass for the Jayhawks (13 rebounds, along with 8 points). KU ended up outrebounding the taller Wildcats, 47-43. But if I'm Kansas head coach Bill Self, I'm worried that center David McCormack isn't the leading rebounder after a handful of games. But then McCormack turned right around and scored 17 points and 6 rebounds against Division II Washburn. The best part of that game was that Kansas was able to get 10 players on the floor for at least 11 minutes. Kansas wrapped up the week by eking out a 65-61 win over North Dakota State. Wilson had another huge game, pouring in 14 points and grabbing 15 rebounds. Tyon Grant-Foster had an intriguing game off the bench, scoring 8 points and grabbing 8 rebounds. The Jayhawks need more of that, and they shouldn't be opposed to slipping him into the starting lineup for McCormack as a test drive.
3. West Virginia (4-1) (Last Week: 2)
Results this past week: lost to Gonzaga, 87-82; def. Georgetown, 80-71.
West Virginia gave the No. 1 Gonzaga Bulldogs everything it could handle in that five-point loss in the Jimmy V Classic. It was West Virginia's first loss of the season, but its reliable rotation is
clear. Derek Culver reinforced his fast start to the season (18 points, 15 rebounds), Miles McBride is the No. 1 guard (10 points, 3 rebounds, 5 assists) and Taz Sherman is great offense off the bench (12 points). From there, Oscar Tshiebwe (14 points, 9 rebounds, 5 fouls) has to find a way to avoid foul trouble each night, and while Gabe Osabuohein (10 points) is very good depth up front, he's not going to create his own offense. From there, guard Sean McNeil, forward Emmitt Matthews Jr. and a host of younger players are going to give the Mountaineers whatever they can. The Mountaineers bounced back nicely with a win over Georgetown, led by McBride's 17 points. It was the usual suspects, scoring-wise, for WVU. The nice piece of the win over Georgetown was the 15 turnovers the Mountaineers forced and their plus-10 in the category for the game. Defensively they look like the best defensive team in the conference, but Baylor is nipping at their heels.
4. Texas (4-1) (Last week: 4)
Results this past week: def. Davidson, 78-76; def. Indiana, 66-44; def. No. 14 North Carolina, 69-67 (won Maui Invitational); lost to No. 12 Villanova, 68-64.
Texas started the week at the Maui Invitational in Asheville, North Carolina (just go with it) and the Longhorns came out the champs, with a nice win over mid-major Davidson and a last-second win over ranked North Carolina. The guard play really drove the Longhorns throughout the event, with Matt Coleman III, Andrew Jones and Courtney Ramey playing consistently well in three straight days of games. Texas ended the week with a four-point loss to Villanova at home. Ramey and Coleman III each had 17 points. Texas remains a guard-driven team, with Coleman and Ramey really driving the bus. Super freshman Greg Brown has cooled off a bit, but he's still grabbing at least six rebounds per game, and that helps support Jericho Sims and Kai Jones with the inside game. A split with Top 20 teams is nothing to sneeze at for this Texas team, which is playing with the sharpness of head coach Shaka Smart's new haircut.
5. Texas Tech (4-1) (Last week: 5)
Results this past week: def. Troy, 80-46; def. Grambling State, 81-40.
Tech managed to slip in a game with Troy on Friday after having to cancel their Big 12-Big East Battle game with St. John's. The Red Raiders cruised past the Trojans, with transfer Mac McClung leading the way with 20 points and 5 assists. Kyler Edwards scored 14 points and Terrence Shannon Jr. added 13. Tech's field goal and 3-point hash was great (.549/.579), but the free throw shooting (.591) has to get better. Against Grambling State, Kyler Edwards had a big game, including a double-double — 13 points, 11 rebounds, 5 assists, 2 steals and 2 blocks. Four other Red Raiders were in double figures and the team shot nearly 80 percent from the free throw line. That's more like it. The loss to Houston stands in Tech's way of a perfect start, and the competition ahead this week should allow the Red Raiders to be 6-1 going into Big 12 play against Kansas on Dec. 17.
6. Oklahoma State (4-0) (Last week: 6)
Results this past week: def. Marquette, 70-62; def. Oakland, 84-71.
Oklahoma State holds steady after a 4-0 start. The Cowboys started the week with a road win over Marquette. Cade Cunningham produced again (15 points, 6 rebounds), but the bench production was worth acknowledging. Rondell Walker, a freshman, actually led the Cowboys
with 16 points while senior Bryce Williams pitched in another 13 points. That's two quality nights against a quality opponent. The Cowboys got past their 'mid-major danger' game against Oakland on Saturday, winning by 13 points. Cunningham was back again, with 18 points and 8 rebounds. But Likekele scored 17 points, 7 rebounds and 3 assists, Kalib Boone had 13 points and 7 rebounds and Ferron Flavors Jr. scored 12 points. Heck even Williams put up 10 points off the bench. The Cowboys look like a team that is going to hum into Big 12 play soon and be pretty dangerous.
7. Oklahoma (2-0, 1-0) (Last week: Not Ranked)
Results this past week: def. UTSA, 105-66; def. TCU, 82-78
The Sooners finally got a game under their belt on Thursday, destroying UTSA, a game that was postponed for a week. Brady Manek had a huge game, scoring 29 points in just 24 minutes (including a career-high eight 3-pointers). The Sooners made room for Umoja Gibson in the starting lineup by moving De'Vion Harmon to the bench, but it didn't cramp the sophomore's style one bit, as Harmon put up 22 points. Against TCU, Austin Reaves remains the Horned Frogs' worst nightmare. He scored 32 points, going 16-of-18 from the free-throw line, while Manek (14 points) and Harmon (13 points) pitched in on a 51.9 percent shooting night for the Sooners. Kur Kuath (8 points, 6 rebounds) is starting to carve out a nice role inside, but they could use a bit more production in the paint.
The Sooners are still waiting to hear about guard Elijah Harkless and his transfer waiver. But there could be some good news coming.
Sources: The basketball oversight committee expected to recommend that the NCAA allow ALL transfers to get waiver to play this season. This would be proposed to the D-1 Council — which next meets on Dec. 16. There is a chance it could be voted on prior to the 16th.

LONG OVERDUE

— Jeff Goodman (@GoodmanHoops) December 3, 2020
8. TCU (4-1, 0-1) (Last week: 7)
Results this past week: def. Northwestern State, 74-68; lost to Oklahoma, 82-78.
The RJ Nembhard and Kevin Samuel show was in fine form against Northwestern State. Nembhard had 23 points, 8 rebounds and 3 assists, while Samuel had 12 points and 15 assists. These are the performances the Horned Frogs are going to need this season. The performances of Jaedon Ledee (11 points) and PJ Fuller (13 points) off the bench helped out considerably that night. In the Big 12 opener against Oklahoma, about the only thing you could fault the Horned Frogs for was their 43.8 percent shooting from the floor. OU just shot better (51 percent). But the Horned Frogs received great games from Mike Miles (21 points), Nembhard (18 points) and Fuller (15 points), who started in place of Chuck O'Bannon. The quality of play was there from Fuller and Miles, quality enough to make you start to wonder if O'Bannon's job may not be there when he returns. This TCU team looks more balanced than last year's, and that's a good thing long term.
9. Iowa State (1-1) (Last week: 8)
Results this past week: lost to South Dakota State, 71-68.
Iowa State absorbed its first loss of the season to SDSU, a solid mid-major team that should be a Summit League contender. In that game forward Solomon Young had a huge game (24 points), and that starting lineup of Young, Rasir Bolton and the three transfers — Javan Johnson, Jalen Coleman-Lands and Tyler Harris — looks solid. But the Cyclones need some bench help (just 4 bench points vs. SDSU). Their game with DePaul was canceled on Sunday, so the Cyclones have just two games under their belts right now, and the Cyclones won't get another game until they face Iowa on Friday.
10. Kansas State (1-3) (Preseason Start: 9)
Results this past week: def. UM-Kansas City, 62-58; lost to UNLV, 68-58
K-State broke through for its first win early in the week over Missouri-Kansas City, with DaJuan Gordon and Nijel Pack sharing the scoring load with 14 points each. Kasoi Ezeagu added 11 points. It was the Wildcats' best game to that point, as they shot 47.4 percent from the floor and nearly 75 percent at the free throw line. But the Wildcats couldn't sustain it against UNLV, losing by 10 points. McGuirl had a solid game, scoring 17 points. Pack continues to put up intriguing numbers, scoring 9 points, grabbed 5 rebounds and dished out 7 assists. He appears to be K-State's most complete young player at this early point in the season
**Want to win a $20 gift card? Go sign up here and join our conversation! The best poster each week wins a gift card to your favorite establishment!**