Big 12 News
College Football Playoff Rankings: Iowa State Emerges as Big 12's Best Shot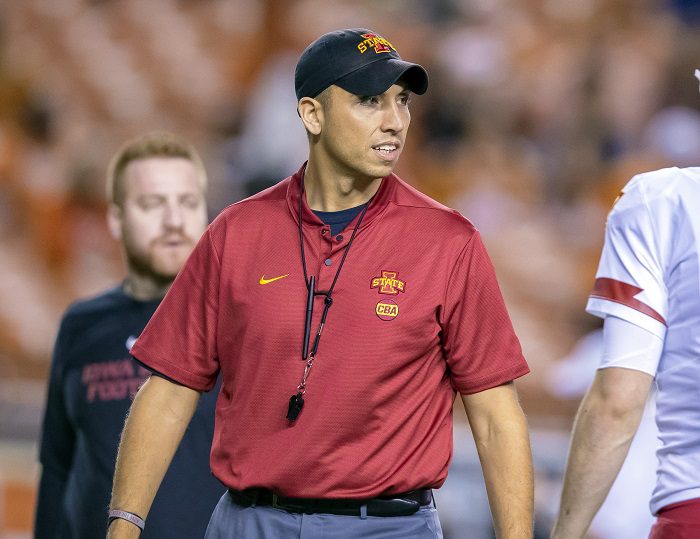 Suddenly, it looks like it's the Iowa State Cyclones or bust for the Big 12 Conference making the College Football Playoff in 2020. If they pulled off the feat, it would make the Cyclones the first two-loss team to make a Playoff, but there is still a long ways to go, and likely some help needed.
Iowa State, after crushing West Virginia 42-6, moved up two spots to No. 7 in this week's College Football Playoff rankings. The second-highest ranked Big 12 team is the Oklahoma Sooners, who stayed put at No. 11, following their win over Baylor.
Also back in the Top 25, the Texas Longhorns, who demolished Kansas State 69-31, come in at No. 20. Lastly, the Oklahoma State Cowboys, coming off a loss to TCU, fell seven places to No. 22.
College Football Playoff Poll: December 8th
1. Alabama (9-0)
2. Notre Dame (10-0)
3. Clemson (9-1)
4. Ohio State (5-0)
5. Texas A&M (7-1)
6. Florida (8-1)
7. Iowa State (8-2)
8. Cincinnati (8-0)
9. Georgia (6-2)
10. Miami (8-1)
11. Oklahoma (7-2)
12. Indiana (6-1)
13. Coastal Carolina (10-0)
14. Northwestern (5-1)
15. USC (4-0)
16. Iowa (5-2)
17. North Carolina (7-3)
18. BYU (9-1)
19. Louisiana (9-1)
20. Texas (6-3)
21. Colorado (4-0)
22. Oklahoma State (6-3)
23. NC State (8-3)
24. Tulsa (6-1)
25. Missouri (5-3)
If Iowa State beats Oklahoma next week, the Cyclones have a real chance to make the College Football Playoff. One thing they definitely need: Alabama to win the SEC Title. Ideally, Notre Dame beats Clemson a second time in the ACC title game to knock the Tigers out of the picture. And the Big Ten Conference is such a mess right now, who knows what will happen there.
But if there is ever a year for a the first two-loss team to make the Playoff, and have it be a non-blue blood like the Iowa State Cyclones, who has a loss on the schedule to a Group of 5 school, that truly would sum up 2020 in a nutshell.
The CFP selection committee will release a new Top 25 on December 15th before the final rankings are unveiled December 20th.
**Want to win a $20 gift card? Go sign up here and join our conversation! The best poster each week wins a gift card to your favorite establishment!**