Kansas Jayhawks
Big 12 Basketball Team-by-Team First Impressions of 2020-21 Season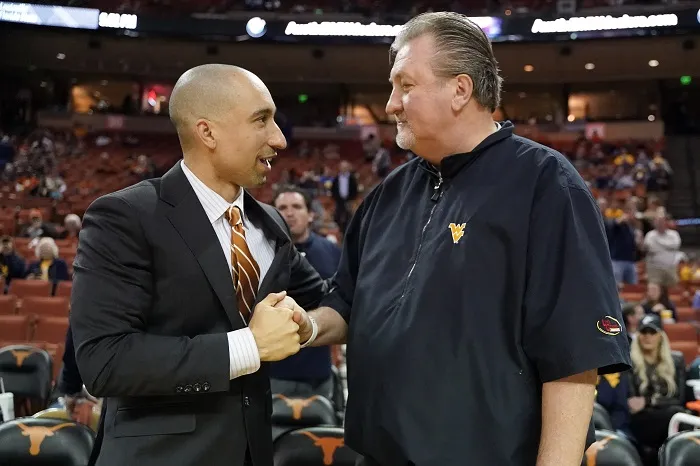 As the Big 12 starts conference play, we take a look at each team and how they've performed so far.
2020 has been disruptive to many college basketball programs across the country; canceling and postponing games and forcing many marquee matchups off the slate, including a showdown between #1 Gonzaga and #2 Baylor. For the most part, the Big 12 has been spared of this and have played the majority of it's non-conference games. But, as we move forward towards Big 12 play, let's take a step back and re-visit some expectations from each school and what we should look forward to in 2021.
Baylor Bears
It's only fair to start at the top. and in the Big 12 that is the Baylor Bears. Baylor has looked every bit as good as their preseason hype would want you to believe, albeit with far inferior talent and a limited sample size. The crowning jewel for Baylor's resume is a neutral site win over #5 Illinois, who just traveled to Duke and put on a show at Cameron Indoors, winning by double digits. It really was a shame Baylor's matchup with Gonzaga was postponed, because that could have cemented Baylor as the top of the class in terms of college hoops, but even without that game, the Bears have still proven they will be one of the tougher outs come March. The next game for Baylor will be their first Big 12 game of the year at home against the Texas Longhorns, who have already shown they can win on the road in 2020.
Texas Longhorns
Moving forward, let's dive right into Baylor's next opponent in the Texas Longhorns. Texas will go into their matchup with #2 Baylor on Sunday afternoon with a 5-1 record, the only blemish coming at the hands of #12 Villanova where they lost at home 68-64. Texas completed the three game sweep at the Maui Invitational to win the title in Asheville by defeating #14 North Carolina in what amounted to be an almost true road game without fans in attendance. Texas and Shaka Smart have earned my respect to this point, now it's up to Greg Brown and the Longhorns to keep the intensity up as they move into Big 12 play. Don't rest on your laurels UT fans, but a win in Waco Texas would go a LONG way to clinching a spot in Indianapolis for the NCAA Tournament. It's only December, but then again with the lack of major preseason tournaments, a win on the road at Baylor would most definitely be the biggest win for any school this season.
Oklahoma State Cowboys
Are we talking about young talent that could propel a team into a Sweet 16 in March? No? Well, if we were I would suggest looking at the Oklahoma State Cowboys led by #1 NBA prospect Cade Cunningham. The Cowboys definitely had the widest margin of preseason projections; some had the Cowboys as the eighth best team in the Big 12 while others were thinking OSU could compete for a top six seed in the NCAA tournament. I fall into the latter, seeing Cunningham play in high school sold me to the idea that he is a transcendent player that can lead a team immediately to the next level.
Cunningham has done exactly that for Mike Boynton Jr. and the Cowboys in 2020; leading the team with 20.6 points 5.6 rebounds and 4 assists in 32.4 minutes played per game. The Cowboys are 5-0 and have beaten tournament teams in Marquette and UT-Arlington but haven't been able to completely dispose of some lesser opponents such as Oakland and Oral Roberts too. ORU and Oakland both shot the lights out from distance when playing OK State, so that would be a concern of mine moving forward in that the Cowboys aren't where they need to be defensively, however the trajectory is clearly headed upwards and there is promise that this could be a special year for OSU fans. Oklahoma State will travel to Wichita to face Wichita State on Saturday, and if the Cowboys win that game they will head into Big 12 play with an undefeated record as they welcome TCU to Stillwater next Wednesday.
With a player like Cade on the roster, if the Cowboys are in games late, they will always have a good chance to win. Looking at his play to this point, Cunningham has showed that he can take games over and will his way to the win. That is an invaluable thing to have, especially for a Freshman, and we will have to see how (and if) that translates to the biggest of stages when the Pokes play Baylor, Kansas and the other perennial powerhouses in the Big 12. Barring any injuries that could derail a season like last year with Isaac Likekele; I am all aboard the hype train of OSU basketball and the star power of Cade Cunningham.
Oklahoma Sooners
Remaining in the state of Oklahoma; we move onto a team with a lot murkier outlook in the Oklahoma Sooners. OU was supposed to open the season with UTSA and UCF, but COVID issues in the program ruined those plans and set them back a week. Despite the setback, the Sooners were the first Big 12 team to win a conference game; defeating TCU on Sunday afternoon. While the Sooners admittedly didn't look fantastic in that game, they were able to grab a road victory in conference play and get off to the right start in league play. That good start lasted all of a few days however, because Xavier took Oklahoma out to the woodshed last night in Ohio en route to a 99-77 victory for the Musketeers.
Similar to what I discussed about Oklahoma State, defensive deficiencies worry me when looking at OU; Xavier shot 19-32 from three last night which partially can be attributed to good shooting but also some shotty defense from the Sooners as well. Oklahoma could be getting some relief if transfer Elijah Harkless has his waiver accepted and is deemed eligible this season, but as of now it looks like OU will be another bubble team with key matchups against top 25 Big teams' ultimately deciding their tournament fate.
Texas Tech Red Raiders
Another front-runner in the conference that has underperformed to date are the Red Raiders from Texas Tech. TTU entered the season with heavy expectations, starting at #14 in the preseason polls. Tech hasn't shown much, despite being 5-1 on the season due to a lackluster non-conference schedule highlighted by #8 Houston, a a game in which TTU was never in it and trailed from the tip. The Red Raiders might be a Final Four team, we truly wouldn't know to this point because Chris Beard scheduled the biggest cupcake schedule possible. For now, we have to wait to form an opinion on Texas Tech, mainly because we haven't seen them at their best. Tech's first Big 12 game will come in a week when they welcome Kansas to Lubbock.
Kansas Jayhawks
The Kansas Jayhawks could be the biggest head scratcher in the Big 12 so far; and that's not a slight on KU. Kansas defeated 1-3 Kentucky in a game that Kansas shot under 30% from the field so that shows even when things aren't going right the Jayhawks can still fight off adversity. Kansas is truly a team that plays to the level of their competition; KU was in serious danger of losing a home non-conference game to North Dakota State before rallying in the final minutes to win. However, Kansas truly showed they belong in the top-10 with a home win over Creighton on Tuesday, despite the Blue Jays doing everything in their power to lose that game. Kansas was lucky to win that game but make no mistake Bill Self still does have a talented team.
Without Azubuike roaming the paint for KU, this team does have a different look than what we might be used to seeing, but the success of KU will rely on their shooting. Kansas shot 4-15 in their game against NDSU from three and had to fight until the end to win; in their game against Creighton they shot 10-22 and prevailed with a one point victory so you can see the point I illustrated about perhaps playing down to their competition on certain nights. I don't think Kansas is a Final Four team right now, but Bill Self can certainly make them one by the time the NCAA tournament rolls around in March.
West Virginia Mountaineers
Rounding out the top of the league, we will next look at the West Virginia Mountaineers. We talked about Chris Beard playing a super weak schedule, the reverse is true about Bob Huggins' team. Huggins saw Gonzaga's contest against Tennessee get canceled and you know what he did? He called them up and said "I want the #1 team in the nation." Only a handful of coaches will do that, especially this early in the season and on short notice. But WVU not only played Gonzaga, but they nearly beat them too. West Virginia held a 9 point lead against Gonzaga and led for a good portion of the game too before eventually being outmanned.
WVU is currently 4-1 with three quality mid-major wins in the Bad Boy Mowers Classic and a win over Georgetown. Another great non-conference game is on the schedule for West Virginia coming up on Sunday when the Richmond Spiders visit Morgantown. Last year's WVU squad was a team that struggled to score at times, this year the Mountaineers rely on their defense again but the offensive numbers are up across the board. Will this translate to stronger defensive teams like Baylor, who just forced 35 turnovers in a game last night? We will have to wait and see. But for now, I am in on Bob Huggins' team contending for a Big 12 crown and finishing in the top four of the league.
Iowa State Cyclones
I don't have a good segue to hop into Iowa State other than they are another TBD as far as what to expect. Iowa State, led by Steve Prohm is coming off a disappointing 2019 season and it looks like that might continue into 2020. Prohm's team lost a buy-game to South Dakota State 71-68 at home in one of their two games they have played to date, so there isn't much to judge from the Cyclones outside of that loss. Iowa State will travel to Iowa City to play their in-state rival Hawkeyes tomorrow; the Cyclones will need to show resolve in order to win that game and pull off the upset over the #3 Iowa Hawkeyes coming off a big win against North Carolina at home. Iowa State hasn't played in eight days, so it will be interesting to see if we see a rested or rusted team on Friday night. I don't expect much from ISU this year in Big 12 play, but they will show a fight and challenge teams when they travel to Aimes.
TCU and Kansas State
Sorry if you're a fan of either of these two schools, but I have to include them together for my sanity. The TCU Horned Frogs and Kansas State Wildcats have a lot more questions than answers at this point of the season. Kansas State is in a rebuild; that much was obvious entering the year, but I definitely did not foresee it being this bad. Kansas State is coming off an 81-68 loss to Division-II Fort Hays State; and it will be a challenge to find eight wins out of this Wildcats team in 2020-21. The biggest question I have for K-State fans is this: does Bruce Weber survive this rebuilding year, or will there be a purge in the basketball program next year? Bruce Weber is a good coach, but in sports it's always a question of 'what have you done for me lately' and it remains to be seen if the administration will have faith in Weber's rebuild.
TCU is 4-2 on the season which looks good at face value, but then you see who they've beaten and lost to. The win over Tulsa is good for Jamie Dixon and co. but losing last night to Providence is a gut check for the expectations of Horned Frogs fans. TCU probably should have won their Big 12 opener against Oklahoma but they fell 82-78. Is that a sign of things to come for TCU this year? The Horned Frogs play in an early must-win game against Texas A&M this Saturday; if TCU wants to make any noise in bubble talks you simply can't lose these games. After that, a trip to Stillwater will have TCU looking to get off the schneid and grab their first Big 12 win of the year. Unless something changes, the best I see from Texas Christian is 7th place in the conference this year.
Whew. Deep exhale. How did I do? Do you agree with what I wrote? The Big 12 will really start these next few weeks s buckle up and enjoy the ride.
**Want to win a $20 gift card? Go sign up here and join our conversation! The best poster each week wins a gift card to your favorite establishment!**