Big 12 News
Lincoln Riley Says Oklahoma Would Play Ohio State This Weekend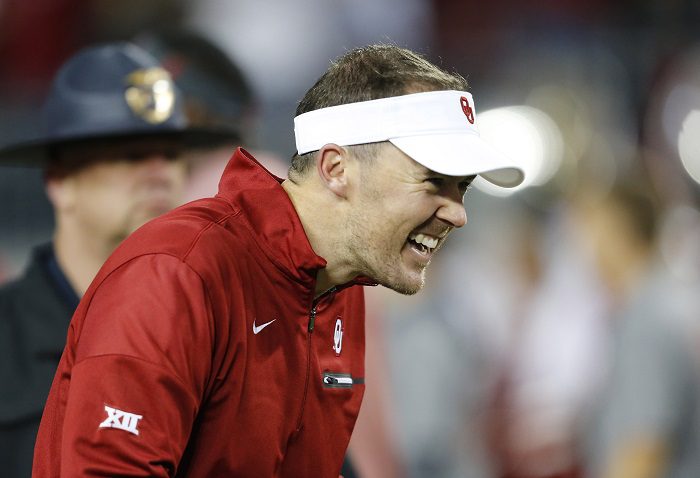 College football games are getting cancelled left and right. That includes West Virginia vs. Oklahoma.
But for the Sooners, who came in at No. 11 in the latest College Football Playoff rankings, there is still incentive to play a game. Oklahoma needs help to make a Playoff, but an impressive win this weekend, while also beating Iowa State next weekend, would certainly be a big boost to the resume.
So what would an impressive win be this weekend? How about playing the Ohio State Buckeyes?! Yes. Ohio State, who had its game against Michigan cancelled this weekend due to COVID-19 issues with the Wolverines.
Well, Oklahoma head coach Lincoln Riley admitted he would play the game on Saturday, if it was an option.
That would certainly be a game that would be awesome. But if we're being honest, there is no incentive for Ohio State to play. They're only 5-0, but if they win the Big Ten next weekend vs. Northwestern, they're in the Playoff. The committee has signaled as much.
Yes, it's pathetic. The committee's love affair with Ohio State is blatantly obvious and have been for years. So as a result, why would you play this game of you're Ryan Day? You know the committee wants your brand in the Playoff. You beat Northwestern next week and you're in.
The incentive is obvious for Oklahoma, as they have two losses and need help.
But I wouldn't bet the mortgage on this happening. In fact, I wouldn't bet $5 on it. But if it were to happen, it would be peak 2020!
**Want to win a $20 gift card?  Go sign up here and join our conversation! The best poster each week wins a gift card to your favorite establishment!**