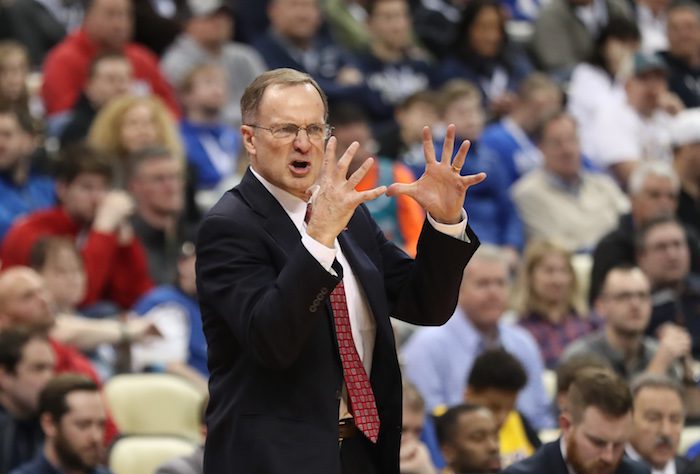 Oklahoma guard Elijah Harkless is the only Big 12 transfer who can't hit the floor yet. The former Cal State-Northridge guard transferred to the Sooners after last season and while his fellow transfer, North Texas guard Umoja Gibson, got his waiver last month, Harkless is still waiting.
Why? Who knows. The NCAA doesn't explain much these days. But right now the Sooners are in good shape without Harkless, who averaged 10.7 points, 5.8 rebounds, 2.9 assists, and 1.7 steals per game last season. It's not to say the Sooners couldn't use that as the Big 12 schedule rolls into league play. Heck, the Sooners could have used it Wednesday night when they played Xavier, a game they lost, 99-77.
While the NCAA hasn't answered the specific question about the waiver for Harkless, relief may be coming anyway.
Sources: The basketball oversight committee expected to recommend that the NCAA allow ALL transfers to get waiver to play this season. This would be proposed to the D-1 Council — which next meets on Dec. 16. There is a chance it could be voted on prior to the 16th.

LONG OVERDUE

— Jeff Goodman (@GoodmanHoops) December 3, 2020
This would provide Harkless the immediate relief he needs to play now. In fact, if it's approved on Dec. 16, he could play in the Sooners' game that night against Oral Roberts. If it's not then, the Sooners have a game Dec. 19 against Houston Baptist and their second Big 12 game against Texas Tech on Dec. 22.
Of course, this is just a recommendation. The D-I council could just say 'No' on Dec. 16, or after. Or, the D-I council could say it won't take effect until next fall. But I'm betting the NCAA will act and will act in a way in which Harkless and all of the other transfers can play this year.
Why? Because it's probably about to become full-blown practice anyway.
The NCAA will be voting in January on a new rule that will allow every NCAA athlete to transfer once in their undergraduate or graduate career. They would be able to do so without having to sit out a year. That rule would take effect in August of next year.
The impact of that change may or may not be seismic on college basketball.
Stadium.com's Jeff Goodman keeps up with transfers. His 2020 transfer list features 880 players. Now that sounds like a lot, doesn't it?
Well, is it? There are 350 Division I basketball programs that are allowed to offer 13 scholarships. That's 4,550 Division I basketball players. Divide those 880 transfers into the total number of rostered players and you get about 19 percent of players that transferred for the 2020-21 season.
Will that go up or down once the new transfer rules are in place? Only time will tell.
But on Dec. 16, or close to it, Harkless and the Sooners are hoping for some relief now, and that relief could impact how the Sooners do this season.
**Want to win a $20 gift card? Go sign up here and join our conversation! The best poster each week wins a gift card to your favorite establishment!**