Big 12 News
Will the Big 12 Follow Duke's Lead in Cancelling Non-Conference Games?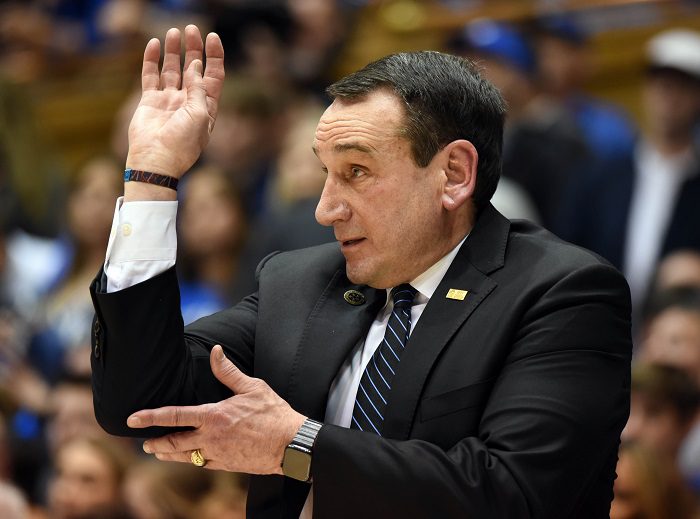 Starting Dec. 11 the Big 12 Conference has 23 non-conference men's basketball games leading up to Jan. 2, when the league begins its full double round-robin schedule in earnest.
One has to wonder how many of those non-conference games will be played.
On Thursday Duke announced that it was canceling its final scheduled non-conference game against Gardner-Webb on Dec. 19. Additionally, the Blue Devils will not attempt to reschedule its two postponed non-conference games against Elon and Charleston Southern. The Blue Devils will still play its ACC opener against Notre Dame on Dec. 16, but the Blue Devils will then be off until Dec. 29 against Pitt.  
Duke head coach Mike Krzyzewski said in a video statement that he was taking the action out of an abundance of caution due to the COVID-19 pandemic and as an opportunity to give his players time with their family during the Christmas break.
"Making sure that we're doing the right thing for our players, just for safety, we're not going to play any [remaining] nonconference games," Krzyzewski said. "We're not going to try to reschedule. We could try to reschedule three games, but we're not going to do that. We're going to play conference and hopefully get to play all of them."
On Tuesday, Krzyzewski expressed concern about the current state of affairs in the game due to COVID-19 after a loss to Illinois on Tuesday.
"I would just like for the safety, the mental and physical health of players and staff to assess where we're at," Krzyzewski said. 
That prompted at least one SEC head coach to question the Duke coach's motives for stating such a thing, as Alabama's Nate Oats discussed that on Thursday.
"Do you think if Coach K hadn't lost the two nonconference games at home he'd still be saying that?" Oats asked reporters in Tuscaloosa, Alabama. "I think we'd have a whole lot more problems if we weren't playing games." 
At least one Big 12 coach, Kansas head coach Bill Self, had to take questions about what Krzyzewski said as well.
"I'm certainly not in total disagreement in what [Krzyzewski] said," Self told 247Sports.com. "I also think there's been a lot of safety measures that have [been] taken that a lot of people have attempted to do. Nobody bats 1.000, and, of course, there's been some unfortunate cancelations and things like that. But I would think that it would be much, much higher if we didn't have all these protocols in place and if we weren't playing games — at least from our own team's perspective."  
It's a loaded issue, and college basketball coaches and players had to have known that when they pressed forward with the college basketball season. But there are facts to back up Krzyzewski's concerns, the biggest one I tweeted out during Baylor's game with Stephen F. Austin on Wednesday night.
#COVID cancellation and postponement numbers in #MBB and #WBB entering Dec. 9. 👀 @Heartland_CS pic.twitter.com/X7vk0Umlxs

— Matthew Postins (@PostinsPostcard) December 10, 2020
These cancellations and postponements are likely to continue. COVID deaths have now climbed to 3,000 per day. COVID cases are spiking toward 300,000. While vaccines are getting emergency approval, if you're a healthy adult, like myself, you probably won't get one until the spring at the earliest.  
So this issue isn't going away. What matters, at least on the court, is conference games. For any team with their eye on the NCAA Tournament, that's likely the biggest determinant of whether it can get to the NCAA Tournament. For Big 12 teams, a game against Texas Southern or North Texas isn't going to be nearly as helpful as a league game in one of the best conferences in the country.
Plus, sending players home for a short break — the Big 12 goes dark from Dec. 23 to Dec. 28 — could expose them further to the virus, which would put those remaining non-conference games, or even the first league games in January, at risk.
With the holidays coming, there is no easy answer. But I wonder how many Big 12 teams might follow Krzyzewski's lead. 
**Want to win a $20 gift card?  Go sign up here and join our conversation! The best poster each week wins a gift card to your favorite establishment!**