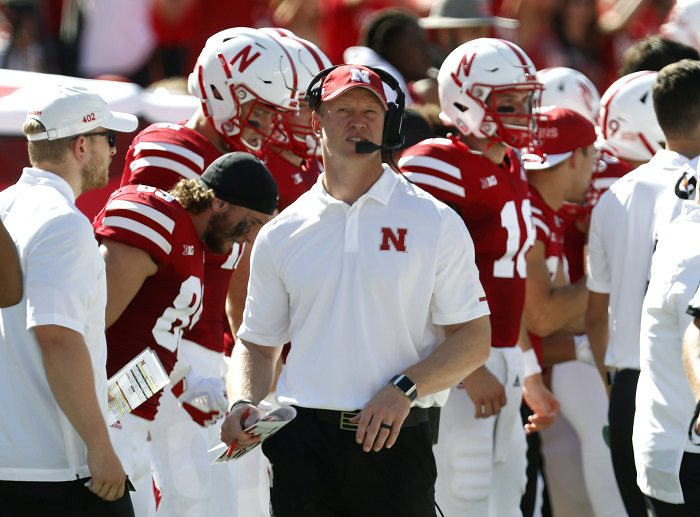 It's time to have a serious conversation about laying the foundation for the Nebraska Cornhuskers to return to the Big 12 Conference.
This has been a topic that has been brewing since Nebraska left the Big 12 nearly a decade ago. At the time, there was beef with the Texas Longhorns, there was the prestige of being in the Big Ten, and there was an enormous amount of emotion and ego involved.
But time heals all wounds, and for Nebraska, who has been disrespected since Day One in the Big Ten, it's OK to admit the move was a strategic error, and the Big 12 should be willing to welcome you back with open arms.
The final straw should have been how this 2020 college football season played out. This conversation began over the summer, when the Big Ten Conference initially cancelled its 2020 football season. At the time, our staff did a roundtable debating whether or not the Big 12 should place a call to Nebraska to join them for the 2020 season.
But then, the Big Ten announced, after pressure from its own fans and leaders, that it would begin playing football in late October. However since then, Nebraska, which has been one of the lone programs from Day One with interest in play this season, has been disrespected at every turn. They were mocked in some corners of the conference for even thinking they could possibly pull off a 2020 season (it turns out they were right).
Then, early in the season, the Big Ten denied Nebraska's request to play a relatively meaningless non-conference game against UT Chattanooga. This came after Nebraska's game with Wisconsin was cancelled due to COVID-19.
Fast forward a few weeks, and the Big Ten, which had its nonsensical, stringent rules for the 2020 season, suddenly reversed course. What happened? Ohio State happened. The Ohio State-Michigan game was cancelled, and that would have meant Ohio State would only have played five games, when the Big Ten said before the season you have to play at least six games to qualify for a conference championship game.
The rule was arbitrary and made little sense at the time. But the whole way the Big Ten Conference handled this season, from summertime to December, made little sense. But once again, when Ohio State needed something, the entire conference bent over backwards. Of course there is monetary incentive for the conference and all its programs if the Buckeyes make a College Football Playoff, but still, it was very evident that Ohio State got what it wanted and needed, no questions asked. But Nebraska, if you want to play UT Chattanooga, take a hike!
This season should be the icing on the cake for Nebraska leadership, its boosters and fans to realize that when conference realignment picks back up again in just a couple of years, the Big 12 should be of serious interest.
We already know that Nebraska football has lost a ton of its juice since leaving the Big 12. The rivalries with Oklahoma, Kansas State, Texas, and Kansas are gone. The recruiting pipeline to Texas has dried up. The Big Ten West is permanently going to be the little brother division to the Big Ten East. It just hasn't worked out, minus the massive Big Ten checks. However when you factor in the Big 12 money, add in the Tier 3 rights that schools can negotiate on their own, the difference in dollars isn't all that consequential.
But if Nebraska were to return to the Big 12, it adds, or brings back, a program with an incredible fanbase, a national brand (albeit fading at the moment) and rivalries that will immediately put them back into prime time action.
Nebraska is never going to be a legitimate rival to an Ohio State or Michigan or Penn State. Those schools have their decades of history and their rivalries are set in stone. Plus, Nebraska and Ohio State have played the last five seasons, and the Buckeyes have won the games by an average of 36.4 points per game. You think FOX or ABC want to put that match up in prime time? Even if Nebraska were to improve as a program, their fan base would be far more juiced to beat Ohio State than vice versa. That's not a rivalry.
But if the Cornhuskers come back to the Big 12, the rivalries and fan passion at Oklahoma, Texas, Kansas State and others will be legitimate. Heck, with where Matt Campbell has the Iowa State Cyclones, that would be a fun, old Big 12 North rivalry that could definitely grow into something between two great fan bases.
Also, from a conference hierarchy perspective, behind Texas and Oklahoma, Nebraska probably goes back to being the third-most influential voice at the table in the Big 12. They'll never be at that level in the Big Ten conversation.
There's just so much potential for bringing Nebraska back to the Big 12 Conference, and both sides would have a ton to benefit from. This would not be a "come back with your tail between your legs" situation. It would be a huge addition for the Big 12 and a chance for Nebraska to get back to where it was, even just 10-15 years ago, in national relevancy.
So with conference realignment not too far away, as the TV contracts are set to expire in the next 3-5 years, these calls should begin to quietly start getting made behind the scenes.
Leave the emotions and egos at the door and let's just all admit, this would be best for the Nebraska Cornhuskers and the Big 12 Conference. Get it done.
**Want to win a $20 gift card?  Go sign up here and join our conversation! The best poster each week wins a gift card to your favorite establishment!**