Big 12 News
Mike Gundy's Name Surfaces in Auburn Coaching Search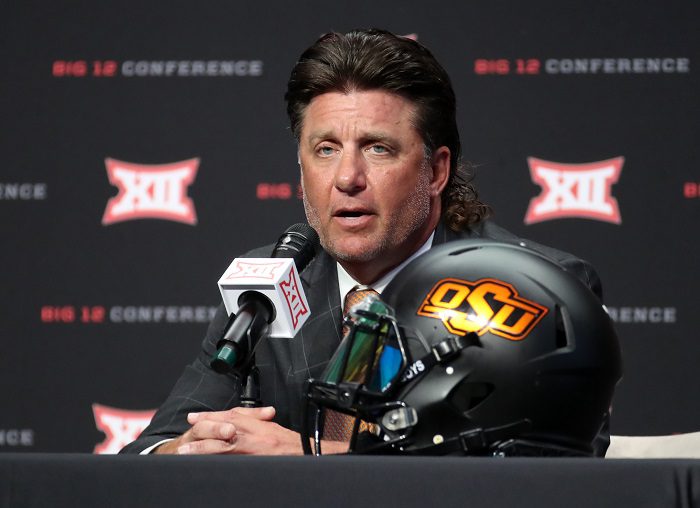 Despite the fact that Oklahoma State did not meet its expectations this season, head coach Mike Gundy's name is still surfacing for big-time coaching openings. This time it's the Auburn Tigers.
According to Pete Thamel of Yahoo Sports, Mike Gundy is a "name to watch" since the team fired Gus Malzahn on Sunday.
The Cowboys entered the season with Big 12 Championship expectations before ending the year with a 6-3 conference record following Saturday's win over Baylor.
But despite all of Gundy's success in Stillwater, there is a portion of the fan base that thinks it's time to move on from their head coach. That brought Mike Gundy's son to defend his father on social media this past week, saying in part,  "I know it sucks and I know it's not ideal but to sit here and sh*t all over a man who has done nothing but love and fight for a university is a true monstrosity."
Gundy has been tied to openings in the past, including the Tennessee Vols and Baylor Bears, but he's always stayed true to his roots in Stillwater, Oklahoma.
As for this opening, Gundy has got to be a long shot, as he doesn't have the SEC ties that I assume Auburn would be looking for and I'm also not sure it's the "splash" the program needs as it continues to sit in the shadows of Nick Saban and Alabama.
Frankly, Auburn's biggest problem right now is the same one that Oklahoma State and its fan base has: they too often compare their success to what their in-state blue blood rivals are doing. And in many cases, it's not a fair or reasonable comparison.
Alabama and Oklahoma are having unprecedented success right now, even by their own standards as blue bloods in the sport. For Auburn or Oklahoma State to think they should compare themselves to either is insane. But such is life in the world of big-time college football.
**Want to win a $20 gift card?  Go sign up here and join our conversation! The best poster each week wins a gift card to your favorite establishment!**