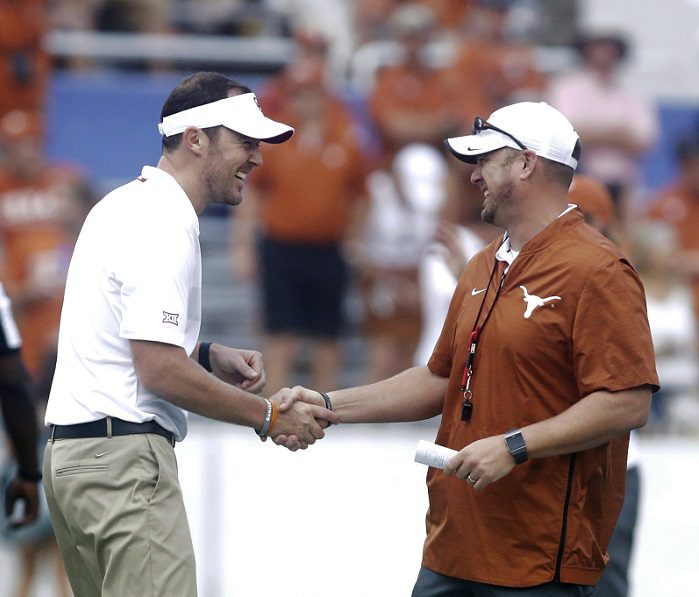 Ah yes, it's that time of year when the Big 12 Football Power Rankings return to Heartland College Sports. A reminder that these can change drastically from week to week. These are not supposed to be a mirror image of a given week's standings. It's based on the previous week's performance and the opponent when compared to the rest of the conference.
So with the 2020 season through Week 14, let's get into this week's Big 12 Power Rankings.
1. Iowa State Cyclones (Last Week: 1)
Well the Cyclones were one of the few Big 12 teams who was supposed to be off on Saturday. Iowa State went 8-1 in conference play and will try to win its first conference championship in football in 108 years on Saturday. Continue to pinch yourself, Cyclone Nation, and enjoy the ride this week leading up to Saturday at AT&T Stadium.
2. Texas Longhorns (Last Week: 2)
Well, I didn't think Texas would still be in this No. 2 spot one week later. Had Oklahoma played West Virginia and won, I would've likely moved OU up ahead of Texas, who was supposed to play Kansas on Saturday. Both games were cancelled, and since we do this with a heavy emphasis on what you did the week prior, I will keep Texas here. Oh and while Texas' season is done, there is a chance they can still play for a Big 12 Championship. Yes, really.
3. Oklahoma Sooners (Last Week: 3)
As mentioned above, Oklahoma didn't get to play West Virginia on Saturday. OU could've used a big road win over a stingy and solid WVU squad, but they didn't get the chance. For their College Football Playoff hopes it's a blow, but not having to travel to Morgantown and back before the Big 12 Championship Game isn't the worst thing in the world.
4. Oklahoma State Cowboys (Last Week: 7)
The Cowboys ended the season on a high note with a massive win over the Baylor Bears. While Chuba Hubbard is heading to the NFL, the Cowboys look like they'll be just fine in the backfield with Dezmon Jackson and Dominic Richardson leading the charge. The defense shut down the Baylor offense allowing just three points all game and held them to under 160 yards on the day. This season is still a disappointment for Pokes fans, who had reasonable expectations of making a Big 12 Title Game, but the future is brighter than many expected even a few weeks ago.
5. TCU Horned Frogs (Last Week: 4)
TCU saw several of its freshmen make big plays on Saturday against Louisiana Tech. This is exactly why Gary Patterson wants to play games like this at the end of the season. Freshman running backs Zach Evans and Kendre Mille combined for 266 rushing yards and four touchdowns. Also, former four-star WR Quentin Johnston, a freshman who picked TCU over Texas, had 133 receiving yards on five catches. There's reason to think 2021 can be that breakout year we have waited for the past 2-3 seasons in Fort Worth.
6. Texas Tech Red Raiders (Last Week: 6)
The Red Raiders technically ended the season with a win as they beat the Kansas Jayhawks 16-13 last week. But if not for the recent performances of the teams below them, Tech would be solidly in the 7-10 range. But such in life right now that Tech has the good fortune of its season ending with a "W", as weak as that win was.
7. Baylor Bears (Last Week: 5)
The Baylor Bears got throttled by the Oklahoma State Cowboys on Saturday 42-3. Yes, the Bears were beat up and dealing with COVID issues during the week, but this was still a woeful performance for a team who gave the Sooners a good run for their money last week in Norman in a 27-14 loss. One day after the loss, senior QB Charlie Brewer announced he would be entering the transfer portal. Baylor has a lot to do in the offseason, and much of that work needs to be on the offensive side.
8. West Virginia Mountaineers (Last Week: 8)
The Mountaineers had their Senior Day against Oklahoma cancelled due to COVID issues within their program. So unfortunately, their regular season ends up a 42-6 loss in Ames to the Iowa State Cyclones. That was a tough one to swallow. On Saturday, Darius Stills announced he's heading to the NFL, which was to be expected. Now, we'll see what West Virginia decides to do about a bowl game.
9. Kansas Jayhawks (Last Week: 9)
Well, Kansas didn't play against Texas last week due to COVID-19. So that means it didn't have a chance to "reclaim" the No. 10 spot. It's nice for Jayhawks fans to have their lasting memory be the performance against Texas Tech when they lost by three points last weekend. OK, now it's time for basketball season.
10. Kansas State Wildcats (Last Week: 10)
Kansas State's season came to an end against Texas last week. Now we wait to see what they decide to do regarding a bowl game and how that plays out. Chris Klieman said two weeks ago he would want K-State to play in a game even if they finished 4-6, which is what happened. We'll see what's in store late this week.
**Want to win a $20 gift card?  Go sign up here and join our conversation! The best poster each week wins a gift card to your favorite establishment!**