Big 12 News
College Football Playoff Rankings: Iowa State Up to No. 6, Oklahoma Cracks Top 10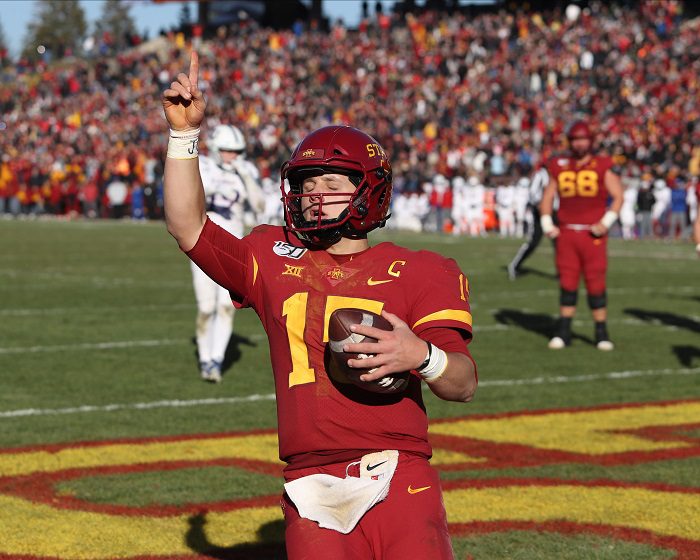 As expected, the Iowa State Cyclones and Oklahoma Sooners have moved into the Top 10 of the December 15th College Football Playoff rankings.
In the latest poll, the Cyclones moved up one spot to No. 6, while Oklahoma also climbed on to No. 10. Around the rest of the league, the Texas Longhorns are at No. 20 and the Oklahoma State Cowboys come in at No. 21.
That means whoever wins this weekend's Big 12 Championship Game will get to add a Top 10 win to the resume. While it seems unlikely the Oklahoma Sooners could jump six spots to make a Playoff, the path for the Iowa State Cyclones is real.
What would it take? How about a Northwestern upset of Ohio State in the Big Ten Championship Game and a Cyclones win over the Sooners? Would the committee really go with a one-loss, nonconference champion in Texas A&M?
I made the case for the Big 12 in this piece from Sunday and I still feel good about it now. If the committee is truly committed to doing its job and going by the standards it set up for itself, and not just trying to pander to TV networks and blue bloods, the Cyclones should have a real chance.
Here's a look at the full rankings.
College Football Playoff Rankings – December 15th
1. Alabama (10-0)
2. Notre Dame (10-0)
3. Clemson (9-1)
4. Ohio State (5-0)
5. Texas A&M (7-1)
6. Iowa State (8-2)
7. Florida (8-2)
8. Georgia (7-2)
9. Cincinnati (8-0)
10. Oklahoma (7-2)
11. Indiana (6-1)
12. Coastal Carolina (11-0)
13. USC (5-0)
14. Northwestern (6-1)
15. North Carolina (8-3)
16. Iowa (6-2)
17. BYU (10-1)
18. Miami (8-2)
19. Louisiana (9-1)
20. Texas (6-3)
21. Oklahoma State (7-3)
22. NC State (8-3)
23. Tulsa (6-1)
24. San Jose State (6-0)
25. Colorado (4-1)
The CFP selection committee reveals its final rankings, including the four semifinal teams, on Sunday.
**Want to win a $20 gift card?  Go sign up here and join our conversation! The best poster each week wins a gift card to your favorite establishment!**