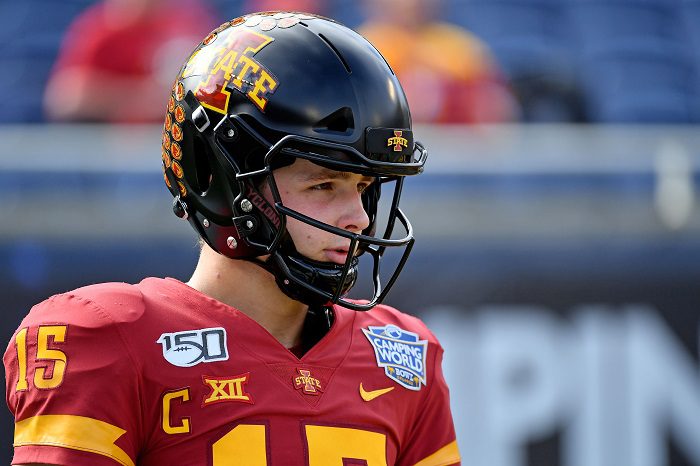 This year I have had the opportunity to write a lot about this Iowa State Cyclone football squad, mostly just reflections on a game or observations on a future opponent.
Likely none of these are hot takes in many circles, either.
Most Iowa State fans are on cloud nine, coming into a week that's reserved for the Big 12 championship game, and for once we have some skin in the game.
However, to every force in this world an equal or opposing force tends to exist. There are those who love to make light of the team's accomplishments. Then you have nay-sayers from the nosebleeds who loves to remind many of us Cyclone fans, "It's a messed up year in college football with Covid, Iowa State is just benefiting from the chaos."
It's always something, at least similar to those sentiments, and of course there may even be some logic to that point, however minimal.
I find myself saying, "Of course this would be the year we peak in the Big 12 with a giant asterisk next to our names." That asterisk of course footnoting this as the "COVID season".
Of all the years for Iowa State to finally put it all together it would of course be 2020 wouldn't it?
Yet, last night it suddenly dawned on me that perhaps this is the PERFECT year for Coach Matt Campbell's team to thrive.
It dawned on me when I put on the replay of this year's Oklahoma game. I watched about three quarters of the game and then fell asleep on the couch. Not once did I think of the losses I've personally taken in the year.
The worry of keeping my hours at work. The grandmother I still can't visit at the nursing home. The online portals that require a computer degree to manage for my son's school.
I simply watched football and it was good. Heck, it was great.
I never can re-watch Cyclones games where they lose. Those games get deleted off the DVR as soon as they are over. I'm a sore loser. Yet this year I have a bunch of games to rewatch and relive as a fan.
In a world chocked full of uncertainty, go figure the one thing that is certain to me in 2020 is Iowa State football. It's a gift from the football Gods given to Iowa State fans in a year like this. It's something to have in a year that has been full of things without.
This is the perfect year to have an exciting team to watch, and a Saturday you look forward to. I'll take the asterisk with a smile. I'll let the haters hate, and the pundits and talking heads cry. I'll smile at opposing fan bases hot takes on Twitter, because none of it matters to me as a fan. I needed this in 2020.
As Cousin Eddy once said in the greatest Christmas Movie ever.
"It's the gift that keeps giving the whole year Clark!"
"That it is Eddy…that it is."
**Want to win a $20 gift card?  Go sign up here and join our conversation! The best poster each week wins a gift card to your favorite establishment!**