Big 12 News
Bob Bowlsby Trolls Ohio State, Touts Iowa State on College Football Playoff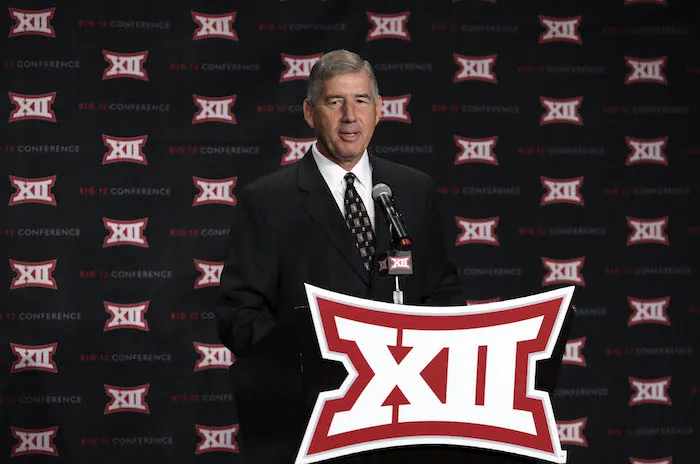 The Big 12 Championship Game takes place Saturday between Iowa State and Oklahoma.
There seems to be a general philosophy that the Big 12 Conference has no chance, unless chaos ensues in the ACC, SEC and Big Ten Championship Games.
The most questionable of the bunch is the Big Ten Conference, where the league changed the rules last week because Ohio State was not going to be able to get in six regular season games, the number the Big Ten required before the season to compete for a conference title.
Now, the Buckeyes are heavy favorites over Northwestern, and it's believe they'll easily make the College Football Playoff if they win the game.
But the reality is the Big Ten's handling of the 2020 season was comical at best and completely inept at worst. While the conference tried to get the rest of the sport to cancel the season in the summer, the Big 12, ACC and SEC said, "no thanks". And good for them for doing that. Then the Big Ten came back with its tail between its legs and started their season in late October.
Well on Thursday, Big 12 commissioner Bob Bowlsby had a message for fans who want to assume an undefeated Ohio State is a no-brainer compared to say, a two-loss Iowa State Cyclones team.
Excellent job by Bowlsby here!
The fact that Ohio State is going to play a grand total of six games, while Iowa State will have played 11, is laughable.
There's no guarantee that Ohio State would lose two more games, they probably wouldn't. But for years we've heard about how the Big 12 was falling behind in the early days of the College Football Playoff because they were lacking a 13th data point. Just ask TCU and Baylor fans about that 13th data point.
Now, Iowa State will have five more "data points" than Ohio State, but none of that will apparently matter, huh?
Bob Bowlsby has quietly been a steady hand for the Big 12 Conference, and I believe history will look back fondly on his tenure in stabilizing the conference, while also defending the conference when needed. And this quote about Ohio State and Iowa State is a perfect example
It may not ultimately get the Cyclones over the hump (if they beat OU), but it won't be for lack of trying by the biggest voice in the conference.
**Want to win a $20 gift card?  Go sign up here and join our conversation! The best poster each week wins a gift card to your favorite establishment!**