The Heart Beat
The Heart Beat (Dec. 17): National Signing Day and Big 12 Championship Storylines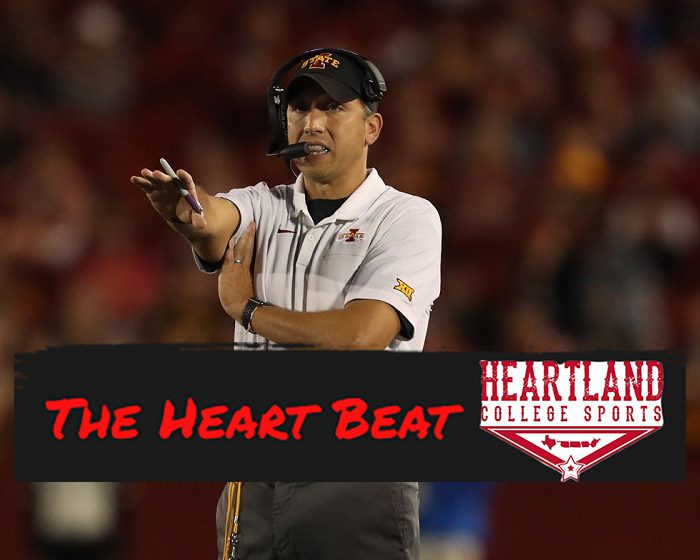 It's time for our links to our favorite bunch of Big 12 content from the previous 24 hours. Think of it as a brunch/lunch links for you to avoid and delay work, plus your boss!
**If there is ever content you'd like us to consider for the following day's Heart Beat, please email me directly: [email protected] or direct message us on Twitter (@Heartland_CS)
Big 12 Content
Here's part one of Cyclone Fanatic's Big 12 title game preview with Iowa State's offense vs. Oklahoma's defense.
Here's how QB recruit Caleb Williams was the heart and soul of the Sooners' 2021 recruiting class.
A season in review for the Texas Tech Red Raiders football team.
Let's get to five thoughts on Oklahoma State's recruiting class.
Yes, the Kansas Jayhawks had themselves a pretty darn good signing class, especially by KU standards.
On the hardwood, here's a preview of tonight's KU – Texas Tech basketball game.
Baylor head coach Dave Aranda shared his thoughts with SicEm365 on the 2021 Class.
Meantime, here's what Kansas State head coach Chris Klieman had to say about his class.
Also a rundown of the West Virginia Mountaineers recruiting class.
Non-Big 12 Content
Is this Alabama's most dominant team ever?
Here are the winners and losers in college football from National Signing Day.
The AAC commissioner is triggered.
What are some underlying storylines to watch during Championship Weekend.
**If there is ever content you'd like us to consider for the following day's Heart Beat, please email me directly: [email protected] or direct message us on Twitter (@Heartland_CS)