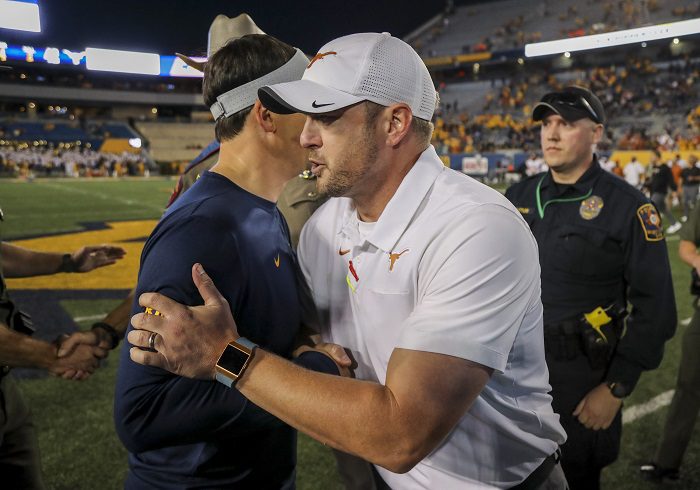 Welcome to the HCS Big 12 mailbag. This mailbag is for all you football junkies out there who root for a Big 12 school who not only have questions about your team, but other teams in the conference as well. So, join me, grab a cold brew or your favorite drink and relax as I answer all your Big 12 questions in my mailbag.
I will pick the best question for each mailbag and label it as my question of the week. The winner gets a free HCS Koozie to keep your beer cold (Unless you like it warm, but that's just plain wrong). I want to thank each one of you who submitted a question this week and for tonight's drink of choice, a Big Wave Golden Ale from Kona Brewing Company. This will be the final mailbag of the season until spring. Thank you so much for your support and for making this mailbag possible. Cheers!
@RPTexan asks: In your opinion, whom should Tech hire as OC and why?
Duke: Well Robert, last week I said I would hire Lincoln Riley's brother Garrett Riley from SMU, but it appears that as I am writing this, Texas Tech has made the move to hire TCU offensive coordinator Sonny Cumbie. An interesting hire for sure due to all the talk of TCU getting rid of him over the last couple seasons.
@cychas87 asks: Is Tom Herman all in after Texas made it no real secret they wanted Urban? I don't see how you can be in my opinion.
Duke: I do believe Tom Herman is all in, even after the Urban Meyer rumors. The guy makes more money in a single year than I will ever in a lifetime. While he may be "all in" I am not sure if Herman is "all there" mentally with some of his coaching decisions. It truly is mind boggling that Texas is as bad as they are. They play down to competition and seem to always get in their own way and the lack of development in Austin is head scratching. With that said, Tom will still do his coaching duties because he knows that 2021 will likely determine his fate at Texas.
@CycloneF5 asks: What are your predictions on how returning seniors impact next season, and which schools benefit the most from them returning?
Duke: This question would have been better after the bowl season. As of right now I really have no clue who will stay and who will go at this point. I am sure we will find out much more after the bowl games that I hope we will get to play. Let's save this question for the spring mailbag.
@CalebWayne_BD asks: Neal Brown?
Duke: For those who don't know, it has been reported that West Virginia Head Coach Neal Brown is going to interview for the Auburn job after the Tigers let go of head coach Gus Malzahn just last week. I will be honest with you. If Nick Saban is in the state, then Auburn is a job that gets you nowhere but fired. Yes, you can say that about all jobs, but Auburn is not steppingstone school where you go somewhere else. You know what happens there? You lose to Alabama and must go 9-2 the rest of the way so they don't fire you. Plus, as was noted on Tuesday by Shane Lyons, it seems like Neal Brown is very happy in Morgantown.
@ColeConverseIA asks: I see Wake Forest and Wisconsin in the Mayo Bowl. But who you got in the Outhouse Bowl? Kansas or Vanderbilt?
Duke: Does anybody really want to see another snap Kansas football this year? Thanks, but no thanks. I would rather throw tabasco in my eyes than watch another Kansas football game this year. It would hurt a lot less.
**Want to win a $20 gift card?  Go sign up here and join our conversation! The best poster each week wins a gift card to your favorite establishment!**