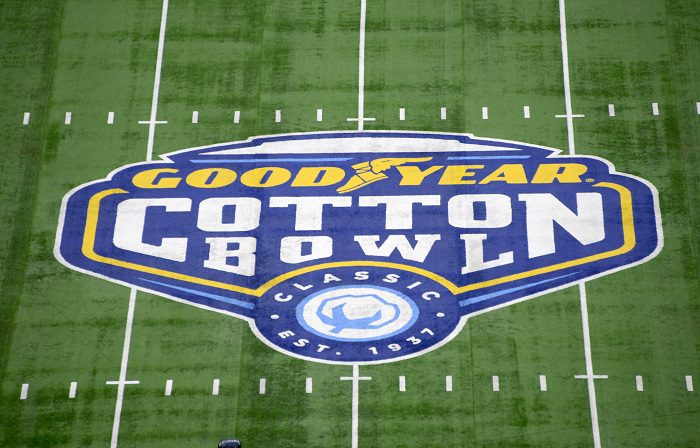 It's time to start looking ahead to the bowl season in college football. For many of us, it was unclear if we'd get to this point after how the regular season was so up in the air back in the summertime. But here we are, getting through another season, and gearing up for a bowl season. So as we get ready for it, let's rank the Big 12 bowl games in order from best match up to least-inspiring match up.
1. Cotton Bowl: Oklahoma vs. Florida
Any time the Big 12 gets to take on the SEC, it means a little more. The SEC will continue to be fawned over by the national college football media, and the Big 12 is always happy to take a shot at them over it. Bowl games are one of the chances to do that. And now we've got some trash talking where Florida linebacker James Houston said that Oklahoma was "not the SEC", there should be a little more juice in the game. But we all know how this plays out, right? If Oklahoma wins, Florida's built-in excuse is how they're in the SEC and all they care about is the College Football Playoff. And the media will buy it.
2. Alamo Bowl: Texas vs. Colorado
I'm a sucker for history, especially in college football. And getting this old Big 12 match up is fun. Colorado isn't what it was during its heyday in the Big 12, but it still brings back some good memories. Plus, with Tom Herman coming back for 2021, how this bowl game plays out will be a big part of the offseason narrative. Does he continue the trend from the Kansas State game where they nearly hung 70 points? Or do they barely squeak out a win? Or even worse, lose, as an 11-point favorite? It will be telling on many levels.
3. Fiesta Bowl: Iowa State vs. Oregon
Iowa State didn't win the Big 12, but it gets a New Year's Six Bowl game. However, facing No. 25 Oregon, who only won the Pac-12 Conference Title because Washington had to drop out due to COVID-19, isn't overly appealing. That being said, it's a Big 12 team, and it's a super-passionate fan base like Iowa State, in a NY6 bowl, so I can't drop them too far down the list. But I do admit to wishing Iowa State was getting a more interesting, and more competitive, opponent in their bowl game this season.
4. Texas Bowl: TCU vs. Arkansas
Gary Patterson and the TCU Horned Frogs love getting up for the SEC. It feels like it's Gary Patterson's mission to stick it to the SEC. Now he gets to face a 3-7 Arkansas team and show how his defense, statistically, has been one of the best defenses in the country during the second half of the season. It'd also be a nice boost into the offseason for the Horned Frogs, who are finishing up their third-straight mediocre campaign, but should have much higher expectations in 2021.
5. Cheez-It Bowl: Oklahoma State vs. Miami
This isn't your father's Miami Hurricanes. Yes, they're making strides as a program, but these are two teams who were once in the Top 10 and then faded towards the end of the season. Neither team expected to be in the Cheez-It Bowl in mid-October, they had much higher aspirations. Yet here they are. So now the question is going to be: who is more motivated? Or maybe, who is less motivated?
6. Liberty Bowl: West Virginia vs. Army
I'm glad Army got itself into a bowl game after getting screwed, but then being allowed to replace Tennessee, who pulled out of this game due to COVID-19 issues. But this is always a tough spot to play one of the military academies. Why? Because most of us kind of like rooting for them, even if they're playing "our team". I think of the Kansas State vs. Navy bowl game last year. When Navy won late, I was disappointed for K-State, but not crushed, because it was Navy. I hate the SEC. None of us feel that way about Army, Navy, Air Force. So, this game will have the least emotion in it for me, but it will also be interesting to watch the WVU defense go up against Jeff Monken's triple-option offense.
**Want to win a $25 gift card?  Go sign up here and join our conversation! The best poster each week wins a gift card to your favorite establishment!**