Big 12 Previews
Oklahoma State vs. Miami: Cheez-It Bowl Preview and Prediction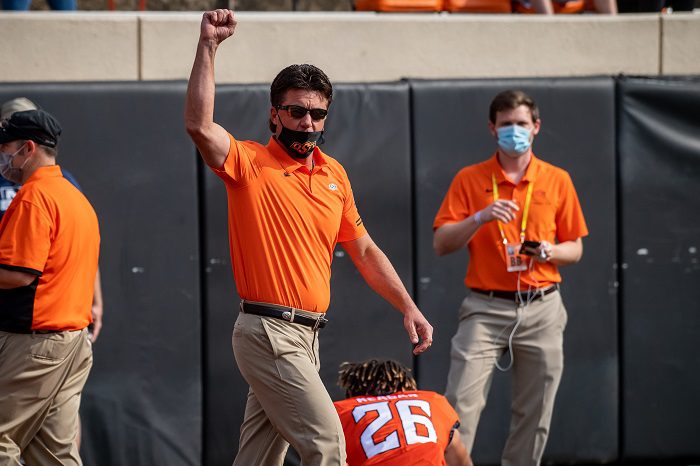 Here is everything you need to know about the upcoming Cheez-It Bowl in our Oklahoma State vs. Miami preview and prediction.
Game Info
4:30 p.m. CST, December 29th, 2020, Camping World Stadium, Orlando, Florida
TV: ESPN (Dave O'Brien, Tim Hasselbeck and Katie George)
Radio: Cowboy Radio Network (Dave Hunziker, John Holcomb and Robert Allen); Sirius 137, XM 199
Spread: OSU (-2.5)
Fun Fact: This will be the first Power 5 versus Power 5 non-conference game since last season's National Title Game between Clemson and LSU.
Key Players
Oklahoma State
WR Tylan Wallace
This is Wallace's last game in an Oklahoma State uniform and it's actually a bit of surprise he's even playing what with the trend of surefire draft picks skipping bowl games these days.  But Wallace is a different breed. On top of being one of the best receivers in the nation for the last three years he's been the ultimate team guy.  There was no way he was going to let his teammates play without him. After a spectacular sophomore season (where he should've won the Biletnikoff!) he spent half of his junior year out with a torn ACL and then missed multiple games this season with several nagging injuries.  Expect Wallace to want to go out with style and absolutely terrorize the Miami secondary.
LB Malcom Rodriguez
Miami quarterback D'Eriq King is as dangerous as they come when it comes to using his feet. The Oklahoma State defense hasn't faced a threat like him all year, and the Cowboy's aggressive style tends to make running lanes for fleet-footed signal callers. Rodriguez is the Pokes' most sure tackler thanks to his wrestling background and he'll need to make sure to take King down when he has the chance. A missed tackle in space turns a 5 yard scramble into a 50 yard touchdown.
Miami
QB D'Eriq King
To the delight of Miami fans everywhere their star quarterback announced a few days ago he'd be returning for another year. The redshirt senior would normally be playing in his final college game but in this wacky COVID year no one lost any eligibility and with the QB class pretty loaded for the NFL draft he decided to stay. King is an electric dual threat player in the mold Russell Wilson or Kyler Murray who have proven a smaller guy (King's 5'11" frame is small by NFL norms) can be successful at the next level.  He's averaging 309 yards of offense a game just by himself and while he's an efficient passer (2573 yards on 63% completion with 22 tds and 5 picks) he does a lot of damage with his legs (520 yards on 4.3 yards a carry) and can really hurt a team that thinks they have everything covered up.  The Cowboys have been solid defensively all season but are missing a key component: four-year starting CB Rodarius Williams has already left to prepare for the draft. His absence greatly changes what OSU can do in the way of aggressiveness and will give King a chance to really shine. An impressive game against a respected opponent would help springboard D'Eriq to the top of award watchlists for next season.
Key Storyline
Bowl games are wacky and usually come down to who is more motivated and who is willing to get creative. Both the Cowboys and the Hurricanes spent time in the top 10 this season and both would rather be waiting to kickoff their playoff game instead of being in the Cheez-It Bowl on a Tuesday afternoon. In a game where on paper the teams seem pretty even motivation could easily be the deciding factor. Miami just got the news that their most important player is returning for another season so they should be excited and ready to go. Oklahoma State is losing (has lost already) quite a few weapons in Tylan Wallace, Chuba Hubbard, Rodarius Willaims, and Teven Jenkins. Dillon Stoner and LD Brown are playing their last game. Future defensive star Trace Ford is injured. There's a chance that after a disappointing season and with all the attrition that OSU mails it in. I will say I've never watched a bowl game where I felt like Mike Gundy didn't have his team engaged in the process. Whoever comes out of the gate ready to go probably has the upper hand at the end of the day.
Prediction
Oklahoma State: 34 Miami: 31
Oklahoma housed a shorthanded Baylor team in its last outing and I believe they build on that. The Cowboy defense won't be able to control Miami's offense the way it did the Bears because unlike Baylor Miami won't be playing scout team players due to COVID (hopefully) but the offense should be able to move them ball.  The Baylor game was finally what OSU fans thought the Cowboy offense should've looked like all season and that should carry over to this game.  I expect Tylan Wallace to live up to his nickname in his final college game and turn into Superman anytime OSU get's in a bad spot.  Mike Gundy usually lets his offensive coordinators get a little feisty in bowl games and I think we'll see Spencer Sanders catch a throwback screen from a running back in this game.  Miami is too good offensively to not make it a game and D'Eriq King will put on a  show that gets him on the Heisman shortlist at the beginning of next season.
**Want to win a $20 gift card?  Go sign up here and join our conversation! The best poster each week wins a gift card to your favorite establishment!**