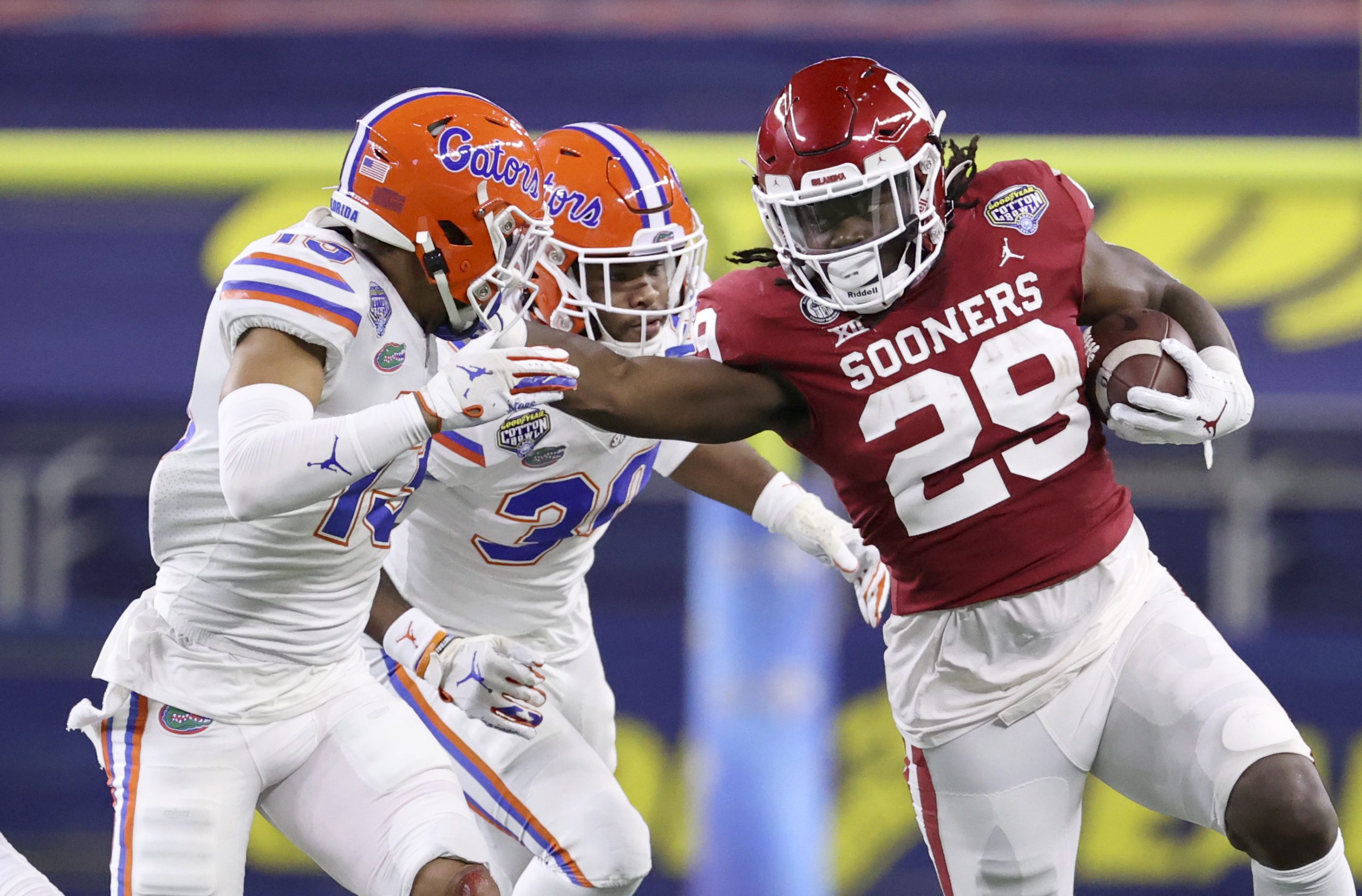 The Oklahoma Sooners have won their first bowl game since the 2017 Sugar Bowl. In that Sugar Bowl they beat Auburn and much like that game they took down another SEC opponent in Florida on Wednesday night. Here are my five thoughts from the 55-20 beatdown in Jerry World.
The Run Game
Even though the game is over, I believe Oklahoma is still running over the Florida defense. The Sooners racked up a whopping 435 yards on the ground led by none other than Rhamondre Stevenson who rushed for 186 yards and a score while averaging 10.3 yards per carry. The Gators had no answer for Stevenson or Marcus Major as Oklahoma ran wild. By the way, how about that SEC defense? Maybe they can learn a thing from the Big 12.
2. The Oklahoma Defense
While the national media will criticize the Big 12 for not playing defense because they haven't watched a Big 12 game in the last two years, this Oklahoma team is led by their amazing defense. Yes, the box score will show that they gave up over 500 yards, but this game was over well before the fourth quarter. The Sooners shut down Heisman finalist Kyle Trask and basically made him opt out of the second half. Trask threw three interceptions and one of them went for a Tre Norwood pick six. I know Florida had some key opt outs but even the backups were dominating the Gators.
3. 2021 looks Good in Norman
If not for the early season hiccups, I would love to see where this team would be. Call me crazy but I think Oklahoma would beat Notre Dame right now. But since we won't know the answer to that I am looking ahead to 2021. This was labeled as a rebuilding year by many, yet the Sooners once again walked away with the Big 12 crown. And as we peak ahead, is there any team in the Big 12 that can knock off this team? Maybe Iowa State but I am telling you right now, this Oklahoma team has a chance to do something special next season. They return Spencer Rattler at quarterback along with many of their top receivers and should be better up-front next season on the offensive line. Of course, having Alex Grinch as your defensive coordinator helps and even if some of those key defensive pieces go, this could be the best Oklahoma team since 2008. If I had to throw money down for next season, I would easily pick this team to win the 2021 Big 12 title.
4. Florida Linebacker James Houston Was Right
When the Cotton Bowl matchup was announced Florida linebacker James Houston said "Oklahoma is a good matchup, but they're not on out level. They're not the SEC. They're not the Florida Gators." Well, James was right. Oklahoma is not on Florida's level. They are ten levels above. Maybe the Gators should have done a little less talking and a little more playing because they got absolutely embarrassed on national television. Also, will somebody please check on Paul Finebaum?
5. Hello 3-0
It is satisfying to wake up Thursday knowing that the Big 12 is 3-0 in bowl games. Now it is up to West Virginia and Iowa State to take care of business so the conference can go undefeated in bowl play. It truly is a great day to be a Big 12 fan.
**Want to win a $25 gift card? Go sign up here and join our conversation! The best poster each week wins a gift card to your favorite establishment!**