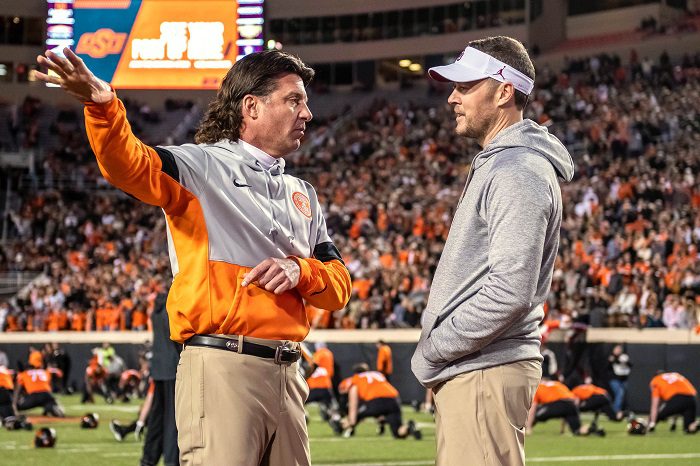 So far in the bowl season, the Oklahoma Sooners, Texas Longhorns, and Oklahoma State Cowboys have done their part to change the image the Big 12 Conference and its standing amongst the nation's other conferences. This evening West Virginia will have an opportunity in the AutoZone Liberty Bowl to add or subtract from what the conference has done this season.  The Big 12 Conference has played the best defense in college football this year, and we are far removed from the whole Sun Belt meltdown that took place in Week 1.  Iowa State will play in the PlayStation Fiesta Bowl against the Pac 12 Champion Oregon Ducks on Saturday. The conference, rightfully so, got a lot of heat for its 1-5 record during bowl games in 2019, and now in the most difficult year, perhaps ever, in college football the Big 12 has a chance to go 5-0. 
The Liberty Bowl this evening will certainly be an interesting test, on short notice having to play a very good and well coached Army team that uses the triple option is never easy. The Mountaineers have had one of the better defenses in college football all season long, but this type of scheme is a different kind of challenge, and often if you cannot get scores early, the fourth quarter becomes a coin flip.  But the opportunity to potentially get a victory against a very good nine-win Army team in the 2020 season is tremendous. What a building block opportunity for Neal Brown's program.
Iowa State in a New Year's 6 game seemed almost impossible just five years ago. Heck, three years ago! What Matt Campbell has done in Ames is hard to describe. The nation's best running back, Breece Hall, alongside an NFL-caliber QB in Brock Purdy, will get an opportunity to play against a very talented and well coached Oregon defense, who has several future NFL players in the rotation. Iowa State can certainly do a lot to catapult their status with a NY6 win, and likely help them tremendously in recruiting. Anytime you have a chance to beat a conference champion from one of the Power 5 leagues it can open doors you may not have had opened for you before. This is Matt Campbell's biggest game of his coaching career to date. 
The mantras, stigmas and national perception is getting shredded game by game. Before conference realignment, the Big 12 was one of the most respected and better conferences in college football, and now they are on the precipice of regaining the national respect they once had. While the league has been underrated and much better than people gave these teams credit for, proving it on the field with an exclamation point has been something that has eluded the league over the years.  West Virginia will need to break their bowl streak and Iowa State will need to handle business to cap off a 5-0 bowl season.
But if they do, it will be difficult to not consider the Big 12 one of the best, if not the very best league in college football in 2020. Oh and look ahead to 2021, the league may end up being even better. Stay tuned.
**Want to win a $20 gift card?  Go sign up here and join our conversation! The best poster each week wins a gift card to your favorite establishment!**