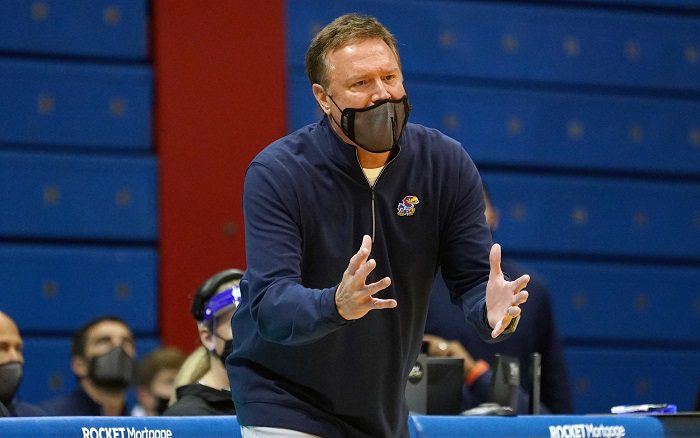 The Kansas Jayhawks are, technically, still under the cloud of potential NCAA penalties as it relates to the FBI investigation of college basketball. If you're wondering where that investigation stands, well, the NCAA's Independent Accountability Resolution Process is making its final determination of the case and will have a decision … who …. knows … when. 
But did we get a window into what the NCAA COULD do, thanks in part to a completely separate investigation into SEC football?
Last week the NCAA penalized the Florida football program for Level III violations. These violations are considered to be minor (the violations Kansas faces at this point are Level I violations, the most serious a program can face). Buried within the long list of minor sanctions was the following: 
A one-year show-cause order for the head football coach. During that period, the head coach is prohibited from all off-campus recruiting activity during the fall 2020 evaluation period and a four-day off-campus recruiting ban during the fall 2021 contact period. 
That penalty hits head coach Dan Mullen personally. But let's be honest — it's minor. The Fall 2020 recruiting period ends with the final signing day in February. And a four-day ban during the Fall 2021 period? That isn't going to hit the Gators very hard.  
But the show-cause is significant because it's not used often for coaches that remain employed. Use of the show-cause goes back to the 1990s. One of the most notable early cases was that of Maryland's Bob Wade, who loaned money and clothes to a player and ended up with a five-year show cause after lying to the NCAA. He never coached again. Cal's Todd Bozeman didn't coach for a decade after his eight-year show cause.
Of more recent vintage, Houston's Kelvin Sampson ended up getting the Oklahoma Sooners in trouble with the NCAA for making impermissible calls to recruits and left for Indiana. After he did it again with the Hoosiers he was forced to resign and served a five-year show cause before returning to college basketball with the Cougars. 
Bruce Pearl served a three-year show cause after lying to the NCAA about an impermissible visit by a recruit to his home. That led to Pearl's resignation at Tennessee. He served his show-cause and eventually returned to the game at Auburn.
Now, let's be clear. Sampson made impermissible calls to recruits. Pearl had ONE recruit over to his house (at least in this case).
Self and the Kansas program are accused of committing three Level I violations, which are the most severe the NCAA can hand out. This has led to a responsibility charge against Self and a lack of institutional control. Kansas 'emphatically rejected' the charges earlier this year.   
Right now any punishment is in the hands of a new committee called the Independent Accountability Resolution Process. One of the key parts of this is that the IARP's ruling is final No appeal through the NCAA. Whatever they decide, that's it (unless the Jayhawks want to go to court). This would, theoretically, take any self-punishment off the table. Arizona did that earlier this week, imposing a one-year postseason ban on itself. 
But as we wait for Kansas to receive its punishment, is Mullen's punishment a template that the IARP could use to inflict some punishment on Self and the Jayhawks without the pair having to part ways?
We must remember that part of the evidence in this case are text messages between former Adidas consultant T.J. Gassnola and Self. Per a Yahoo! Sports report, Gassnola and Self shared texts about Adidas helping Kansas recruit players. "I'm happy with Adidas," Self wrote Gassnola. "Just got to get a couple real guys." Also, when Gassnola texted about keeping Self and Kansas happy with top recruits, Self responded: "That's how (it) works. At UNC and Duke." 
This case has dragged on for two years with no resolution. At some point, the IARP will hand down a ruling. Considering that his program faces Level 1 violations, there has always been some thought that Self could absorb a suspension or lose his job as a result.
But, what if the IARP and the NCAA could punish Self with a show-cause that wouldn't necessarily lead to the Jayhawks and their Hall-of-Famer parting ways? What if Self and the program could absorb, say, a three-year show-cause penalty and allow him to keep his job? And, perhaps, more importantly, is that fair?
The cloud will continue to hang over the program until there's a resolution. But, with Mullen's punishment from the NCAA, that might give the IARP a different template to work with, and one that would certainly break the mold of the show-cause, considering how it has been used in the past in college basketball.  
**Want to win a $20 gift card?  Go sign up here and join our conversation! The best poster each week wins a gift card to your favorite establishment!**