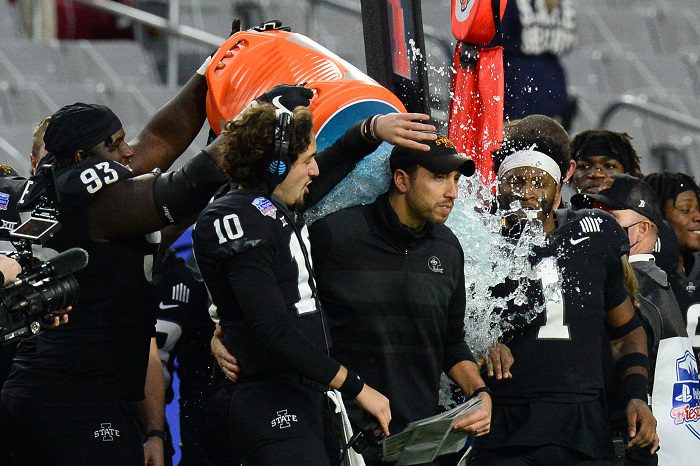 The Iowa State Cyclones are Fiesta Bowl Champions! Iowa State took down Pac-12 Champion Oregon and thoroughly dominated the Ducks to a 34-17 victory. This is Matt Campbell's second bowl win with Iowa State and this season marks just the second time in Iowa State history that they have won nine games in a season. Congratulations to the Cyclones and here are my five thoughts from the desert.
1. Time, Time, Time
The Cyclones controlled this game from start to finish. They wanted no part of a track meet and they did an excellent job playing their own game. Iowa State had the football for a whopping 42 minutes and 48 seconds. I am not quite sure if I have ever seen such a lopsided time of possession but give credit to Matt Campbell and his staff for the impressive stat. They turned this Big 12/Pac-12 game into an old school Big Ten game.
2. Ground and Pound
Of course, Iowa State controlled this game by running the football. By halftime, running back Breece Hall already had 22 carries and when the final whistle blew, the Cyclones racked up 228 yards on the ground on 56 carries. The offense basically killed Oregon with a thousand paper cuts as they took the air out of the football and slowly marched the football down the field throughout the game.
3. Jon Heacock is a Wizard
As college football fans we love to talk about offense, but it is the defense of Iowa State that has really helped this team down the stretch. The Cyclones shut out the Oregon offense in the second half and that is something that Iowa State can do quite a bit. In fact, in their last six games Iowa State has allowed just a total of 26 second half points. That simply doesn't happen in this sport and give defensive coordinator Jon Heacock a raise because that man earned it. The adjustments that he makes are second to none on the defensive side of the football.
4. What a season
Despite COVID-19 and all the other things going on in the world we should all be thankful that we made it through a full season and what a season it was for these Cyclones. They won nine games for just the second time in school history and just won a New Year's Six Bowl game. No, this isn't a dream, and it is really happening. Imagine telling an Iowa State fan back in 2016 that they would win a Fiesta Bowl in the next four years. They would have laughed. As we put a bow on 2020, I am eager to see what is in store for this team in 2021 depending on some NFL decisions that must be made. If Brock Purdy and a few others return, this team should be a preseason top ten team in my eyes for next season.
5. The Big 12 Went 5-0 This Bowl Season
No matter what the haters and SEC media fan boys say about the Big 12, the conference absolutely crushed it this bowl season. Three out of the five games were well decided and when you win all your bowl games, it really says something about the depth of this conference. I honestly didn't expect this to happen after that disastrous week one for the conference, but it did. This is a great way to start off the new year and I cannot wait for football season to come back to normal.
**Want to win a $20 gift card?  Go sign up here and join our conversation! The best poster each week wins a gift card to your favorite establishment!**