Big 12 News
Steve Sarkisian to Texas May Have Fallen Apart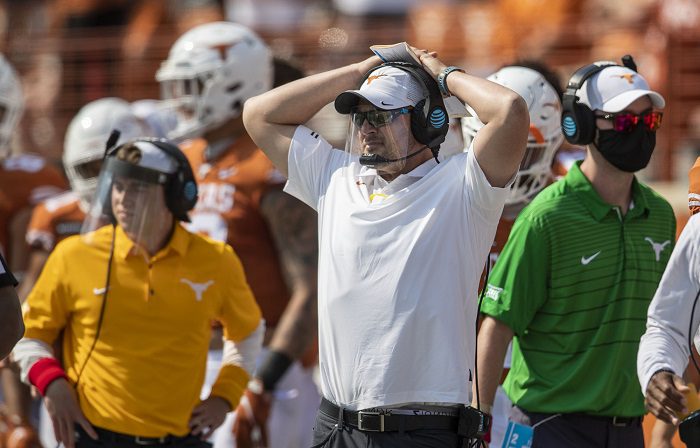 What a way to kick off 2021 in Austin, Texas. News broke on Saturday morning that Tom Herman was fired as the Texas Longhorns head coach.
Within the hour, there were reports, led by Chip Brown, that Alabama assistant, and former USC and Washington head coach Steve Sarkisian, was going to be the next head coach for the Texas Longhorns.
But one college football insider is saying, "not so fast."
ESPN analyst David Pollack put on social media that he is hearing Steve Sarkisian turned down the Texas job on Saturday.
This could all be negotiating by both sides. Does Texas want Sarkisian on campus right away, but he wants to coach in the College Football Playoff Championship game against Ohio State? Or is Texas trying to put pressure on someone else to take the job?
It's not entirely clear what the motivation might be, but if Texas does swing and miss on this hire, it would be a colossal embarrassment for the program, who pursued Urban Meyer, was rejected, and then fired Herman anyway.
Texas Longhorns players were reacting on social media on Saturday morning, and many were shocked and appeared to not be fans of the move.
Regardless, it's never drama free on the 40 acres, and chanlk this news up as just the latest example.
UPDATE 1/2/21 1:00 p.m. CST:
FOX Sports' Bruce Feldman has reported that Sarkisian has not yet turned down the job, but he also isn't saying the deal is done.
BUT also, FOX broadcaster Tim Brando also reports Sarkisian has turned down the job. Possible Nick Saban successor?
UPDATE: 1/2/21 – 4:00 CST
As often happens, the rumor mill was all over the place, but the Texas Longhorns have indeed hired Steve Sarkisian to be their next head coach. Read the entire story here.
Sarkisian comes to Texas after spending the last couple of seasons with the Alabama Crimson Tide as the offensive coordinator under Nick Saban.
According to reports, Sarkisian is expected to remain with the Crimson Tide through the College Football Playoff Championship Game against Ohio State.
**Want to win a $25 gift card?  Go sign up here and join our conversation! The best poster each week wins a gift card to your favorite establishment!**