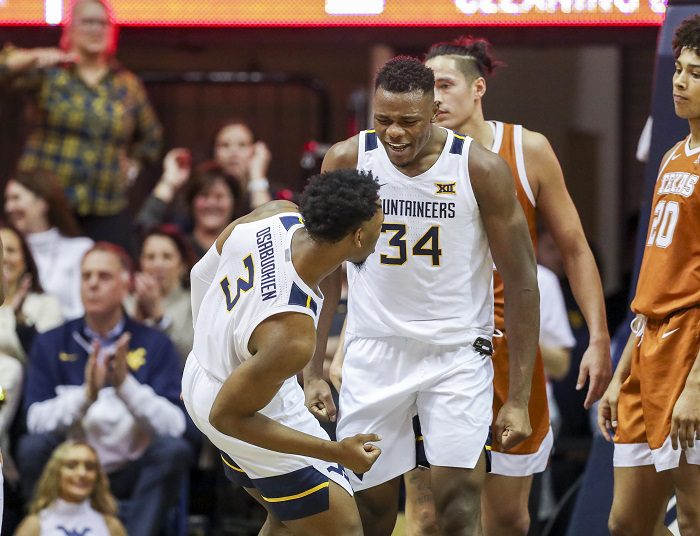 Oscar Tshiebwe was one of the building blocks of West Virginia's quick rebuild under head coach Bob Huggins, going from a 15-21 team two seasons ago to a Top 10 team. Losing him on Friday was a big blow. 
The question the West Virginia Mountaineers had to answer, starting Saturday in West Virginia's 75-71 loss to Oklahoma, was how they would handle life without Tshiebwe?  
Well, the Mountaineers started by sliding Jalen Bridges into the starting lineup.
When Bob Huggins talked with the West Virginia media on Friday after the Tshiebwe announcement, he specifically called out 'JB' (Bridges) as a player the Mountaineers would lean on as an option now that Tshiebwe was gone. 
"I think this gives us the opportunity to spread the floor a little bit more," Huggins said. "Guys like JB (Jalen Bridges) will be able to spread the floor and make shots."
Now, Huggins didn't anoint Bridges a starter on Friday. And the redshirt freshman was probably part of the plan anyway when Isaiah Cottrell was lost for the season due to an Achilles injury. I that would open up more playing time for Bridges. Against Northeastern — the game in which Cottrell suffered that injury — Bridges had season-highs in minutes (17), points (6) and rebounds (5).
If Bridges is a new name to you as a Big 12 fan, well he's not to West Virginia fans. Bridges redshirted last year after an incredible prep career at Fairmont High School in Fairmont, West Virginia. There, he was the 2019 West Virginia Player of the Year (called the Bill Evans Award), led the school to four straight state championship game appearances, including two titles, and averages of 21.6 points, 6.7 rebounds, 1.7 assists, 2.2 blocks and 1.9 steals per game. He was a Top 100 recruit nationally, and quite the coup on the Mountaineers' part to keep him in-state.
So Bridges was going to play at some point. And that time is now.
And in his first start, he played well. He had 11 points by halftime, and ended up with 19 points for the game. He also had 3 rebounds, 1 assist and 2 steals. Huggins' hope was that adding Bridges and subtracting Tshiebwe would space the floor, and it did. It's just that the Mountaineers had other problems on Saturday, such as a horrible first half in which they fell behind by 18 points.
But by putting Bridges in the starting lineup, that allowed Huggins to keep his top bench forward, Gabe Osabuohein, coming off the bench.
Huggins also said that Tshiebwe's departure would help provide "a lot more room to work down there" for Derek Culver, who frankly is having an All-Big 12 season. Entering Saturday's game Culver is averaging nearly a double-double (14.9 points and 9.9 rebounds per game) and had five double-doubles in the Mountaineers' first 10 games.
So was Tshiebwe 'clogging the lane?' Huggins didn't say it, but when I've seen Culver and Gabe Osabuohein on the floor together this season, the dynamic was different. Tshiebwe needed the ball in his hands to create shots and action. So does Culver. Osabuohein's offense comes more from rebounds, put-backs and transition. That complements Culver's burgeoning skill set better than Tshiebwe.
Culver had a rough game. He's the one that got into foul trouble in this one, finishing with 2 points and 6 rebounds. That feels like a blip game for him. But Osabuohein has to pitch in when Culver can't, and he didn't, either. He failed to score a point against the Sooners.
Instead it was Miles McBride (15 points), Emmitt Matthews Jr. (11 points) and Taz Sherman 19 points) who filled in the gaps as the Mountaineers rallied to tie the game at a few points in the second half. While Sherman and McBride have produced all season, the emergence of Matthews is just as important as inserting Bridges into the starting lineup. It's his second game in double figures. Perhaps, along with Bridges, he's one that benefits from Tshiebwe's departure.
Matthews may be one of those players that Huggins alluded to on Friday, the ones that are hungry for opportunity.
"And we have guys that have worked their butts off all summer to get an opportunity," Huggins said. "I am more than confident that they will do a great job for us. So, why would we screw that up?"
Why would we screw that up? Those words may say everything about why the Mountaineers announced Tshiebwe's departure from the program on Friday.
There's no question that before Friday, Tshiebwe was in a slump compared to last year. Tshiebwe was averaging 8.5 points and 7.8 rebounds per game. Now, those aren't bad numbers, necessarily. But they were down from his freshman season totals of 11.2 points and 9.3 rebounds per game, both of which led the Mountaineers. Those numbers led to Tshiebwe being named to the Big 12 All-Freshman Team, the Big 12 All-Newcomer Team and the All-Big 12 Conference Second Team.
The hope was that Tshiebwe would take a step forward this year. The slight step back in his numbers doesn't speak to the funk, though. In the Mountaineers games that I watched this season, Tshiebwe wasn't quite himself. He didn't seem to have the energy of a year ago. He wasn't playing as much. His 20 minutes per game were the same as sixth man Taz Sherman. And his playing time wasn't always curtailed by foul trouble, as was the case a year ago. The play of Osabuohien was siphoning off Tshiebwe's playing time too (Osabuohein averaged 19 minutes per game going into the weekend).
Before the announcement, Tshiebwe was quoted in a story in the Charleston (WV) Gazette-Mail on New Year's Eve saying that, to work out of his funk, it required more effort.
"You need to go for everything, that's what I did today, so that's why I looked good today," Tshiebwe said. "This game (Northeastern) is going to help us, me especially, and our confidence. A game like this is to prepare you for the league. The Big 12 is good, so now I know what I have to do to dominate. You have to go for every rebound, you have to run up and down the floor — you just need to play hard. The game I always play, that's the game I need to play."
Those aren't the words of a player that was planning to depart the program for personal reasons just a few days later.
The curious piece about the Gazette-Mail story was that Tshiebwe noted that he and Huggins have had multiple conversations about his play, with Tshiebwe saying that Huggins told him just "… play your basketball, play hard." Tshiebwe admitted in that same breath that he needed to play harder. Matthews Jr. said in that same article that he had spoken with Tshiebwe "plenty of times" about the fact that opponents would try to outsmart him to overcome Tshiebwe's physical play.
These quotes came after Tshiebwe had his first double-double in more than a month — 12 points and 15 rebounds on 6-of-9 shooting — against Northeastern.
But on New Year's Day he was gone. West Virginia's announcement never noted that he was entering the transfer portal or wasn't returning. But Huggins made it clear on Friday that Tshiebwe was NOT coming back to Morgantown this year.
Bob Huggins says Oscar Tshiebwe's departure from the team is permanent. Hear more from the head coach on this developing situation: pic.twitter.com/CgWUftBles

— Gold and Blue Nation (@GoldAndBlueNtn) January 1, 2021
Two years ago I covered the West Virginia-TCU game in Fort Worth. That game is probably one of the most infamous in recent West Virginia history. That game, a 98-67 Mountaineers loss on Jan. 15, 2018, saw Huggins as despondent as I had ever seen a coach. The problem was clear, and he made it clear that night — he had players that weren't buying in. And, for the remainder of that season, the players who didn't buy in left, one by one, and the ones that did got more playing time.
Two years later Huggins has rebuilt the program with 'his guys,' but as I listened to that one-minute clip of Huggins on Friday, I heard that same tinge in his voice I heard in Fort Worth. I don't like speculating, but that's what I heard, the thing that he left unspoken.
It's a shame, because Tshiebwe was one of the building blocks for Huggins' quick rebuild in Morgantown. But Huggins, based on his actions two years ago, is going to play with 'his guys.'
And if Tshiebwe is no longer one of 'those guys,' then on Saturday, you caught a glimpse of where West Virginia goes from here. From here, the Mountaineers may need a little time to work everything out. But, after one game, this team should remain competitive in the Big 12.
**Want to win a $25 gift card?  Go sign up here and join our conversation! The best poster each week wins a gift card to your favorite establishment!**