Big 12 News
AP Poll: Texas Jumps Into Top 5, Half Big 12 in Top 20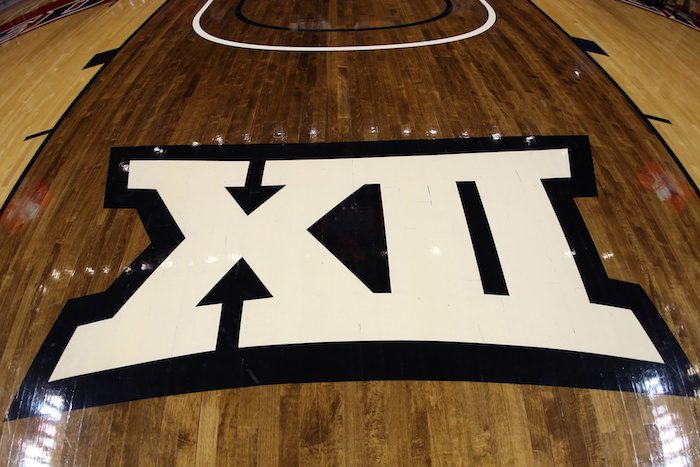 The Texas Longhorns made the big move up for the Big 12 Conference in this week's Associated Press Top 25 Men's Basketball poll, released Jan. 4.
Texas (8-1, 2-0 in Big 12), which dismantled Kansas, 84-59, at Allen Fieldhouse on Saturday, moved from No. 8 to No. 4, thanks to that victory.
The win was the Longhorns' first at Allen Fieldhouse as members of the Big 12 Conference. It also tied for the worst home loss in Allen Fieldhouse history.
Kansas (8-2, 2-1), which suffered its second loss of the season to a Top 10 team, fell from No. 3 to No. 6 this week.
Texas hosts Iowa State on Tuesday and travels to West Virginia on Saturday, while Kansas travels to TCU on Tuesday and hosts Oklahoma on Saturday. 
Meanwhile:
Baylor (9-0, 2-0), held steady at No. 2;
West Virginia (8-3, 1-2) dropped five spots from No. 9 to No. 14;
And Texas Tech (8-3, 1-2) dropped five spots from No. 13 to No. 18.
Baylor had a three-game week, two of which were non-conference and basically warm-up games — beating Central Arkansas, 93-56, and Alcorn State, 105-76. On Saturday, the Bears beat Iowa State, 76-65, as they resumed Big 12 action.
Baylor hosts Oklahoma on Wednesday and travels to TCU on Saturday.
West Virginia defeated Northeastern, 73-51, last Tuesday, but lost freshman Isaiah Cottrell to a torn Achilles injury, which will keep him out the rest of the season. The Mountaineers also announced the departure of starting forward Oscar Tshiebwe, who left the program for personal reasons. The Mountaineers then traveled to Oklahoma on Saturday, where they lost to the Sooners, 75-71.
READ MORE: West Virginia Basketball: Life After Oscar Tshiebwe
West Virginia travels to Oklahoma State tonight and hosts Texas on Saturday. 
Texas Tech claimed an easy 79-51 win over Incarnate Word on Tuesday, one that included the return of Kevin McCullar from a high ankle sprain. The Red Raiders then resumed Big 12 action with an 82-77 overtime loss to Oklahoma State.
Texas Tech hosts Kansas State on Tuesday and travels to Iowa State on Saturday.
The Oklahoma State Cowboys (7-2, 1-2) received 68 votes after receiving three votes last week. Those additional votes came after the Cowboys defeated the Red Raiders. Oklahoma State hosts West Virginia on Monday and travels to Kansas State on Saturday.
The Oklahoma Sooners (6-2, 2-1) received 15 votes after defeating West Virginia. The Sooners travel to Baylor on Wednesday and Kansas on Saturday.
This Week's Big 12 Schedule (all times local)
Monday, Jan. 4
West Virginia at Oklahoma State, 8 p.m., ESPN2
Tuesday, Jan. 5
Kansas State at Texas Tech, 6 p.m., ESPNU
Iowa State at Texas, 7 p.m., Longhorn Network
Kansas at TCU, 9 p.m., ESPN
Wednesday, Jan. 6
Oklahoma at Baylor, 8 pm., ESPN2
Saturday, Jan. 9
Baylor at TCU, TBD
Oklahoma at Kansas, TBD
Texas at West Virginia, TBD
Texas Tech at Iowa State, 3 p.m. (TV TBD)
Oklahoma State at Kansas State, 5 p.m. (TV TBD)