Big 12 News
CBS Bracketology Puts Texas Longhorns as No. 1 Seed in NCAA Tournament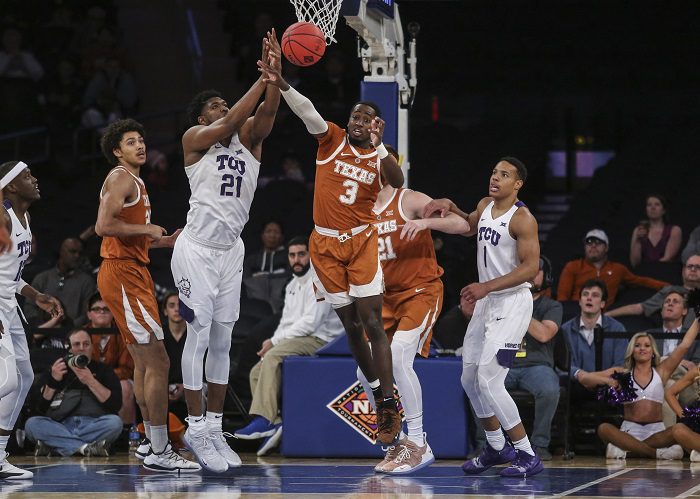 The Texas Longhorns received a nice surprise from CBSSports.com after their huge win over Kansas on Saturday — a No. 1 seed in Jerry Palm's latest Bracketology, released on Monday.
The Longhorns, in Palm's eyes, would be a No. 1 seed if the NCAA Tournament started today, as would the Baylor Bears, the only undefeated team in the Big 12.
Also on the top line with the Longhorns and the Bears were Gonzaga and Villanova. The only loss for Texas to this point this season was to Villanova.
Despite their loss to Texas, the Kansas Jayhawks would be a No. 2 seed in Lunardi's eyes, along with Tennessee, Rutgers and Iowa.
The NCAA announced on Monday that the entire tournament would take place in the state of Indiana.
In looking at Palm's updated Field of 68, Texas would play Colgate in the first round, Baylor would play either Texas Southern or Mount St. Mary in the first round, and Kansas would play Sam Houston State in the first round.
The Big 12 occupied four other spots in Palm's Field of 68, giving the conference seven spots in his updated field.
Palm had West Virginia as a No. 5 seed and facing Hofstra in the first round in the same region with Gonzaga. Texas Tech was also there, too, as a No. 7 seed and facing Colorado State in the first round.
Oklahoma got a boost from their win over West Virginia, as Palm had the Sooners as a No. 8 seed and facing Indiana in the first round. That would put the Sooners in the same region as Villanova.
Finally, TCU made the field as one of the last four teams in, according to Palm. That would put the Horned Frogs against Arkansas in a First Four game as No. 11 seed. If the Horned Frogs won, they would play Northwestern.
Oklahoma State, which is receiving votes in both the AP Top 25 and the USA Today Top 25, was not included in the Field of 68 and was not listed among the first four teams out.
**Want to win a $25 gift card? Go sign up here and join our conversation! The best poster each week wins a gift card to your favorite establishment!**