Big 12 News
Alabama's Mac Jones Says to Future Texas Quarterbacks: 'Enjoy Coach Sark'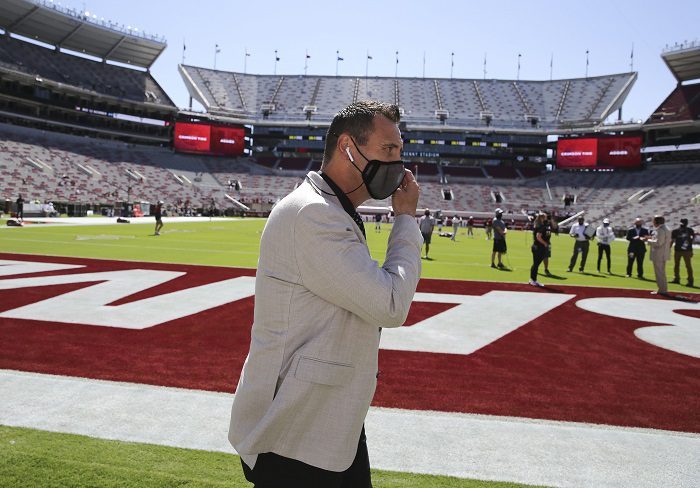 Alabama quarterback Mac Jones knows better than anyone the impact future Texas Longhorns head football coach Steve Sarkisian can have on a career. And on Wednesday Jones told future quarterbacks — theoretically those at Texas — to "enjoy it."
"And future quarterbacks, I'd just say enjoy Coach Sark," Jones said. "He's a great guy. You can learn a lot about being a great person, and then also applying things to your game. He's coached at all levels, NFL, college, so you can get a lot of different information from what he teaches you when you watch film."
Jones also said that what Sarkisian taught him extends further than just what happens on the field.
"Just learn how to think like Coach Sark, because he sees everything the defense does and he's going to put you in the best position to succeed as a quarterback and an offense," Jones said.
Jones was a Heisman Trophy finalist for the 2020 season, and his teammate, wide receiver DeVonta Smith, ended up winning the trophy Tuesday night. 
But Jones had an incredible season, as he threw for 4,036 yards, 36 touchdowns and 4 interceptions while completing 77 percent of his passes. In the Rose Bowl, which also doubled as a College Football Playoff semifinal game, Jones threw for 297 yards and 4 touchdowns.
The Crimson Tide will face Ohio State in the National Championship Game on Monday. Jones spoke to the media in advance of the game via Zoom.
Sarkisian accepted the Texas job last weekend after the Crimson Tide defeated Notre Dame, 31-14.
Once Sarkisian's time in Alabama ends next week, it will be up to him to manage a quarterback room that will be without Sam Ehlinger for the first time since the 2016 season. The four-year starter declared for the 2021 NFL Draft a day after Tom Herman was fired as head coach.
Right now the Longhorns are expected to return four quarterbacks, most notably redshirt sophomore Casey Thompson, who replaced Ehlinger when he was hurt in the Alamo Bowl. Thompson threw for 170 yards and 4 touchdowns in the victory over Colorado.
Also expected to return are freshman Hudson Card, freshman Ja'Quinden Jackson and redshirt freshman Ben Ballard. Austin (Texas) High School quarterback Charles Wright signed as part of the 2021 recruiting class, per 247Sports.com. 
**Want to win a $25 gift card?  Go sign up here and join our conversation! The best poster each week wins a gift card to your favorite establishment!**