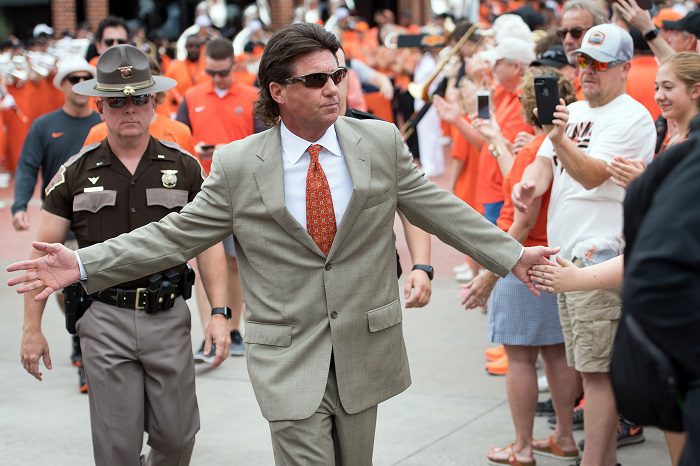 Every college football coach had a strange off-season this last year due to the pandemic but Oklahoma State's Mike Gundy's wasn't just dramatically different, it was straight up DRAMATIC. I'm not going to go into great detail, thats not what this piece is about, but I will give a quick refresher:
Gundy was dragged hard by the local and national media for saying that college football needed to start back up despite the pandemic for the sake of the local economies. The Oklahoma media went after him again for bringing his team back to campus as soon as was allowed, a decision that was a good one in retrospect as OSU handled COVID maybe better than anyone, but he was still accused of endangering the lives of his players by doing it. Then of course there was the infamous "t-shirt incident" where a photo surfaced of him on a fishing trip wearing a shirt from a news network that his players objected to, most notably star running back Chuba Hubbard who threatened to not play the season because of it. That ended with Gundy getting his contract shortened along with taking a million dollar a year pay cut.
So now that's it's the off-season again following a year by the Pokes marred by injury and lost opportunities what should Mike Gundy be focused on?
Retain Jim Knowles
First, he needs to do whatever he can to retain defensive coordinator Jim Knowles. Getting Knowles a pay raise was always going to be mentioned in here but it shot to priority number one when the reports surfaced Monday that he interviewed for the DC job at Illinois. In his three years at Oklahoma State Knowles had made the Cowboy defense formidable. Knowles coaches an aggressive style that relies on pressure up front and tight man coverage. It's a bit feast-or-famine but the Cowboys lead the NCAA in 3rd down percentage this year. His group has gotten better every season as the players get more used to his scheme. A lot of pieces are coming back next year and losing Knowles now would most likely be disastrous to a unit that seems to be hitting its stride.
Spend More Time With Players
Second Gundy needs to spend more time with his players, within the limits the NCAA allows of course. When the t-shirt scandal happened it came out that part of what the players were mad about was that their coach was oblivious to the fact that a certain shirt might offend them because he didn't know them well enough to know what they felt about much of anything. Apparently Gundy's press conference shtick of calling players by their numbers instead of their names wasn't a gag. He literally didn't know the names of some of his less prominent players. While it's true that position coaches usually recruit the players and things like fit and brand play a big role in where they choose to go they do still want a relationship with the head coach they sign to play four years of football for. For a lot of these kids coaches are father figures, sometimes their only father figure, and letting those relationships move to the back burner was a serious mistake that needs to be fixed.
Unleash Kasey Dunn
Next up is the offense. Gundy needs to take the leash off new offensive coordinator Kasey Dunn. With all the injuries on offense this season, especially on the offensive line, I don't think we really got a solid idea of how the first year play caller can handle the job but Gundy's conservative fingerprints were definitely present. The Cowboys can go toe-to-toe talent-wise with anyone in the Big 12 most years but need to punch up to knock off the rival Sooners.  Aggressiveness and creativity is how you beat a team that has better players than you and Gundy needs to remember that. Developing Spencer Sanders goes hand in hand with this. If Sanders can consistently play like he did in the Cheez-It Bowl, most notably turnover free, it will help the OSU offense get back to its old, high scoring ways.
Be… Absent
And lastly, and also most important behind retaining Jim Knowles, Mike Gundy needs to be absent. Absent from newspaper headlines. Absent from ESPN segments. Absent from local afternoon sports radio. Absent from any story that isn't about his team. Gundy is a master promoter. He's quirky and charming and funny and generally a pretty interesting person. Over his time in Stillwater his personality helped to raise the profile of Oklahoma State nationally but more recently he's turned more towards self-promotion. Intentional or not his antics became more about expanding his own profile instead of his team's or the university's. The head coach absolutely can not become a distraction. Hopefully he learned that after all the turmoil last spring.
As a coach Mike Gundy is running out of time. The 2021 season will be his 17th at OSU. That's a long time for a coach to coach, let alone at just one job. He's done a phenomenal job lifting the Cowboys up to a level none thought possible 30 years ago but he's had some help. Brandon Weeden fell into is lap the same time maybe the greatest college receiver ever Justin Blackmon came to campus as an unheralded two star recruit and the Pokes won the Big 12 and the Fiesta Bowl. He won the second most games in the Big 12 over a ten year span. His teams mostly filled the void left by a struggling Texas program but the Longhorn boosters will eventually throw enough money at the right coach.
The window is closing in Stillwater. Oklahoma is rolling again. Texas will eventually actually be back. Great coaches were hired at Kansas State and West Virginia. If he's going to repeat some of his earlier successes he needs to do it now. If he can refocus himself, keep his staff intact, and reconnect with his team he has a roster that is capable of making the Big 12 title game the next few seasons and take a punchers chance at ending the Sooners Big 12 dominance. He can't do it without a little self reflection and change though. He seemed to humble himself a bit during the off-season storm. Hopefully that trend continues.
If Mike Gundy can set his ego aside the next two years may be pretty good in Stillwater, but that's a pretty big if.
**Want to win a $20 gift card? Go sign up here and join our conversation! The best poster each week wins a gift card to your favorite establishment!**