Big 12 News
Mike Boynton Says Cade Cunningham Isn't Acting Like a One-and-Done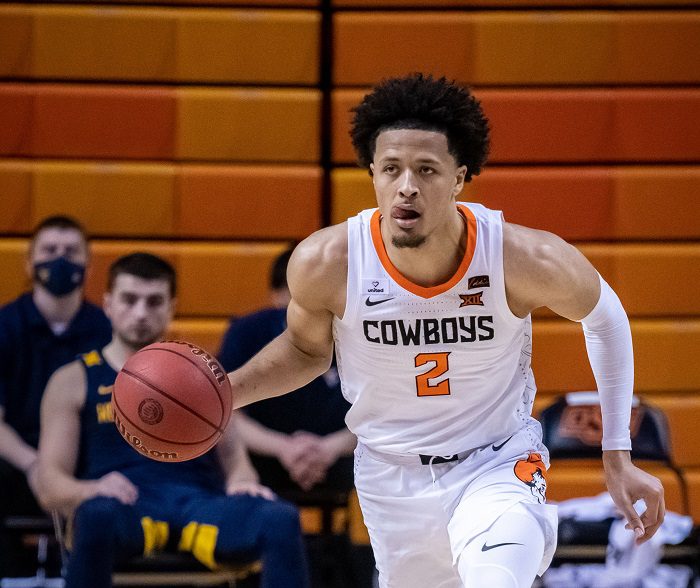 Oklahoma State Cowboys guard Cade Cunningham is the Big 12 Conference's leading scorer this year, yet the Cowboys have lost three of their first four games in Big 12 action. Plus, Cunningham, to many, is a one-and-done player.
But his head coach, Mike Boynton Jr., told Holly Rowe and Fran Fraschilla on Friday during a show on Sirius/XM Radio that Cunningham isn't "acting like a player with one foot out the door."
"It's a pleasure (to coach him), honestly, first and foremost, because the most important thing to that kid is being a good teammate and wanting to win," Boynton said during the interview.
Cunningham, a 6-foot-8 true freshman, has played with every bit the skill and production the Cowboys were expecting from him when he signed with OSU last year. Along with leading the Cowboys in scoring (19.1 points per game), he is also tied for the team lead in assists and steals, and leads the team in blocked shots. He's also the Cowboys' second-leading rebounder at 6.1 per game.  
Plus, even though the Cowboys faced a postseason ban this season — a ban the Cowboys are appealing — Cunningham didn't bolt from Stillwater before the season.
Boynton didn't sound surprised by Cunningham's quick transition to the college game. After all, Boynton has watched him play for years.
"I met him when he was 14 years old and a freshman in high school, and to watch his evolution, to become a guy who people look at as 'the man' now, but he hasn't changed," Boynton said. "He hasn't changed the way he works, he hasn't changed the way he respects the process of getting better. He's embracing this experience of being a part of college basketball. He's not one foot out the door as so many of my other coaches in the country have expressed to me to kind of be on the lookout for. He's totally vested in trying to help us have success and that's the thing that gives me so much optimism that this team will figure it out."
The Cowboys are 1-3 in Big 12 play entering Saturday's game at Kansas State. Those three losses in Big 12 action have been by a total of seven points, and Monday's loss to West Virginia has the potential to be disastrous, as the Cowboys lost a 19-point second-half lead to the Mountaineers at home.
Boynton isn't looking for consolation after these losses, but he's getting it, and from Cunningham of all people. 
"(After) a couple of losses he was one of the guys that I saw today, and went to lunch with him, he was, he was kind of reassuring me (saying) 'Coach, we're gonna be alright,'" Boynton said. "That's certainly comforting because, you know how it is, coach (Fraschilla). You go out there, you struggle a little bit and the outside noise starts to tell you, 'Well, maybe you're not as good or maybe your teammates aren't as good or maybe your coaches aren't as good.' For an 19-year old kid, that can be overwhelming. He hasn't bought into any of that. He's the first one in the gym this morning, working on the weekends, watching film. So he embraced the process and he's gonna be a big part of everything that we do to get this thing turned around, because he does care so much about winning."
Cunningham has already been named the Newcomer of the Week by the Big 12 Conference twice this season. He's on several watch lists for Freshman of the Year and National Player of the Year. That includes the Wooden Award Midseason Watch List, which also includes Baylor's Jared Butler and West Virginia's Derek Culver.