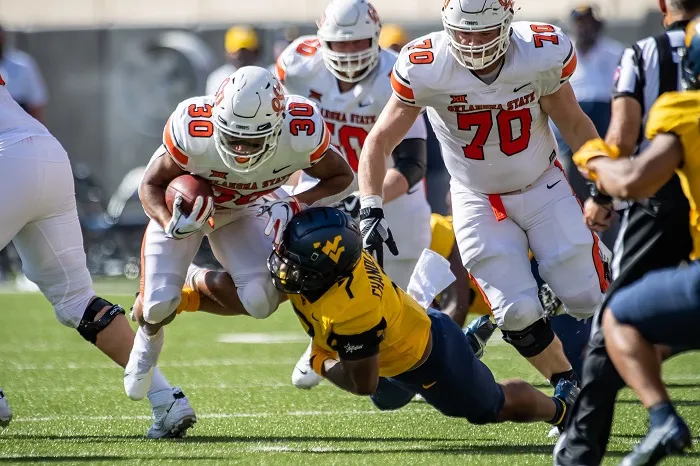 The Oklahoma State equipment staff never disappoints when it comes to the threads they produce for the Cowboy football team each week. The switch to the barbed wire style of uniforms in 2016 brought about the most unique period of gameday attire Pokes' fans have ever seen. 2020 was no exception, as OSU sported some of the cleanest uniforms in all of college football this season. Today we will rank those uniforms from worst (or at least, the least good) to best.
11. Black/White/Gray – Kansas
I wouldn't say these uniforms are terrible, but they certainly are boring. Gray rarely seems to work for the Cowboys, and this is no exception. OSU used their black matte helmet and paired it with a white jersey and gray pants for their showdown in Lawrence.
These seem like the kind of uniforms a team wears when they know no one is watching them, so I guess what better team to try them out on than the ole Jayhawks.
10. Black Pete/Gray/Black – Iowa State
Big shocker that the two instances of gray being worn are the bottom two of the list. This highly anticipated matchup versus the Cyclones saw Oklahoma State wearing a matte black helmet with a phantom Pete decal, gray jerseys and black pants.
OSU just can't seem to find a combination of gray that works, and until they can I say we ditch the gray altogether.
9. White/White/Black – TCU
These threads suffer the same issue as the Kansas game uniforms, in that they are just plain and boring. It's a white striped helmet with white jerseys and black pants. Big whoop.
They are the exact same uniforms OSU wore in their last visit to Fort Worth in 2018, a game which saw the Cowboy offense completely stall though four quarters.
8. Black/White/White – Miami (FL) Cheez It Bowl
It is at this point in the list that Oklahoma State nails every look they try with impunity. The Cheez It Bowl saw Oklahoma State in a matte black helmet with an orange 'OSU' decal, with a white away jersey and white pants. It's a simple yet clean look that I enjoyed watching Brennan Presley hat trick the U in.
It goes to show just how good OSU's uniforms were in 2020 that a combination I really like is all the way at No. 8. Major shout out to equipment manager Wes Edwards.
7. Black/Black/Black – Texas
It feels almost criminal to rank these so low, but again, the OSU equipment staff was on fire this season. The Pokes went with the same previous matte black helmet with an orange 'OSU' decal to go with the black jerseys and black pants.
The all black combination always hits hard, and Oklahoma State always seems to perform at the top of their game while wearing it. An overtime loss to Texas was the most recent outcome in these threads, and I get the impression that they will become a yearly tradition, as an iteration of the all blacks has been worn every year since 2011.
6. Black/White/Orange – Bedlam
Oklahoma State gave us flashbacks to 2014 as they donned the now classic black helmet, white jersey, orange pants look. OSU has brought this combo back multiple times against Oklahoma, and it always looks fresh in contrast with OU's crimson look.
This year's Bedlam outcome did not in any way resemble 2014's outcome, but hey, at least the Cowboys looked good.
5. White Pete/Orange/White – Tulsa
You can never go wrong with a traditional white/orange/white look. OSU has made it a yearly ritual to debut the season wearing these threads, and they're always one of my favorites. 
This color combination is the embodiment of Oklahoma State football. It was worn though the best and worst of times for decades, and it still looks as clean as ever.
4. Cursive Cowboys White/White/White – Kansas State
The equipment staff decided to bless us all for OSU's week 9 visit to Manhattan, Kansas, with a white helmet featuring a cursive 'Cowboys' decal. Made popular by the men's basketball team's 2017 memorialization of the classic basketball jersey, this throwback helmet was paired with matching jerseys and pants as the Pokes broke out the all white look.
We as fans wondered what we had done to deserve such ice. The Pokes went on to barely squeak out a win against the Wildcats, in part thanks to a Jason Taylor II scoop-n-score late in the fourth. I like to think K-State quarterback Will Howard was so shook to the core by the beauty of the helmets that he momentarily lost control of his ability to carry a football. That makes sense, right?
3. Cursive Cowboys Orange/White/Orange – Baylor
Mr. Edwards and his equipment staff were not done, however. A few weeks later OSU traveled to Waco to face the Baylor Bears in the regular season finale. Edwards looked at the white cursive Cowboys helmets and (probably) said, "Screw it. Make it orange." And thus, lightning had struck twice.
In all honesty, you could put either of the cursive Cowboys uniforms ahead of each other and I would be fine with it. I only give this one the edge because I'm a sucker for orange uniforms and because the orange pants work so well with the helmet. I'd be very interested to see this look, but with an orange jersey (eyeball emojis).
2. Orange/Orange/White – Texas Tech
Anytime OSU comes out with an orange helmet, it absolutely never flops. This one might be my favorite one yet. Mike Gundy's boys took the field versus the Red Raiders donning an orange helmet with a white 'OSU' decal, orange jerseys and white pants.
The glossy orange helmet fits so well with the orange jersey, while the white decal contrasts the rest of white uniform beautifully. It just works. Every element of the uniform is working in perfect synchronicity with everything else. This look most definitely should be brought back in the future.
1. All White Thurman Thomas Throwbacks – West Virginia
How could these not be No. 1? Their orange-jersey equivalents were the best in 2018, now the all whites take the crown in 2020.
Truly one of the best things to come out of 2020, these uniforms took the rounded 'OSU' helmet and white pants from 2018 and paired them with the classic white away jersey donned by Oklahoma State in 1987.
Many Cowboy fans want to see both iterations of this classic look added to the team's normal rotation, rather than just for commemorations. I would probably have to be one of those fans, as these are just too clean to be used for one-off occasions. Humanity needs these uniforms, and it would be a crime to keep them locked away until the next past-player celebration.
Remember, these rankings are just my opinion and should not be taken as objective facts, as much as I would like them to be. Feel free to disagree with me in the comments or to make your own list, I'm interested to see how others would rearrange these uniform rankings.
**Want to win a $25 gift card?  Go sign up here and join our conversation! The best poster each week wins a gift card to your favorite establishment!**