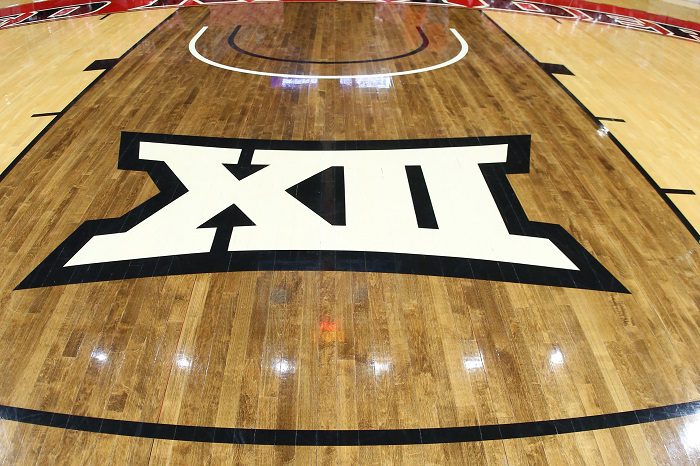 Is the Big 12's luck with COVID-19 to this point in the conference slate a matter of protocol or a matter of waiting for the other shoe to drop?
Yes, the Oklahoma Sooners were without Brady Manek and Jalen Hill due to COVID-19 protocols on Saturday against the Kansas Jayhawks. And, yes, the Big 12, like most college teams, had non-conference games canceled due to COVID.
But, to this point in Big 12 action, the men's basketball schedule has seen remarkably little change, aside from the postponement of the Big 12 opener between the Baylor Bears and the Texas Longhorns on Dec. 13.  
That game, at the moment, can cozily fit into the 11-day buffer the league has built between its expected completion on Feb. 27 and the start of the Big 12 Tournament in Kansas City. And it's the only postponed Big 12 game to this point.
Other conferences haven't been so lucky.
NCAA.com keeps a running list of COVID-19 news, including postponements and cancellations. At the top of that page I found that Drake, a Top 25 team, which had two games postponed due to a COVID-19 positive test at Drake. Underneath that, I found that Clemson, another Top 25 team, had its games with North Carolina and Syracuse postponed. Missouri, another Top 25 team, is on a COVID-19 pause.
It's a long list. Perhaps no program is having more issues with it right now than Villanova, which was No. 3 in the country last week. The Wildcats haven't played a game since Dec. 23. The Wildcats had a COVID-19 pause on Dec. 27, came off the pause on Jan. 3, and then went back on pause the next day after two players tested positive. Villanova won't play until Jan. 19 against Seton Hall. That leaves them with four Big East games to make up.
The Big 12 women have had issues, too. Baylor coach Kim Mulkey was in isolation this past week due to a positive COVID-19 test (men's coach Scott Drew went into isolation for the first week of the season for the same reason). Per the Big 12 web site, all but one women's team (Texas Tech) has seen a game postponed or its schedule adjusted due a COVID-19 pause in its program or with another program.  
The Big 12 men may experience the same issues at some point. But, for now, it appears the protocols are working. Along with all of the testing protocols, Big 12 teams are required to play, so long as they have six scholarship players that are eligible.
That's why Oklahoma played on Saturday, despite Manek and Hill being barred from playing.
Now comes the tricky part. We have to assume that the Big 12's testing protocols were observed, which includes contract tracing. Assuming that Manek and Hill didn't have any contact with the rest of their team, that SHOULD mean that both the Sooners and the Jayhawks come out of that game clean, in terms of COVID-19.
We don't know WHY Manek and Hill missed the game. It could simply be close contact and it would be unwise to speculate.
We'll just have to wait and see.
You can find Matthew Postins on Twitter @PostinsPostcard. Send him a tweet with your question to be included in this week's Big 12 Basketball Mailbag, which appears each Friday during the conference season.
**Want to win a $25 gift card?  Go sign up here and join our conversation! The best poster each week wins a gift card to your favorite establishment!**