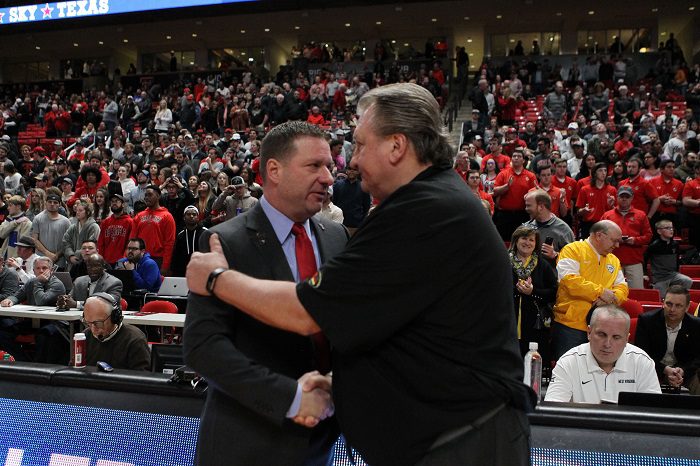 Here is the Heartland College Sports Big 12 men's basketball power rankings as of Jan. 11.
Some difficult decisions in the Power Rankings this week, after you get past the Top 3 teams — Baylor, Texas and Kansas.
1. Baylor (11-0, 4-0) (Last Week: 1)
Results this past week: def. Oklahoma, 76-61; def. TCU, 67-49.
The Bears started the week with a win over Oklahoma, a team that has the talent to pull off an upset over one of these teams in the Top 4 of our power rankings. But the Bears showed off their immense depth on the perimeter in this one. Jared Butler had 'just' 8 points in this one. But, you know what? That's OK when you have MaCio Teague (17 points) and Adam Flagler (15 points) to pick up the 'slack.' Oh, and don't be too hard on Butler. After all he had four rebounds, three assists and three steals in that game. What was impressive was the Bears found a way to get Matthew Mayer going off the bench with 16 points, and Mark Vital had 8 rebounds in 16 minutes. Baylor then went to Fort Worth on Saturday and Butler went off, scoring 28 points while the Bears held the Horned Frogs to 49 points. The Bears have one of the Top 5 defenses in the country, based on efficiency. Same with the offense. They're just so hard to stop right now, but starting this week we'll get a BIG look at what the Bears are about. The next three games are against West Virginia, Texas Tech and Kansas. These Power Rankings may just be in need of a shake-up. But, for now, Baylor remains No. 1.  
2. Texas (10-1, 4-0) (Last week: 2)
Results this past week: def. Iowa State, 78-72; def. West Virginia, 72-70.
Texas started the week as the nation's No. 4 team and having to fend off a feisty Iowa State team. The Longhorns used that balance I wrote about earlier in the week to win by eight points. All five starters were in double figures in the contest, led by Andrew Jones with 23 points. Kai Jones even came off the bench to give Texas seven points and nine rebounds. It would be hard to convince me that there's a better 'Starting 6' in the Big 12 right now. The improvement of Kai Jones has really changed the dynamic of what the Longhorns can do, mixing three great guards with three impressive forwards. Then Texas went to Morgantown and exorcised some demons. The Longhorns won by two on an Andrew Jones 3-pointer with less than five seconds left, and you can read more here. But this game was more than just Jones, who had 15 points. Greg Brown had a double-double and three other Longhorns were in double figures. As I wrote last week, the Longhorns are a seriously balanced team on the offensive end and that makes them hard to solve. Kai Jones had a great game off the bench. This is undoubtedly head coach Shaka Smart's best team. They're for real. And they're not dropping this week.
3. Kansas (10–2, 4–1) (Last week: 3)
Results this past week: def. TCU, 93-64; def. Oklahoma, 63-59
The Jayhawks were short-handed in Tuesday's game, with both Marcus Garrett and Bryce Thompson not playing. Didn't matter. The Jayhawks dismantled the Horned Frogs. David McCormack had the kind of game the Jayhawks need from him every night — 20 points, 8 rebounds, 2 blocks. In fact, he doesn't need to give them that many points every night. But the rebounds and blocked shots? That's the wheelhouse. Kansas shot crazy good in this one (56.5 percent) and it was never challenged by TCU. And let's give Dajuan Harris a little love, the guy that replaced Garrett in the starting lineup. Seven points and seven assists to spell the senior is a pretty darned good line. Garrett came back on Saturday and had one of his typical lines, but McCormack continued to shine, scoring 17 points and coming up with a key steal in the final minute of their win over the Sooners. Jalen Wilson overcame a horrible start to the first half to finish with 9 points, 11 rebounds and 3 assists, along with a couple of key 3-pointers down the stretch. The bench is still kind of out of balance, but at least Mitch Lightfoot was around to score seven points and block two shots. The Jayhawks remain at No. 3 and they're counting down the days before they take on Baylor. That's in about a week and a half. For now, the Jayhawks remain the No. 3 team in our Power Rankings.
4. West Virginia (9-4, 2-3) (Last Week: 6)
Results this past week: def. Oklahoma State, 87-84; lost to Texas, 72-70.
For the second straight Big 12 game the Mountaineers fell behind by a huge deficit. But, this time, against Oklahoma State, the Mountaineers not only came ALL the way back (from 19 points down), but they won, and it might not only have saved their season but augmented their identity into something sustainable without Oscar Tshiebwe. Like Baylor, Kansas and Texas the Mountaineers found their groove on the perimeter, with Miles McBride and Taz Sherman hitting big baskets in the second half, and Kedrian Johnson coming off the bench to deliver some nice minutes. All of that fit in nicely with Derek Culver's monster game inside — 22 points and 19 rebounds. So, moving forward, the Mountaineers look to be a perimeter-driven team that can open up space for Culver inside. Now, they have to stop falling behind by double-digits after the first 20 minutes. The Mountaineers managed not to do that against Texas on Saturday, but they still lost in the final seconds. Part of that was a great shot by Texas guard Andrew Jones. Part of it was some mistakes by the Mountaineers, who missed chances to extend the lead. But The Mountaineers have clearly found themselves — put four ball handlers around Culver in the middle and let it rip. Culver had another double-double (14 points, 16 rebounds) and it was more impressive against Texas and its size inside. Sherman was huge off the bench (17 points), while McBride and Sean McNeil combined for 26 points. Emmitt Matthews Jr. was a point away from double figures. If this keeps up, the Mountaineers are going to start winning these games against the teams ranked above them. Three of their four losses are against teams ranked in the Top 4 at the time.
From here, things got tricky, as the desire to respect head-to-head results collided with recency bias and hot and cold streaks. It's a little more 'from the gut,' now that were four or five games in. 
5. Texas Tech (10–3, 3–2) (Last week: 8)
Results this past week: def. Kansas State, 82-71; def. Iowa State, 91-64.
Texas Tech started the week with a lineup tweak, moving Kyler Edwards and Micah Peavy back into the starting lineup and then sliding Terrence Shannon Jr. and Jamarius Burton to the bench. This definitely helped Shannon out, who had 22 points for the Red Raiders in their win over Kansas State. So did a huge free throw disparity. The Red Raiders shot 36 free throws to Kansas State's 9. The Red Raiders made 30 of them and that made a huge difference in that victory. This was a big win for the Red Raiders, who had lost to Oklahoma State in overtime three days earlier. They needed it. Then the Red Raiders cleansed the palate for a big weekend by drilling Iowa State on 59 percent shooting. Edwards has now had four games in double figures since the benching (the fifth was him scoring nine points). So he's bounced back nicely, and the Red Raiders need that. They move up with the 2-0 week, but it's a volatile ranking with Texas and Baylor ahead next week. And putting them ahead of Oklahoma State, which they lost to in overtime just a week ago, doesn't feel quite right. But I'm looking at the full picture. Texas Tech is a better team, overall, than Oklahoma State, and if we're looking at it through the prism of the last seven days, then the Red Raiders are playing better.
6. Oklahoma (6-4, 2-3) (Last week: 4)
Results this past week: lost to Baylor, 76-61; lost to Kansas, 63-59
The Oklahoma loss was a little disheartening in that I had hoped to see a better showing on the road, even against the nation's No. 2 team. OU just didn't shoot well in that one (36.1 percent) and their hero from the West Virginia game, Umoja Gibson, went from 29 points against the Mountaineers to five points against the Bears. That's what happens when you can scout a guy. Good news? Brady Manek was showing signs of getting unlocked (10 points) after two sub-par games and Austin Reaves had a more consistent shooting game (nearly 50 percent, 19 points). But it's clear this team will have issues if Manek, Reaves and De'Vion Harmon aren't all firing at the same time (Harmon scored 4 points against Baylor). And on Saturday, the Sooners didn't have Manek, who was out due to COVID-19 protocols. Without him, Reaves picked up the slack (20 points, 9 rebounds). Both Harmon and Alondes Williams had nine points, while Elijah Harkless made a move into the starting lineup and scored 5 points. It was a spirited effort, and who knows? With Manek they might have won. But, without him, the Sooners take a tumble in our Power Rankings and head coach Lon Kruger has to hope his senior can return this week.
7. Oklahoma State (8-3, 2-3) (Last week: 7)
Results this past week: lost to West Virginia, 87-84; def. Kansas State, 70-54.
So exactly how GOOD are the Cowboys? That's an interesting question after last week. The Cowboys' first four Big 12 games were all either tough wins or tough losses for the Cowboys, but their loss to West Virginia was an implosion, frankly. We've heaped tons of praise on the Mountaineers for rallying. But we have to criticize the Cowboys here for losing that 19-point lead and losing that game, one they absolutely should have won, based on their lead. The only real criticism you can levy at freshman Cade Cunningham, who had 25 points, is that he fouled out in the final minutes. Isaac Likekele had 22 points. But the Cowboys were minus-7 on the offensive glass and lost their hot shooting touch in the final minutes. As great as Cunningham is, this is a relatively young team that is still learning how to win, and these are the growing pains they sometimes experience. The youngsters came through in the win over Kansas State, and it was on a night in which Cunningham scored just five points. Avery Anderson III, Kalib Boone and Rondel Walker — all either freshmen or sophomores who should be coming back next season — helped Likekele take the victory on the weekend. I'm keeping them at No. 7 for now. Cunningham's off performance against Kansas State and the rest of the team's up-and-down nature shows me a team that still hasn't found its balance yet.  
8. TCU (9-4, 2-3) (Last week: 5)
Results this past week: lost to Kansas, 93-62; lost to Baylor, 67-49.
The Horned Frogs should have taken that first game of the week and thrown it in the trash can. Actually, they shot decent, especially from the 3-point line, and Chuck O'Bannon Jr. had a great game off the bench (18 points). Bur RJ Nembhard was a bit human (14 points) and Mike Miles had his first poor game in Big 12 action (0-of-8 shooting for zero points). Now, he's a true freshman and he's going to have an off night. But that just shows you how important he is to the Horned Frogs right now. The Kansas game just got away from them at the jump. And it got no easier for TCU as it hosted Baylor in the weekend game. TCU lost that game (we noted that above). Miles had a nice bounce-back game in those one, scoring 17 points and going a perfect 8-for-8 from the free throw line. Nembhard had 14 points again. But it's clear this team is missing a third option, and now you have to worry about what happened to TCU's team last year. It started well, just like this, and then took a nose-dive in February. Can the Horned Frogs keep that from happening again? With two losses like this, the Horned Frogs had to take a drop from their high water mark in our Power Rankings this season. And of the four teams on this tier, I think they're playing the worst ball right not. But, frankly, it isn't by that much.
9. Kansas State (5–8, 1-4) (Last week: 9)
Results this past week: lost to Texas Tech, 82-71; lost to Oklahoma State, 70-54
There were some nice positives even in the loss to Texas Tech. The three true freshmen in the starting lineup — Nijel Pack, Davion Bradford and Selton Miguel — combined to score 44 points. This core group of three players is really starting to gather some steam as head coach Bruce Weber has devoted the time to letting them play. And he doesn't have to. He's gotten some players back from injury. But the trio is playing well and they look like the future of this program. Senior Mike McGuirl is also playing good basketball right now, and if there's a player that should exercise his additional year of eligibility due to COVID it's him. He could be of great use to the Wildcats next season. Kansas State wrapped up the week with a loss to Oklahoma State at home, as DaJuan Gordon put up a double-double, but the Wildcats weren't able to catch the Cowboys despite a tepid game from Cowboys guard Cade Cunningham. Still, this is a Wildcats team that is better that the team below it, but clearly not as good as any of the eight teams above it.
10. Iowa State (2–7, 0-5) (Last week: 10)
Results this past week: lost to Texas, 78-72; lost to Texas Tech, 91-62.
It's time to recognize that guard Javan Johnson is finally starting to gather some steam for the Cyclones as we move into the new year. Johnson, at times, kept the Cyclones in the Texas game by himself, scoring 23 points and helping the Cyclones make life real hard on the Longhorns down the stretch. This is a team that played with quite a bit of energy throughout the contest and has given West Virginia, Baylor and Texas significant tests so far this season. The chemistry in the starting five is right where the Cyclones want it. But they need some help from the bench, and aside from Tyler Harris I'm not sure where it's going to come from. The Cyclones received no bench help against Texas Tech, but the starters produced, outside of Tre Jackson. Iowa State received a grand total of six points out of their bench. The Cyclones are in a bad place right now. Unlike Kansas State, they don't seem to be improving. They seem to be stuck in place. Right now, that means they're bringing up the end of our Big 12 Power Rankings.
You can find Matthew Postins on Twitter @PostinsPostcard. Send him a tweet with your question to be included in this week's Big 12 Basketball Mailbag, which appears each Friday during the conference season.