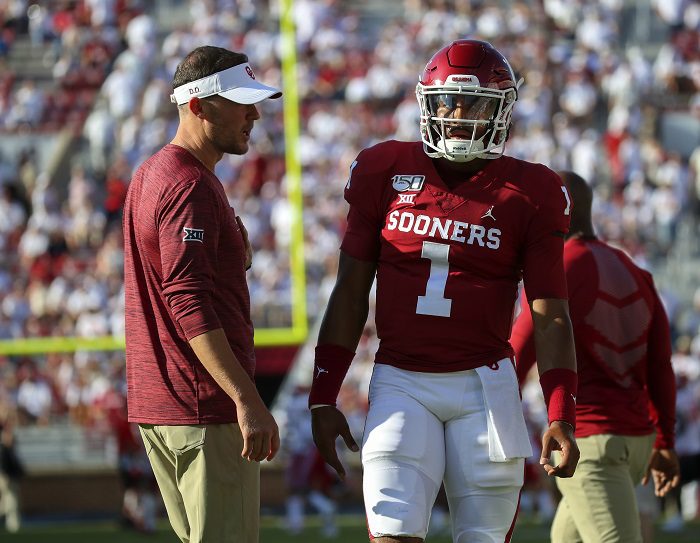 Lincoln Riley in Philadelphia? It's something to keep an eye out, according to one report out of the Philadelphia area.
The Philadelphia Eagles already have OU ties as Jalen Hurts was an early-round draft pick last year and was named the starting quarterback towards the end of the season.
But with head coach Doug Pederson's job now fired as of Monday night, this report out of Philadelphia is at least saying keeping an eye on Lincoln Riley and his connections to the Eagles organization is at least something to keep an eye on.
Here's what Joe Giglio at NJ Advanced Media is reporting:
"Yes, the 37-year-old Big 12 coach that (at least based on what we know) hasn't been truly linked to any current NFL opening or taken an interview this hiring cycle. On the surface, there's little reason to think Riley wants to leave a great thing (45-8 at Oklahoma with a salary over $6M per year) to help fix a floundering football team in Philadelphia.
But when you dig deeper, Riley and the Eagles make sense as an out-of-nowhere partnership.
Let's start with a relationship that already exists between Riley and the Philly front office, led by Eagles general manager Howie Roseman. According to the Philadelphia Inquirer, Roseman has cultivated a relationship with Riley over the years that includes listening to the Oklahoma coach on draft advice. It was Riley that agreed with the team's assessment of Oklahoma tackle Orlando Brown, leading to the Eagles going down the route of selecting Dallas Goedert in 2018. It was Riley who answered questions for the Eagles about Jalen Reagor, a TCU rival that Riley recruited during his high school days. And you can bet Riley's input went into the Eagles selecting his 2019 quarterback, Hurts, in the second round of last year's draft.
Three years (if not more) of direct conversations and advice from Riley to the Eagles on the draft, including the most controversial pick in years? It sure sounds like Riley's voice is already respected in the Eagles front office."
Now maybe it's something to watch, but as Giglio notes, Riley has a great thing going at Oklahoma, and would he give that up for the pressure cooker of the NFC East? Doug Pederson could get fired three years after winning a Super Bowl. That might seem crazy to some, but that's the NFL.
Riley continues to own the Big 12 Conference, leading OU to its sixth-straight Big 12 title this past season. Plus, he's got the Heisman Trophy favorite in QB Spencer Rattler heading into 2021.
Lincoln Riley appears to be someone who appreciates the family-friendly environment he has in Oklahoma, and as a small-town Texas kid, does the city that threw snowballs at Santa Claus really make sense?
It seems like a longshot, but at least know their are NFL circles buzzing about the idea.
UPDATE: Tuesday, January 12th, 5:00 a.m. CST
Well after Doug Pederson was fired on Monday night, Lincoln Riley's name has moved to the top of many lists. According to Eagles Maven, "A source close to the Eagles said general manager Howie Roseman reached out to Oklahoma coach Lincoln Riley about being the team's next head coach, a call made not long after the team parted ways with Doug Pederson on Monday."
**Want to win a $20 gift card? Go sign up here and join our conversation! The best poster each week wins a gift card to your favorite establishment!**