Big 12 Sports Articles
Kansas State vs. Stanford Moving to Texas is Everything Wrong with College Football, Especially in 2021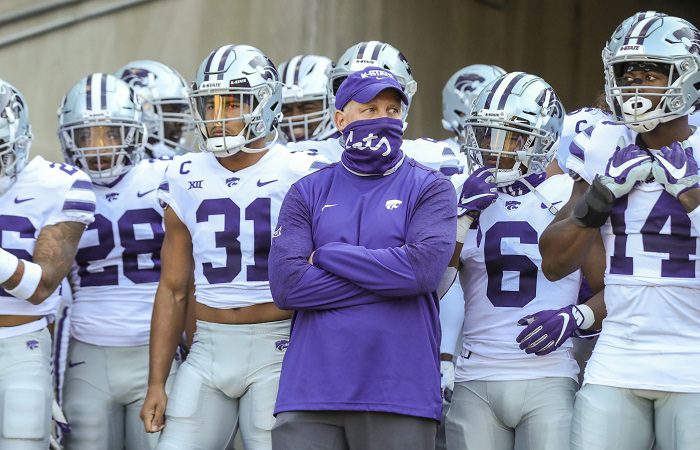 When the news came down on Tuesday that Kansas State's 2021 season opener against Stanford was going to be moved to AT&T Stadium in Arlington, I was crushed.
But as I saw some of the social media responses, I suddenly felt like I was a man on an island, and I could not figure out why.
Were the social media fan boys cheering this on not living through the same past 10 months that I have been? Do they not see anything beyond getting a chance to watch their team play a Power 5 match up in a prime time slot at Jerry World?
Because I do. And I wish they would too.
2020 was a brutal year for millions of Americans who saw their businesses take major hits to revenues, force them into layoffs, and in too many cases, have to shut their doors for good. No business has been hit harder than the hospitality industry. Bars, restaurants and hotels have been decimated. And if you go to college cities and small towns across this country, they're getting hit even harder.
Take Manhattan, Kansas, but you can insert Stillwater, Oklahoma, Ames, Iowa, Lawrence, Kansas, etc. into this conversation, and you'll get a similar mindset across the board that for so many of these businesses. Their lifeblood is the Universities that reside in their communities. From the students to their parents, faculty and other staff, and then of course to the sports fans, they're the ones that pay the bills.
And in 2020, they weren't there. Whether it was because some kids didn't go to campus, faculty was teaching from home, or in the case of sports, if the games even had fans, there were a fraction of what there would be in a "normal" season.
In the case of Kansas State, I'd imagine many small business owners in Manhattan have had September 4th, 2021 circled on the calendar for weeks. Bar and restaurant owners just trying to get through the winter, welcome the spring, warmer weather, a vaccine, outdoor dining possibilities and more. Then make it to football season in the fall, and maybe they can survive this nightmare. On September 4th, Kansas State would welcome a Power 5 program to Manhattan, hopefully by then we can start packing stadiums again, Aggieville would be rocking and business would flourish.
However the rug was ripped right out from under them.
This game will now be played at AT&T Stadium, putting money into the pockets of Jerry Jones and the plethora of chains around the stadium, while Mom and Pop business in Manhattan gets hosed… again.
The defense I keep hearing is: Well, Kansas State still has seven home football games next year. That's easy for you to say! You're not the one whose business is on thin ice. Take away one of those key Saturdays during a normal college football season, not coming off a pandemic-riddled year, and it's still a blow for these businesses. Now, it just stings even more.
Additionally, while I know that these games bring in money for television, which allows them to pay these conferences big bucks, plus the programs themselves, but the continuing cheering on of sterilizing college football is something I'll never understand.
College football is at its best when it's played on campus. The pageantry and the history is what makes the sport special. The storylines around the University, the football stadiums, (in the case of K-State) the Flint Hills as a back drop, make the experience unlike any other sport.
I understand some fans may see recruiting benefits or a way to get out of town for a weekend and spend some time in the Dallas-Fort Worth Metroplex, but that's a short-term gain for continued long-term pain of the sport itself and the businesses who are the backbone of college towns all across America.
They've been kicked while they're down enough over the last 10 months. Let's not cheer when it's made worse than it needed to be.
**Want to win a $20 gift card? Go sign up here and join our conversation! The best poster each week wins a gift card to your favorite establishment!**