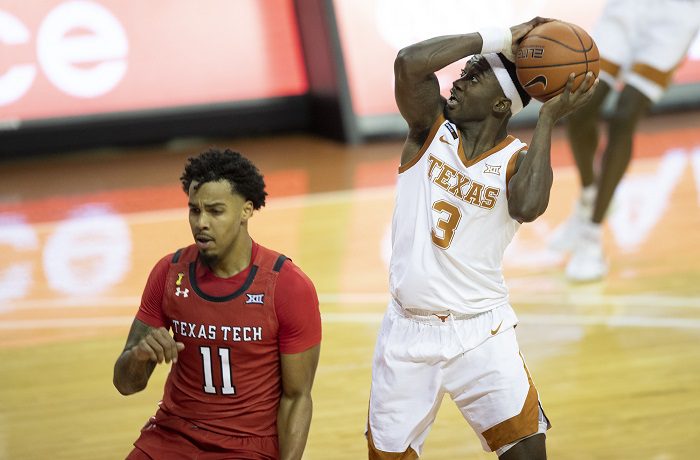 Welcome to the HCS Big 12 Basketball mailbag. This mailbag is for all you basketball junkies out there who root for a Big 12 school who not only have questions about your team, but other teams in the conference. So, join me, grab a cold brew or your favorite drink and relax as I answer all your Big 12 Basketball questions in my mailbag, which will appear each Friday.
I will pick the best question for each mailbag and label it as my question of the week. The winner gets a free HCS Koozie to keep your beer cold (Unless you like it warm, but that's just plain wrong). I want to thank each one of you who submitted a question this week, and while my HCS colleague Derek Duke does this with a beer for his football mailbag, I tend to lean toward a Vodka and soda. This will be the first mailbag of the Big 12 Conference season. Thank you so much for your support and keep our Mailbag in mind as you think of more Big 12 questions. Cheers!
We have three questions this week and we start with the Texas Tech Red Raiders.
@RPTexan asked "Does Tech have enough offense to finish in top 3 of conference, and make a run in the tournament?"
Well, if you saw Tech's win over Texas on Wednesday, you would probably say, 'You bet.' But let's dig in a little deeper. On a national basis, the Red Raiders are No. 108 in scoring, tied with — oddly enough — Texas. Peek into the Big 12 and as of Jan. 14, the Red Raiders are in the middle of the pack in scoring, behind Baylor (89.0 ppg), Oklahoma (77.8 ppg), Oklahoma State (77.1) and Kansas (76.4 ppg). So, for the season, Baylor is in its own class. But the rest of the conference isn't that far away. If you're looking just at Big 12 games, Texas Tech is No. 4 (75.8 ppg), and its only four points behind No. 1 Baylor (79.8 ppg). So, just on points? Yes, Texas Tech can finish in the Top 3. But there's a couple of nuances to that.
First, Texas Tech builds its offense off its defense, and there was no better indication of that than its win over Texas, where the Red Raiders owned the points off turnover statistic. So, as long as the Red Raiders remain one of the best defensive teams in the country, they will have a chance to be in every game.
Second, Tech's offense is built differently than some other Big 12 teams, and that was evident on Wednesday. This team wants to drive to the basket, create offense in the paint and use that ability to force teams to play their pace. There's nothing wrong with that. But that, combined with their horrible 3-point shooting in Big 12 play to this point (No. 9 in the Big 12 at 31.6 percent in six league games), means the Red Raiders, for now, have a ceiling in terms of their scoring. If their 3-point shot gets better, they have the potential to be a Top 10 team in the country and a Top 3 team in this conference. If they don't, well, then where they're scoring now may be their ceiling. And outside shooting is Texas Tech's biggest offensive issue right now.
But does a 'ceiling' on their scoring mean the Red Raiders can't 'make a run in the tournament?' Nope. Absolutely not. In fact, the idea of the Red Raiders finishing in the Top 3 in the Big 12 and making a run in the NCAA Tournament are exclusive of each other. I think the Red Raiders have a better chance of making a run in the NCAA Tournament than of finishing in the Top 3 in the Big 12, regardless of whether their outside scoring gets better or not. This team is built for March, even if they're not as consistent as Red Raiders fans would like them to be right now.
@brybruce2 asked: "Big 12 has 5 sweet 16 caliber teams. How many have tools necessary to make final 4?"
It's crazy to think that it's been nearly three years since the Big 12 sent FOUR teams to the Sweet 16 — Kansas, Kansas State, Texas Tech and West Virginia. It happened one other time in 2002. But in the Big 12 era, the most teams the league has sent to the Final Four is two. The Big 12 has done it twice (2002, 2003). So let's work under the assumption that this won't be a 1985 Big East situation, where the league sends three teams to the Final Four.
Let's rank them in order:
1. Baylor. There is no better constellation of guards in college basketball right now. They can do everything. They may not have legit size inside, but they have legit forwards that can get the job done. Their pace of play is nearly impossible to keep up with. Oh, and they can defend, too.
2. Kansas. They're having some problems with the 3-point shot right now and they've lost two league games already. But no program in this conference has more March Madness experience than the Jayhawks, and that comes in handy during the tournament.
3. Texas. I've written about how the team's offensive balance has turned them into a different team. Yes, they just lost to Texas Tech. But the Longhorns are going to absorb a few losses. But their outside-inside game, along with their dogged defense, makes them a team that could slip into the Final Four, especially if they end up as a No. 1 or No. 2 seed.
4. West Virginia. The Mountaineers have COVID-19 issues right now. But, Derek Culver is now a dominant forward and the guards are beginning to embrace a little more "Press Virginia" on the perimeter. Plus, they have three capable and relatively consistent 3-point shooters.
5. Texas Tech. The Red Raiders have the overall scheme to be successful in March. The X factor is their 3-point shooting, and we went over that in the first question.
It wouldn't surprise me if four of these five teams reached the Sweet 16. It also wouldn't surprise me if two of them reached the Final Four. The point I made in the mailbag last week was that the Big 12 is one of the two best conferences in the country, along with the Big Ten. That is unlikely to change this season. I just hope we get a full tournament to see what these teams can do.
From @ejbband21: Is this year starting a downtrend for Kansas in their conference dominance or is it just a fluke?"
Let's put it this way. Last season, the Baylor Bears had a season for the ages and the Kansas Jayhawks split the season series and still won the Big 12 regular season title. They've failed to win the Big 12 regular-season conference title just twice under head coach Bill Self. In fact, the Jayhawks have failed to finish in the Top 3 in the regular-season conference standings just ONCE since 1990. So Kanas isn't going anywhere. And we should note that last year's regular-season title came one year after the Jayhawks finished third in the league standings. So Self knows how to figure things out. So, I look at this year as a 'fluke.' But let's be clear — Kansas faces Baylor on Monday and, if the Jayhawks win that game, well, so much for this year being a 'fluke.'
Talk to you next week. If you have a question, hit me up on Twitter @PostinsPostcard.