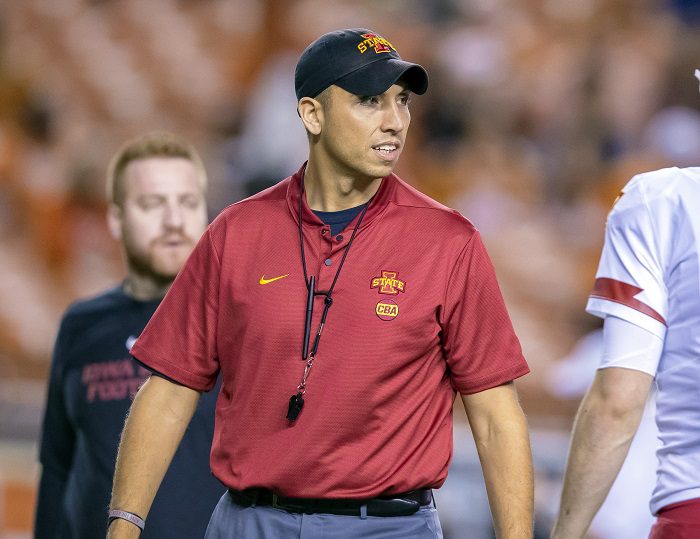 I know well and good that many of you have basketball on your minds. After all, there are plenty of exciting teams in the Big 12 to follow, including some real contenders for the conference title this year. But for me, the doldrums of winter have begun to already take hold. Cyclones basketball hasn't been exciting or really fun to watch over the past few weeks. Like I wrote in my previous article, I am reserving judgement on this team and giving them the benefit of the doubt for the month of January.
And so my mind drifts to football, that fall dream of pork sizzling on the grill, the Busch Light flowing like honey, and the sound of the Cyclones pre-game show on 100.3 the Bus, as we fans prepare ourselves for perhaps the most cardio we have had all week. And this past weekend, there was some buzz circling around the Cyclones football program in regards to Matt Campbell and some cups of coffee he reportedly did or didn't have with some NFL programs. I cannot say for sure what happened in total, but Dan Campbell did interview with the Lions.
I wasn't as worried as many fans might have been, of course this was because Charlie Kolar had tweeted that he was coming back for his final year to finish some unfinished business. I took this as a sign he had already talked to Matt Campbell about his intentions to stay or go, and likely wouldn't have come back if Campbell was serious about leaving.
This brings me back to the purpose of this article, the myth that seems to surround Matt Campbell and Iowa State.
Mainly, that Matt Campbell is simply here at Iowa State until a better position opens up that he can apply for and get the hell out of the dumpster fire that must be Ames, Iowa. After all, every year we hear the same reports from the news media both in Iowa and nationally that Matt Campbell is on some schools hot list for hire. Now I am realistic in how I approach this. Matt Campbell may not be here at Iowa State in three to four years from now. He may choose to move on and take a job, but the national media misses the mark when it comes to what job Matt Campbell may take if he does ever decide to leave Ames.
Most pundits and coaches see the coaching ladder in a certain way that makes sense. Plus, the purpose of a ladder is to climb upwards, isn't it? If you're a hot name, you strike while it's hot and move on. Heck, the more prestigious the school is perceived to be, the easier it is to lure the talent of new recruits to your team. Teams with better talent have the capability to win more games, and the more games you win the better the contract you can get. The more games you win the better odds of finding a title game at the end of your season. This is a fairly normal way of thinking and it's how many of us view our employment as well (just not as lucrative!).
Yet from what I've seen of Matt Campbell, he doesn't seem to operate and think the same way most college football coaches do. I don't know Matt Campbell personally, but I have seen how he reacts to certain situations and he seems to be fairly consistent in how he looks at success.
I believe if Matt Campbell is to ever leave Iowa State, it will be for a challenge, not money or the name on the front of the jersey. For a few coaches, it is the love of the challenge that keeps them going. I would have been a little more worried if a team like Kansas (just an example) had called and asked to talk to Matt Campbell than Michigan or Florida State. Matt Campbell seems to be the type of coach that sees things as natural fits, what can he offer and what can he accomplish at a place that would challenge him and his staff to re-invent the wheel to get the program off the ground. Just like success can be measured in different quantities so can what makes a job attractive to certain individuals.
With players like Chase Allen, Charlie Kolar, Mike Rose, Brock Purdy and Greg Eisworth choosing to return to the team for another year says a ton about what they think of Coach Campbell and the mission he laid out for them when they first arrived. Much like his fan base, they are converted believers that see a plan and a way to get there in the end.
Next year will certainly look to be a good year for Iowa State. The pressure will be unlike anything Iowa State has experienced. If and when Campbell has success, this whole cycle will start over where the underachieving blue bloods want to talk with him. The media will cite the obvious things you or I would likely find attractive. Why wouldn't Campbell want to live in a bigger city? Why wouldn't he want to have his pick of the five-star talent? Who wouldn't want a couple million more dollars per year?
What they won't understand is that Matt Campbell isn't going to make a move based off any of those things. He will likely only move when he feels like he has accomplished what he set out to accomplish at Iowa State. Once again, this may not be based off wins or loses or titles or even accomplishments we think of as fans. It could be something only Matt Campbell knows when he knows. But for this year, for 2021 at least, we get him for another season and for that I will choose to be thankful for.
**Want to win a $20 gift card?  Go sign up here and join our conversation! The best poster each week wins a gift card to your favorite establishment!**