Big 12 News
Steve Sarkisian On Why He Didn't Talk to His Players First About Singing 'The Eyes of Texas'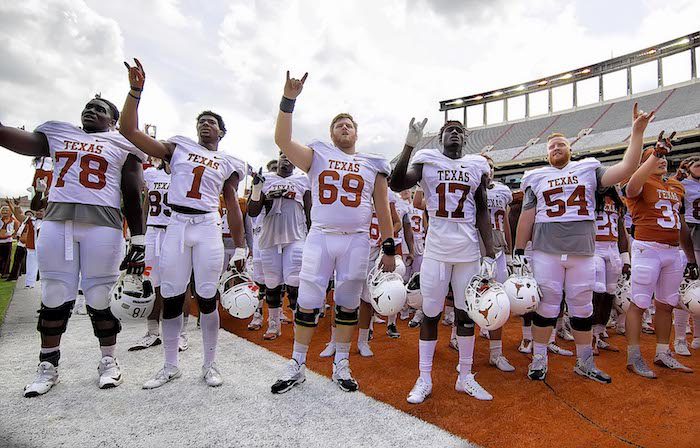 The "Eyes of Texas" has been controversial at UT for several years, but really picked up steam during the social justice movement over the summer.
Then as the season went along, there was more drama, where former head coach Tom Herman and AD Chris Del Conte had different takes on whether or not the team would stand for the song after games.
The song has become an issue within the program after several football players and other athletes said over the summer they no longer wanted to sing it. The song has come under scrutiny as it was performed at minstrel shows by performers in blackface during the early 1900s. Former Texas defensive lineman Sam Acho had tweeted that "most Black players hated singing that song."
Well new head coach Steve Sarkisian announced upon taking the job that his team would stand and sing the "Eyes of Texas". But he had not talked to his team first.
During an interview on Friday with CBS Sports Radio's Tiki and Tierney, Sarkisian was asked if he should have talked to the players before announcing they would sing Eyes of Texas.
The new head coach said, "I'm a big relationship guy. I'm very authentic, I'm very upfront, I'm very real. We'll have a lot of candid conversations with our players. After all those discussions are done, we'll be a unified team in whatever issue comes up, positive or negative. The reality of it is when you can operate like that, you can get through anything together."
That doesn't really answer the question and it also contradicts what he said in recent days that the team would "proudly" sing the song.
Regardless, Sarkisian appears to be doing a great job early on in his hirings thus far and getting very good feedback from players and those around the program. So hopefully this is something that doesn't become more than it needs to be. That's the last thing a new head coach needs to deal with.
**Want to win a $25 gift card?  Go sign up here and join our conversation! The best poster each week wins a gift card to your favorite establishment!**