Baylor Bears
Kim Mulkey on COVID: It's Called the 'Almighty Dollar'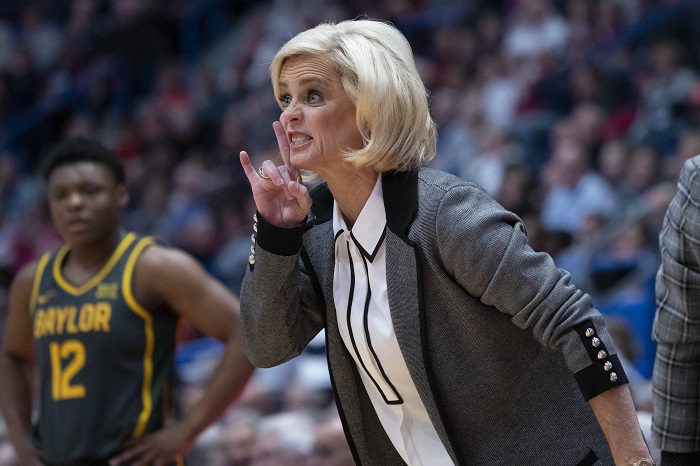 Baylor women's basketball coach Kim Mulkey said the thing that has gone mostly unsaid in this COVID-19 infused 2020-21 college basketball season.
"The answer is this: The season will continue on. It's called the almighty dollar," Mulkey told ESPN.com and other reporters after the Iowa State Cyclones ended Baylor's 61-game home winning streak on Saturday.
Mulkey can speak from experience about COVID-19. She contracted the disease on Christmas Day and had to isolate herself from the team. But it didn't stop the program from having to go on a COVID-19 pause earlier this month, which the program came off of the day before the Iowa State game.
The Big 12 men have COVID-19 issues, as half of the games on last week's slate were postponed, and seven games overall need to be rescheduled.
Mulkey reached the point in the conversation on Saturday where she said "I'm uncomfortable coaching," partly because different conferences have different protocols and partly because of her own experience with the disease. But she knows the season isn't stopping.
"The NCAA has to have the almighty dollar from the men's tournament," she said. "The almighty dollar is more important than the health and welfare of me, the players or anybody else."
Mulkey speaking out is important. Her reputation in the women's game is similar to that of Duke men's coach Mike Krzyzewski, who paused his own team in December and sent them home for the Christmas holiday, opting out of remaining non-conference games and talking about his own hesitation about COVID-19 and college basketball. Like Mulkey, Coach K voiced those concerns after a loss.
Reporting from the Indianapolis Star on Sunday explained why the 'almighty dollar' is so important to the NCAA right now.
The NCAA's major revenue driver is the men's basketball tournament, or March Madness. In fiscal year 2019, per the Star, the NCAA pulled in $1.1 billion. Of that amount, $868 million came from television rights fees. The NCAA's agreement with the CBS networks for the tournament is $771 million per year.
The impact of the cancellation of last year's tournament was felt everywhere. The NCAA furloughed employees. NCAA president Mark Emmert took a 20 percent pay cut, along with the entire senior management team. Plus, the payout to programs from the NCAA dropped from $600 million to $225 million.
So Mulkey is right when she says it's about the "almighty dollar" when it comes to college sports and COVID-19.
**Want to win a $20 gift card?  Go sign up here and join our conversation! The best poster each week wins a gift card to your favorite establishment!**