Big 12 News
Half of Big 12 Remains in Top 15 of USA Today Top 25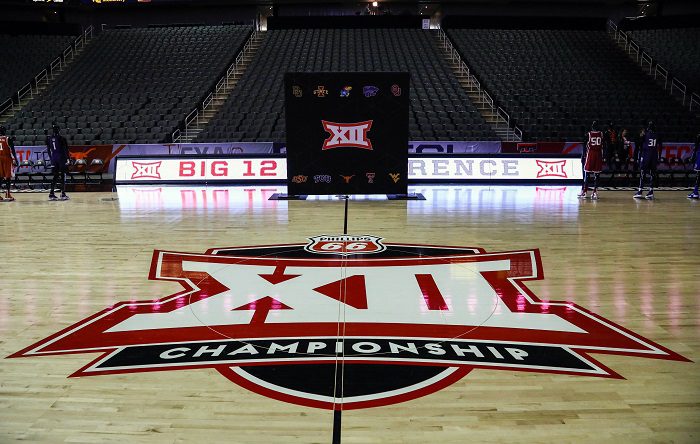 Half of the Big 12 remained in the Top 15 of the USA Today Coaches Top 25 Men's Basketball Poll, released on Jan. 18.
Baylor (12-0, 5-0 Big 12) remained at No. 2 in the poll after playing just one game last week, as the Bears defeated Texas Tech, 68-60, on Saturday. The Bears' other game with West Virginia was postponed due to COVID-19 protocols. Baylor and West Virginia are set to meet in back-to-back games, with the postponed game rescheduled for Feb. 18, three days after their scheduled Feb. 15 meeting.
Baylor hosts Kansas on Monday, the biggest game of the week in the Big 12.
Texas (11-2, 5-1) fell from No. 4 last week to No. 5 this week. The Longhorns played both games last week and suffered their first Big 12 loss, as they lost to Texas Tech, 79-77. Texas bounced back with a win over Kansas State, 82-67, on Saturday, but three Longhorns did not play due to COVID-19 protocols — Greg Brown, Kai Jones and Brock Cunningham. Head coach Shaka Smart confirmed that after the game. Texas and Iowa State postponed their game the next day.
READ MORE: HCS Men's Basketball Starting Lineup for Jan. 17
READ MORE: HCS Big 12 Power Rankings for Jan. 18
Kansas (10-3, 4-2) fell from No. 7 last week to No. 9 this week, based on its 75-70 loss to Oklahoma State. Kansas rallied from 16 down to take the lead, but ultimately lost the game. The Jayhawks did not play on Saturday against Iowa State due to the Cyclones' COVID-19 pause. This is the Jayhawks' lowest ranking in the USA Today Top 25 this season. Kansas plays Baylor on Monday night.
Texas Tech (11-4, 4-3) rose from No. 15 last week to No. 13 this week, after going 1-1 last week. The Red Raiders handed Texas its first Big 12 loss on Wednesday, while falling to Baylor on Saturday. By beating Texas, the Red Raiders recorded a 'signature win,' their first win over a Top 25 team this season.
West Virginia (9-4, 2-3) was on a COVID-19 pause all week and did not play. The Mountaineers fell from No. 14 last week to No. 15 this week. The Mountaineers won't play until at least Saturday when they're expected to face Kansas State.
Oklahoma State (8-3, 2-3) received 53 votes, up/down from the 28 it received last week. The Cowboys defeated Kansas, 75-70, last Tuesday.
This Week's Big 12 Schedule (all times local)
Monday, Jan. 18
Kansas at Baylor, 8 p.m., ESPN
Tuesday, Jan. 19
Kansas State at Oklahoma, 5:30 p.m., FOX Oklahoma
Oklahoma State at West Virginia, postponed (COVID-19)
Wednesday, Jan. 20
Texas Tech at TCU, 7 p.m., Big 12 Now
Texas at Iowa State, postponed (COVID-19)
Saturday, Jan. 23
West Virginia at Kansas State, time TBD, TV TBD
Iowa State at Texas Tech, time TBD, TV TBD
Kansas at Oklahoma, 11 a.m., TV TBD
Baylor at Oklahoma State, 1 p.m., TV TBD
Texas at TCU, 5 p.m., ESPN2
**Want to win a $20 gift card? Go sign up here and join our conversation! The best poster each week wins a gift card to your favorite establishment!**