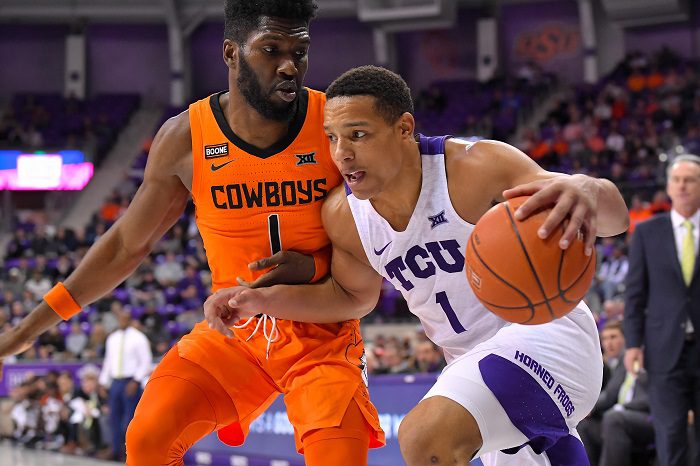 Desmond Bane's start with the Memphis Grizzlies has gone so well that fans want the Grizzlies to move him into the starting lineup NOW.
There WAS an opening, as the Grizzlies' leading scorer, Ja Morant, was out with an injury. But he returned on Jan. 16, and that's likely to keep Bane on the bench for some time.
But Bane's 3-point shooting prowess, something that TCU Horned Frogs fans know all too well, is placing him in the good graces of Grizzlies fans early in this NBA season. And it's that 3-point shooting will keep him a part of the Grizzlies' rotation, now that Morant is back.
One of his former Big 12 rivals, Iowa State's Tyrese Haliburton, is ahead of him right now. And Kings fans are just dizzy with Haliburton hysteria. Even Bane has noticed.
" "
Bane played 22 minutes against the Phoenix Suns on Monday, scoring 10 points, including two 3-pointers. The Grizzlies won the game, 108-104, to get back above .500.
Grizzlies fans have taken note of Bane's play from the outset, too. Some are getting quite analytical about it, too.
For much of the season, Bane has shot better from the 3-point line than from the field, though the two percentages flipped a bit after Monday's game (45.9 percent from the arc and 46.5 percent from the entire field as of Jan. 19). That's made him one of the first players off the bench for the Grizzlies, as his quality 3-point shooting is the type of bench lift every NBA team is looking for.
With averages of 8.5 points per game, 2.9 rebounds per game and 1.0 assist per game, he's emerged as one of the Grizzlies most consistent bench threats. In his first 13 games:
Bane has made at least two 3-pointers 10 times;
Bane recorded his NBA career high of 16 points against Boston on Dec. 30;
He followed that with a 10-point game against Charlotte and then scored 13 points against the Los Angeles Lakers, the most productive stretch of his young NFL career;
And Bane is already a Top 20 NBA 3-point shooter by percentage.
This for a team that is trying to rebuild itself into a consistent winner, and the Grizzlies were that not so long ago. From 2011-17, the Grizzlies made six straight playoff appearances, including a bow in the Western Conference Finals in 2013. That team was anchored by Marc Gasol, Zach Randolph, Mike Conley and Rudy Gay.
While Grizzlies fans are learning about Bane game-by-game, Horned Frogs knew exactly what Memphis was getting when it took the senior guard in the first round of the 2020 NBA Draft.
Bane left Fort Worth as TCU's all-time winningest player with 84 wins and its all-time leader in games played at 141 games (meaning Bane never missed a game in his TCU career). Bane finished No. 3 all-time in scoring (1,784 points), No. 3 in made field goals (659), No. 1 in made 3-pointers (249) and No. 5 in 3-point field goal percentage (43.3). He made at least one 3-pointer in 87 of his last 97 games at TCU.
After 13 games, Bane's 3-point percentage in the NBA has gone UP from his college percentage. Now, it may not stay that way, of course. But Bane's impact on Memphis 13 games into the season makes him a building block for its future.
**Want to win a $20 gift card? Go sign up here and join our conversation! The best poster each week wins a gift card to your favorite establishment!**