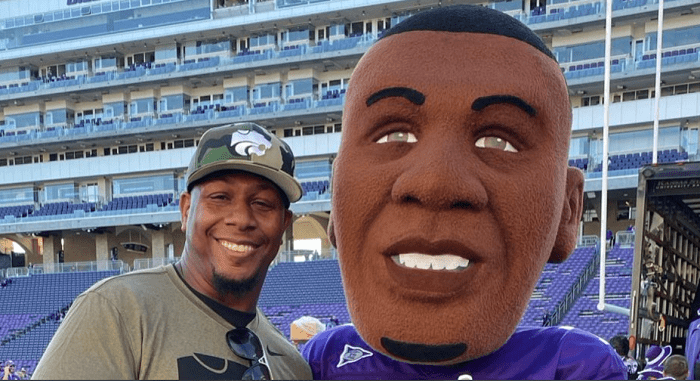 Last week I wrote a piece about the 2021 Big 12 inductees into the College Football Hall of Fame. It was nice to see Darren Sproles get inducted along with Bob Stoops, who has some ties to Kansas State, but it left K-State fans once again wondering why an obvious choice, Michael Bishop, was passed over.
If you ask any Kansas State fan who they think is the best quarterback in school history, most will say Michael Bishop. Some old-schoolers might say Steve Grogan or Lynn Dickey, but they know in their hearts that Bishop is the man. By 1996, Bill Snyder built the Kansas State football program to a level where they were competing near the top of the league and making yearly bowl game trips. K-State reached their most prestigious bowl game after the 1996 season, playing in the Cotton Bowl.
Up until 1997, K-State Football was a nice little story. It was a great turnaround of what was considered the worst program in college football. Nebraska was still the class of the league and was competing for national titles and Kansas State had yet to beat them. At the time, Colorado was competing with Nebraska and normally finishing second in the Big 8. K-State was the third or fourth-best team in the league. Michael Bishop arrived in 1997 and all of that changed. He led the Wildcats to an 11-1 record in 1997, a victory over Syracuse in the Fiesta Bowl, and a number eight ranking in the final AP poll. In 1998, it could be argued that K-State had the best team in the country. Bishop led them to a number one ranking and they would have played Tennessee for the national championship had they not lost in overtime to Texas A&M in the Big 12 championship game. He took the program to the next level.
A quick personal Michael Bishop story. There was a group of neighbors of my parents that went to one or two K-State games a year with us. Before Bishop, they knew we were K-State fans but had not gone to any games. Once Bishop showed up and the team started making major waves and getting ranked nationally, K-State football games were a hot ticket in Kansas City. Bishop and the Wildcats were a phenomenon. I'll never forget one game we went to. We all had seats in the north end zone. At the time, the University set up temporary folding chairs, as it was considered an "overflow" crowd. The neat thing was that it was general admission so you could sit anywhere and you were near the players when they came in and out of the locker room. After one big victory, Michael Bishop was walking off the field and up the hill to the locker room and my Dad's neighbor Mel reached out and gave him a high five and jokingly yelled, "MICHAEL BISHOP JUST GAVE ME A HIGH-FIVE! I'M NEVER WASHING THIS HAND AGAIN!"
The point of the story is that Michael Bishop made K-State football a big deal. Not just locally, but nationally. He quarterbacked what many considered to be the best team in the nation in 1998 and finished second in the Heisman voting after the season. I was curious why he hasn't been voted into the hall of fame so I thought I would look at some of the quarterbacks that have been voted in and compare what they did to what Bishop did. This was kind of a painstaking process, but a necessary one.
When looking at the stats of every quarterback that has been elected to the college football hall of fame, I noticed that there has been nobody elected that has only played two years in college. Some played three years, but most played four. Bishop was a Juco transfer that only had two years of eligibility when he came to K-State, so that might be why he is not receiving enough votes to become a member. I only looked at quarterbacks, so I'm not sure if there is some kind of unwritten rule that makes it difficult for Juco transfers to gain admission. It's my hunch that may be an issue, but I can't confirm it.
I looked at the passing and rushing stats of some of the quarterbacks recently inducted that played around the time that Bishop did to see how he compares to them. I used sports-reference.com to look up the statistics. The name, number of years played, and career stats of each quarterback is below. This was interesting and enlightening to look at.
Michael Bishop (Two years): 4,401 career passing yards, 36 touchdowns, 13 interceptions, 147.2 rating, 1,314 rushing yards, 23 touchdowns
Troy Aikman (Four years): 5,781 career passing yards, 42 touchdowns, 21 interceptions, 147.1 rating, 107 rushing yards, 3 touchdowns
Kerry Collins (Four years): 5,304 yards, 39 TD, 21 INT, 137.3 rating, -4 rushing yards, 0 TD
Tommie Frazier (Four years): 3,521 yards, 43 TD, 11 INT, 138.1 rating, 1,955 rushing yards, 36 TD
Major Harris (Three years): 5,119 yards, 41 TD, 26 INT, 144.3 rating, 2,058 rushing yards, 18 TD
Charlie Ward (Four years): 5,747 yards, 49 touchdowns, 22 INT, 141.4 rating, 889 rushing yards, 10 TD
As you can see, Bishop's two-year stats are pretty close to the three and four-year stats of many of the recent quarterback inductees. He also has the highest quarterback rating of any of them. After looking at this, it wouldn't appear that statistics, or lack thereof, are an issue for not inducting him. He meets all of the minimum requirements to get inducted, so I would ask the committee: Why isn't Michael Bishop in the college football hall of fame? Is the fact that he only played two years at the D1 level keeping him out?
The stats are there. His impact on K-State and college football cannot be denied. Just like Darren Sproles, I'd say it's a no-brainer!
**Want to win a $20 gift card?  Go sign up here and join our conversation! The best poster each week wins a gift card to your favorite establishment!**