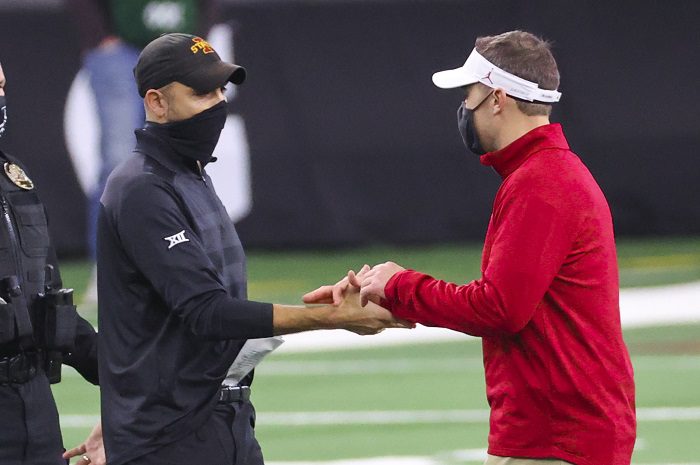 Yes, the 2020 Big 12 football season has barely ended. And heck, we certainly don't want to forget it after the conference capped off a perfect 5-0 bowl season. But for many of us college football fanatics, spring football can't come soon enough. Then, before you know it the weather improves, summer is here and then it's time for another college football season.
So as we already itch for the fall of 2021, here's my way-too-early look at what the Big 12 football season will look like.
1. Oklahoma Sooners
Another program can make the case for the top spot, but sorry, when you've won six Big 12 Championships in a row and you're returning a ton of talent on both sides of the ball, Oklahoma deserves to be the favorite. Plus, they've already got the 2021 Heisman Trophy favorite back at quarterback in Spencer Rattler, alongside lots of skill position talent, and an offensive line that keeps rebuilding, adding a former five-star prospect this week. Also, let's not forget this defense, which was one of the best in the nation in the second half of the season. Alex Grinch did not leave for a head coaching job and is back and poised to continue to build this side of the ball in a way it hasn't in over a decade.
2. Iowa State Cyclones
I feel like any other year of the past few years in the Big 12 Conference, there would be a strong case to be made to put Iowa State in the No. 1 slot. The amount of important players returning on both sides of the ball is incredibly impressive. But I can't justify putting them in the No. 1 based on what the Sooners have coming back and coming in. But when you bring back the Big 12 Offensive Player of the Year (Breece Hall) and Defensive Player of the Year (Mike Rose), plus players like Brock Purdy, Charlie Kolar and more, boy this team is stacked. When I look at the Big 12 going into 2021, there is a huge drop off between No. 1 and No. 2 and then the rest of the conference.
3. Texas Longhorns
The Texas Longhorns have the talent, but the talent is never the problem in Austin. It's turning all that talent into Championships. Steve Sarkisian is now in charge and he's putting together an incredible staff. However we've been sold that optimism before in Austin. But, Texas did lose three games by 14 points this past season and when you look at how the team can build around players like Bijan Robinson and Alfred Collins on both sides of the ball, there is a strong case to be made for Texas to be a serious competitor atop the Big 12.
4. TCU Horned Frogs
The Horned Frogs have now had three mediocre seasons in a row, which doesn't happen under Gary Patterson. But is this the year they finally snap that streak and get back to competing atop the Big 12 standings? The defense will be fine. It always is under Gary Patterson. Advanced metrics had it as one of the best defenses in the nation the second half of the season. The question is on the other side of the ball. If Max Duggan can take the next step at quarterback, while running back Zach Evans keeps improving and wide receiver Quentin Johnston can blossom into a star, this offense, that has been holding back the program the last few years, then TCU can get back being a top 3-4 Big 12 team.
5. Oklahoma State Cowboys
Oklahoma State didn't reach its potential in 2020. There were, at least, Big 12 Championship Game aspirations, at best, a dark horse in the College Football Playoff. Oklahoma State's defense is what kept it in the mix in 2020, and there are lots of key players coming back using their free year of eligibility, like star safety Kolby Harvell-Peel. Plus, Spencer Sanders has another year under his belt at quarterback and the running game should be just fine replacing Chuba Hubbard, who didn't meet expectations in 2020, with the likes of Dez Jackson and others. But it does feel like the kind of season where Oklahoma State is looking at a middle-of-the-pack finish in the conference.
6. West Virginia Mountaineers
This is where things get interesting. The next four teams could finish in any order and it would not surprise me. The West Virginia Mountaineers are returning nine of 11 starters on the defensive side of the ball. That has to excite WVU fans. But as exciting as that side of the ball is, there remain serious concerns on offense, most notably at quarterback, where it's not clear if Jarret Doege is a quarterback who can lead the Mountaineers to becoming a competitor in the Big 12 Conference. Even after a solid win in the Liberty Bowl over Army, it's clear the Mountaineers need to figure out the offensive side of the ball, most notably the quarterback position, before we can justify this being a top half of the Big 12 team.
7. Baylor Bears
This spot was a real toss up for me at No. 7. I'm leaning Baylor because of how they finished and the season: They should've beaten Texas Tech, got by Kansas State, played with Oklahoma, before getting blown out by Oklahoma State in a game where they almost didn't play due to COVID issues. Charlie Brewer transferred to Utah, but I believe Baylor could actually improve at QB under Jacob Zeno and new offensive coordinator Jeff Grimes. Baylor's defense will be healthier under Dave Aranda next season and will have his system under their belts, which they didn't get to last season with no spring or summer camp. This could be the surprise team in 2021 in the Big 12.
8. Kansas State Wildcats
Kansas State had a great start to the Big 12 season with a 4-0 record before losing five in a row to close the season. The good news is that quarterback Skylar Thompson is coming back in 2021 to lead a team that was incredibly young in 2020 and it showed as the season progressed and Thompson's leadership wasn't filled after his mid-season injury. The entire offensive line was turned over from 2019 and this unit will have another offseason to grow together. Now the defense does lose a lot of key pieces and is the side of the ball that concerns me more heading into the season, but Chris Klieman has found a way and I believe he will again.
9. Texas Tech Red Raiders
The Texas Tech Red Raiders don't appear to have a clear direction under Matt Wells. They also lost quarterback Alan Bowman to the transfer portal this past week. Now they are returning nine seniors for 2021, after they decided to use their free year of eligibility, including the leading four tacklers on the team, but still, this is a team that still has a lot of work to do to find itself in competition with the top teams in the Big 12 Conference. Hopefully new offensive coordinator Sonny Cumbie has the magic touch to fix that side of the ball in 2021.
10. Kansas Jayhawks
Was there ever a doubt? Listen, KU football has a massive rebuild on its hands. But Les Miles is going about this the right way. He just recruited the No. 6 Class of 2021 in the Big 12 Conference, and I talked about that last week with Mike Plank of Rock Chalk Talk. It's a long road in Lawrence, but if there is a right way to do it, this is it from Coach Miles and his staff.
**Want to win a $20 gift card?  Go sign up here and join our conversation! The best poster each week wins a gift card to your favorite establishment!**