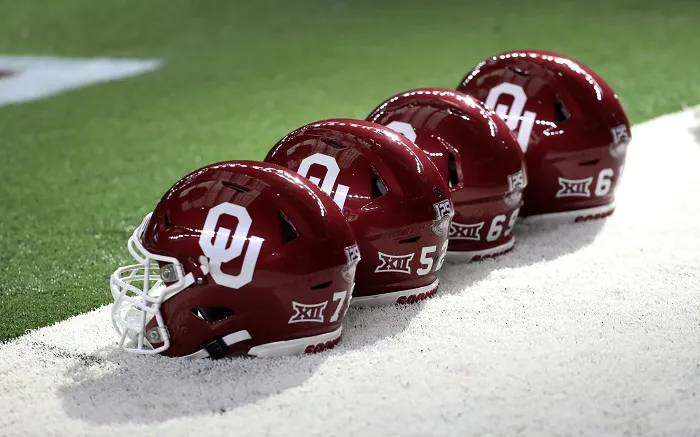 Eric Bassey was a stalwart for the Oklahoma Sooners defense from 2001-2005. Eric played both safety and cornerback for Oklahoma before playing five years in the NF, one with the Buffalo Bills and another four with the St. Louis Rams. Bassey had some brutal injuries at bad times, getting hurt against the Longhorns in 2005, likely costing him a chance to get drafted, and then again during his tenure with the Rams. He was a special teams captain, who started to get a lot of run at both cornerback and safety. For Eric, it was over in a second. But he left the field with no regrets.
Bassey sat down for an exclusive conversation with Heartland College Sports to reflect on his career. "I came out of high school, as the No. 3 cornerback in my class, I was pretty fast and I never slowed down. Bill Bellichick clocked me at a 4.29 [40-yard dash] during my Pro Day," Bassy said.
He went on to quip, "I had had nice speed, and I did not slow down, we had this guy you might have heard of named Roy Williams. When he moved on to the Cowboys, Bob [Stoops] wanted me at safety because I ran through people."
Despite his aforementioned setbacks, Bassey still played several seasons in the NFL and had some advice for today's players, saying , "My advice to the young guys though is to look at all your options. I came into the league undrafted. I knew my best way to make a living in the league was to try my hand at being a great special teams player. So, I was with the special teams coordinator watching film every morning, became captain, and worked my way for a chance to get on the field. In the NFL they are not going to just throw you out there at defensive back if you make 300k, while others are making millions. Also, many do not know this: if you play in the NFL, when you are done [with your career] they will pay for you to finish schooling."
These days Eric is enjoying the retired life, but stays busy with different hobbies and interests. "I have helped coach for a couple high schools, do a few entrepreneur things here and there. My daughter just set the national record in her age group in the 100 meters, so I am a track dad too for sure." 
Also, Bassey remains close to the OU football program, keeping contact with Calvin Thibodaux who currently coaches the defensive line, and of course Bob Stoops, who he considers like a father.
He sees Oklahoma's 2021 football season as promising, saying, "Well, I definitely see them getting back to the College Football Playoff next year. I think we have still had a great chance, because we get [Jalen] Redmond, and [Kennedy] Brooks back. But I would have bet a lot of money on OU if [Rhamondre] Stevenson and [Ronnie] Perkins had also returned."
The turnaround on the defensive side by Alex Grinch, who just wrapped up his second season in Norman, was impressive. Oklahoma finished the year with one of the hottest defenses in college football.
Bassey admitted it's a different game today and that his former coaches in Norman wouldn't like it, saying, "In this era it is different. Mike [Stoops] would have lost his mind on us giving up over 250 yards, or 30 points. You crazy? This era is different. Now, it's about getting key stops, turnovers. Hold people under 30. But you got to get your offense extra possessions. That is how defense is now. As for the coaches, I think they are doing a good job, everyone fits their role. I do not look at things the way fans do, and it is the players that play. At the end of the day, a coach can put you in a good spot, but the players must make the plays. It is obvious when coaches do not and right now they are doing their job. I'll take it over three years ago, absolutely."
Recruiting isn't an exact science, but Bassey is pleased overall with what OU has done there, adding, "Listen man it's about finding talent, not projecting talent. Two-star, three-star, they can just as easily be better than five stars. Stay in that top ten area, get some cant miss guys like your Adrian Petersons." Bassey was also impressed by Sooners redshirt freshman QB Spencer Rattler, saying, "He grew up man. Early in the year he made some throw, that I call young man throws. He really matured down the stretch and obviously he has huge talent. That was never a debate, but being a Matthew Stafford to Tom Brady is just a couple of decisions a game."
As for guys who could have come back, but did not, Bassey was not shy in offering his opinion, saying, "I'm not privy to the information, like what [NFL Draft] grades everyone got. But I think Tre Norwood should have come back, [No.] 29 though [referring to Rhamondre Stevenson]? You're a running back man, I get it, go on. Ronnie Perkins, I would have come back. He could have put on a show in 2020 and been a first-round pick. Bassey said of the players who chose to leave early."
But all of this ties into how today's game and the players are different from his playing days, and that's why he thought a change was right for Mike Stoops, who was let go by Lincoln Riley two years ago, but almost ended up back in the Big 12 Conference in recent days. "It is a bit harder to coach some of these guys than before. It's harder to coach than ever before, and now this transfer portal. How do you approach the way you coach with that? If you are too hard on a guy, could he take it as a slight and look elsewhere? Times have changed," Bassey said.
As we wrapped up our conversation with Eric Bassey, he wouldn't be a Sooner without at least one swipe at Texas. He described the firing of Tom Herman by saying, "Texas is bowing down to the Nick Saban industrial Complex. I thought Herman would do better than he did, but he deserved another year. I would have given him one [more]."
Most fans will always remember one play of Eric Bassey's career. Bassey recovered a fumble and returned it for a touchdown against Alabama in 2002. Eric also said it was his favorite and most memorable play in his career. "It wasn't one of Alabama's best teams, but you look at what they are now. They played us hard. Two blue blood programs, who are so alike from a tradition standpoint, from a standpoint of how the fans are. Those two programs meet its always an epic match up, always a big game, and always a big deal."
And when you make big plays in big games, you always get remembered by the fan base. And that's certainly the case for Eric Bassey in an OU uniform.
**Want to win a $20 gift card? Go sign up here and join our conversation! The best poster each week wins a gift card to your favorite establishment!**