Oklahoma Sooners
Baker Mayfield Calls Out Browns Blog For Deshaun Watson Trade Speculation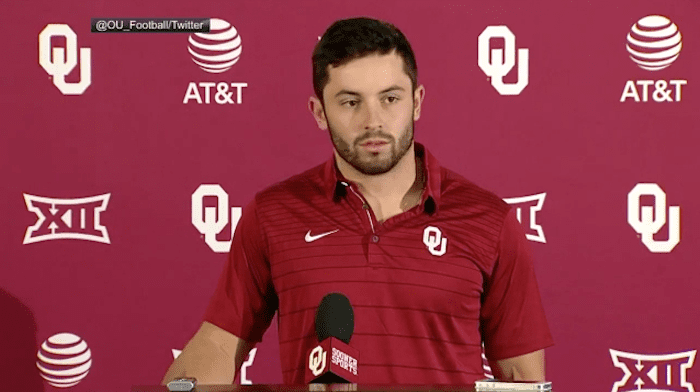 Baker Mayfield ain't playing when it comes to rumors he could be dealt for Houston Texans QB Deshaun Watson.
That's why Mayfield decided to tweet about the topic Thursday afternoon. Mayfield quote tweeted an article. And he used the OK emoji and wrote "Some of y'all "browns" are funny."
Mayfield saw this tweet from a Browns blog and decided he was going to respond.
Then Baker dropped this in response.
The reality is a deal like this is incredibly unlikely to happen. But it seems like it's scenarios and "haters" like this that keep Baker Mayfield motivated (and we're looking at you too, Colin Cowherd).
Mayfield is coming off of a very good season, throwing for 3,563 yards, 26 touchdowns, and six interceptions despite not having Odell Beckham Jr. for most of the season. Plus, the Browns finished with an 11-5 record in the regular season and their first playoff win since the 1994 season.
On pure talent, you probably take Watson over Mayfield, but considering the Browns were a drive or two from the AFC Championship, the quarterback position doesn't appear to be their problem right now.
**Want to win a $20 gift card?  Go sign up here and join our conversation! The best poster each week wins a gift card to your favorite establishment!**