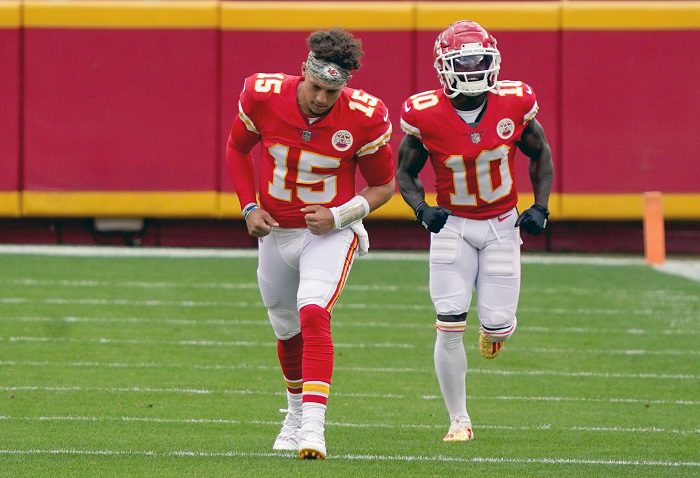 Although the powerhouse conferences like the SEC and Big 10 sit atop the ranks of players in the NFL, the Big 12 always seems to have a multitude of talent representing the conference on the biggest stages. This time around is no different, as the Feb. 7 Super Bowl LV matchup between the Kansas City Chiefs and Tampa Bay Buccaneers will feature six athletes who formerly repped Big 12 schools.
I've gathered a list of all former Big 12 athletes from both teams, according to each organization's official roster. Surprisingly, Tampa Bay has no Big 12 players on their roster, so all of these players will reside on Kansas City's sideline during the 55th annual Super Bowl.
QB Patrick Mahomes – Texas Tech
Perhaps the best thing to come out of Lubbock since Wes Welker, Mahomes took the NFL by storm pretty much from the moment he got to Kansas City in 2017. So far, Mahomes has racked up one NFL MVP award, one Super Bowl MVP award and three Pro Bowl selections, and is poised to add a second Super Bowl trophy when he faces Tom Brady's Bucs Feb. 7.
The former Red Raider quarterback spent three seasons at Texas Tech from 2014-2016. He led the Big 12 in pass completions in 2015 and 2016, and even led the NCAA in passing yards in 2016 with 5,052. He's also the ninth career leader in passing yards in Big 12 history.
WR Tyreek Hill – Oklahoma State
This speedster splashed onto the scene after he was drafted by Kansas City in the fifth round in 2016. The "cheetah" lived up to his name shortly after arriving, using his blinding speed to beat defenders and becoming a deadly weapon in Andy Reid's offense. Hill's been a Pro Bowler every year since he was drafted and a three-time All-Pro First Teamer.
He took an unconventional route to the NFL, starting his college career at Garden City Community College in 2013. The next season he would transfer to Oklahoma State, where he featured as a running back, wide receiver and kick returner. He blossomed into a future star in his one season in Stillwater, however, he would be released from the program after domestic violence allegations in 2014, forcing him to transfer to the University of West Alabama to finish out his college career.
DE Alex Okafor – Texas
One of the most experienced players on the roster, Okafor spent four years in Austin, Texas, as a Longhorn from 2009-2012. He was a prolific edge rusher, totaling 150 tackles, 23 sacks and seven forced fumbles while also earning First Team All-America honors, as well as All Big-12 First Team in both 2011 and 2012.
The Arizona Cardinals drafted him in the fourth round in 2013 and he eventually made his way to Kansas City in 2019, where he still serves as backup defensive end.
WR Byron Pringle – Kansas State
Pringle was a reliable and explosive wide receiver during his two seasons in Manhattan from 2016 to 2017. The third-year receiver actually went undrafted in 2018, then signed to the Chiefs practice squad. He would later be upgraded to the active roster in 2019, where he's gotten decent playing time on a Kansas City squad rich in offensive talent.
LS James Winchester – Oklahoma
The former Sooner long snapper has been in the league since 2013, where he signed to the Philadelphia Eagles as an undrafted free agent. He would later be signed by Kansas City in 2015, where he has remained the starting long snapper since. Winchester played at Oklahoma from 2010 to 2011, totaling seven tackles in two seasons.
RB Damien Williams – Oklahoma
Although this former Sooner opted out of playing at the beginning of the season, and he's even absent from the team's official roster, Williams' Wikipedia page still lists him on the team.
Williams played briefly for OU from 2012-2013, then signed to the Miami Dolphins as an undrafted free agent in 2014. He would later head to Kansas City in 2018, acting as the team's feature back in the Chiefs Super Bowl LIV victory in 2020.
**Want to win a $20 gift card?  Go sign up here and join our conversation! The best poster each week wins a gift card to your favorite establishment!**