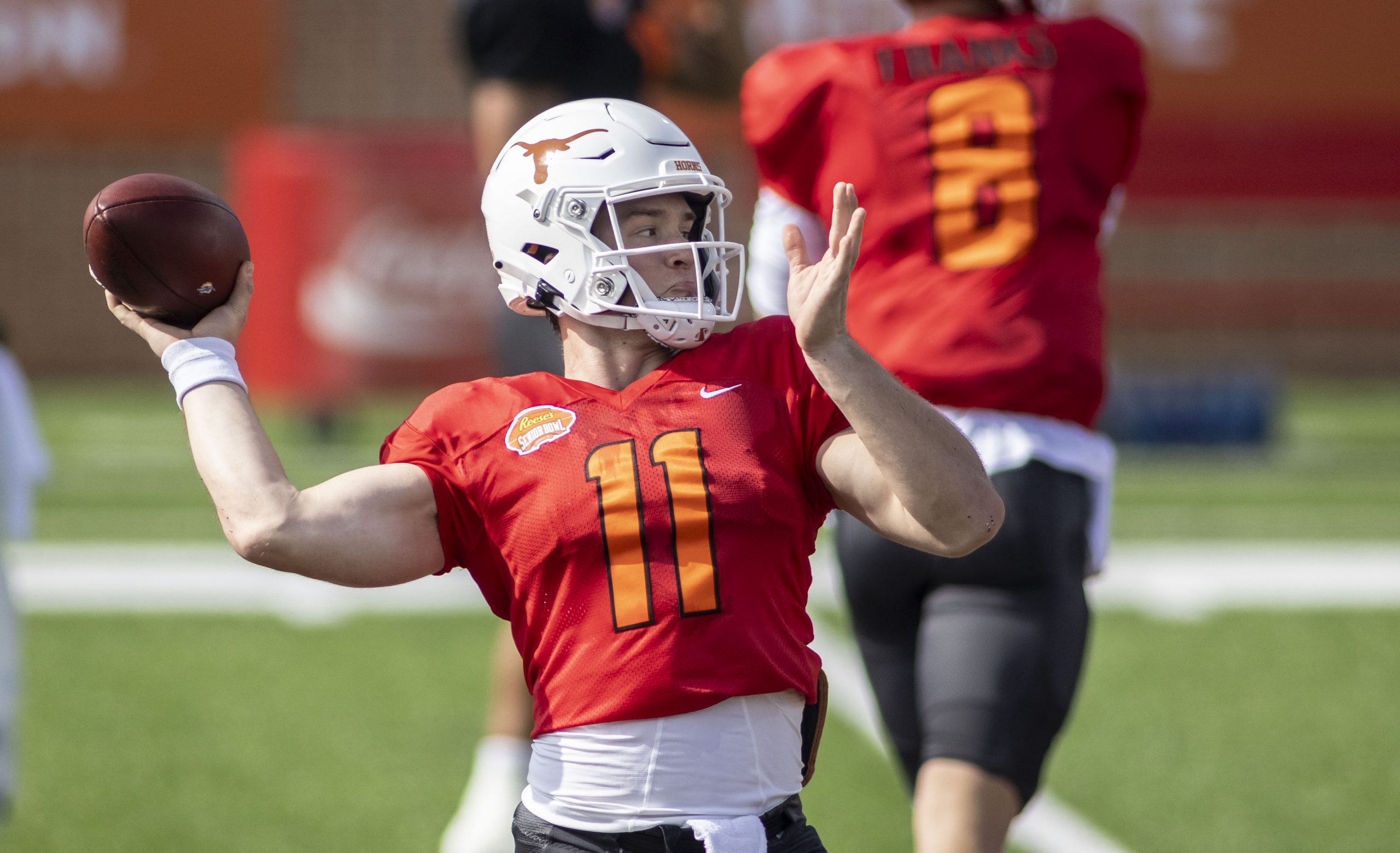 As we get closer to the 2021 NFL Draft (April 29th-May 1st), there are still a few things prospects will go through. While there is no true NFL combine this year, it will put a much larger focus on things such as the Senior Bowl and Pro Days. Any chance to impress scouts is always important and what better way to do that than in front of a national audience? Well, that is exactly what these thirteen former Big 12 players will get to do Saturday afternoon in the Reesse's Senior Bowl from Mobile, Alabama. While this game will be important for every player on the roster, here are my top five Big 12 players to watch on Saturday.
1. Oklahoma State WR Tylan Wallace
If not for injuries and a COVID-shortened season, I think more people would be buzzing about Tylan Wallace. Over the past three seasons, perhaps no other receiver has been better in the Big 12 than Tylan Wallace. All he does is make plays and had his breakout season in 2018 before getting hurt in 2019. By the way, he has had a spectacular career at Oklahoma State despite sub-par quarterback play. He should be a day two guy at minimum and to me is the best Big 12 player in this game.
2. Texas QB Sam Ehlinger
He is the only Big 12 quarterback in this game, and he has quite the reputation. Of course, we all know his work ethic is unmatched and his leadership skills are great. However, is he a guy who can play in the NFL? He is not the best thrower of the football by any means but could maybe find his role as a backup. To some, he may be the most interesting prospect on Saturday.
3. Oklahoma State DB Rodarius Williams
Rodarius doesn't get nearly enough credit as a cover corner and was left of the All-Big 12 team this past season. Many would see he was the best cover corner in the conference last year and he certainly has a case for that. Sometimes no stats are a good thing because that means you are locking down receivers to the point where quarterbacks stay away from you and that is what happened a lot at Oklahoma State. I genuinely believe he will be a solid player in the NFL for many years to come and one could argue he will be the best NFL player out of this entire group.
4. Oklahoma RB Rhamondre Stevenson
Running backs get no love now days but Rhamondre was certainly and interesting player. Despite missing some of the 2020 season, Stevenson showed up to Mobile looking leaner and meaner than ever which is a good look for these big backs who are 220 plus. The man averaged 6.6 yards per carry in 2020 and ran with a chip on his shoulder. And while NFL teams rarely stick to one back, he will be a great addition to any backfield and could show scouts why on Saturday.
5. Oklahoma OL Creed Humphrey
I had to put an offensive lineman on here. Especially when it comes to a player like Creed Humphrey who has been the best offensive lineman in the Big 12 over the last two years. He is smart and is very physical at the point of attack. He's got that nastiness in him that a good center has and by the way, he will be snapping to Sam Ehlinger on Saturday which will be fun to watch. To me, whoever drafts him will be getting one heck of a young man and football player.
Big 12 Player List
Here is the full list of Big 12 players who will be participating in the 2021 Reese's Senior Bowl.
National Team
#2 WR Tylan Wallace (Oklahoma State)
#2 DB Rodarius Williams (Oklahoma State)
#5 DB Tre Norwood (Oklahoma)
#11 QB Sam Ehlinger (Texas)
#22 DB Tre Brown (Oklahoma)
#29 RB Rhamondre Stevenson (Oklahoma)
#30 LB Tony Fields II (West Virginia)
#49 DL Ta'Quon Graham (Texas)
#56 OL Creed Humphrey (Oklahoma)
#79 OL Adrian Ealy (Oklahoma)
American Team
#50 DL Wyatt Hubert (Kansas State)
#56 OL Jack Anderson (Texas Tech)
#99 DL William Bradley-King (Baylor)
**Want to win a $20 gift card? Go sign up here and join our conversation! The best poster each week wins a gift card to your favorite establishment!**