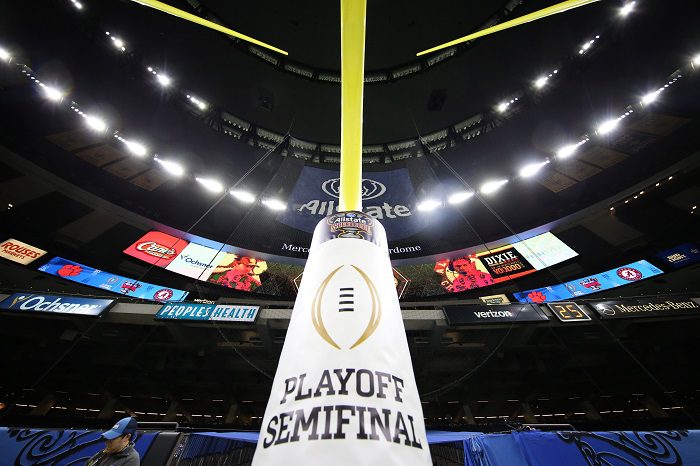 It's early, like maybe way too early, but for some of us, thinking about the 2021 college football season never gets old.
College football reporter Brett McMurphy is in the same boat as the rest of us, which we appreciate. He released the latest odds to win the College Football Playoff next season, and while there are familiar faces at the top, the Big 12 does make multiple appearances, led by the Oklahoma Sooners.
It should be no shocker that the Sooners have the best odds in the Big 12 Conference and the fifth-best odds in the nation behind Alabama, Clemson, Ohio State and Georgia.
Then, Iowa State shows up at 40-1 odds, along with Texas A&M and LSU. Clearly, the gap between the Top 5 teams and the rest of the country is massive as the odds go from 8-1 to 40-1.
Next up in the Big 12 is the Texas Longhorns, sliding in at 100-1 odds with Miami and Minnesota.
But not to be outdone, Oklahoma State, TCU and West Virginia are all given 200-1 odds to win the College Football Playoff. Baylor, Kansas, Kansas State and Texas Tech did not show up with odds.
IF you wanted to really find value, the best value on this list just might be TCU at 200-1. NOT likely at all, but if you want value, that might be the best value bet. OR Texas at 100-1. Maybe Steve Sarkisian finds that lightning in a bottle. Oh, I know some of you are rolling your eyes at me, thinking I'm buying into "Texas is back!", but I'm not.
I'm just trying to find you value bets in college football in early February, because I'm that kind of guy. Or I just have a problem. Yea, it's probably the latter.
**Want to win a $20 gift card?  Go sign up here and join our conversation! The best poster each week wins a gift card to your favorite establishment!**