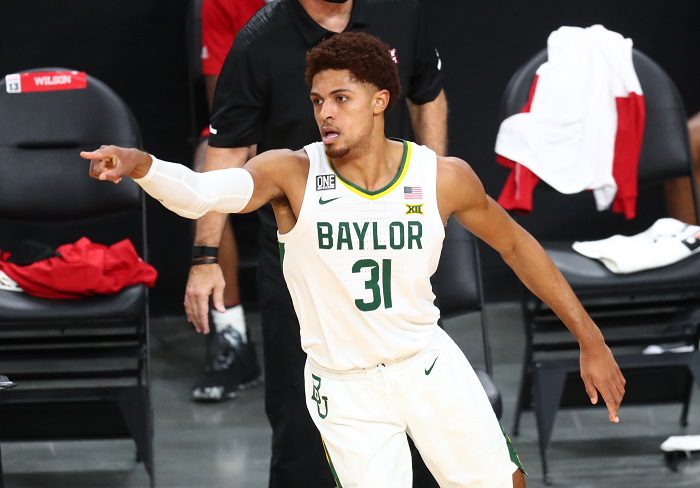 Baylor vs. Gonzaga. It's the game everyone wants played. And I'm here to try to figure out how to play it.
Most have written the game off, thanks to the COVID-19 pandemic. But every time there's Baylor game or a Gonzaga game on TV, the commentator always says, 'The two coaches are hopeful to get the game played at some point.'
What if we could find a way to get a Baylor vs. Gonzaga matchup in the regular season, a matchup of two of the three remaining undefeated teams in Division I, and a matchup that could be a prelude to a future national championship game?
Let's figure this out.
First, look at Baylor's, and Gonzaga's schedules. In February, there is almost no wiggle room. Baylor may not want to add another game against a ranked team, and I can't blame them. The Bears have five in the first 18 days of the month. There is room to add a Monday game on Feb. 8, two days before the Bears take on Oklahoma. There is also room for the Bears to add a late-week game after playing Iowa State on Feb. 23, and before the Bears wrap up the regular season against Kansas on Feb. 27.
READ MORE: Baylor's Davion Mitchell leads Big 12 Top Basketball Players of The Week
READ MORE: Seven Big 12 Teams Among Top 20 Seeds in CBS Bracketology
Gonzaga has a VERY regimented West Coast Conference schedule, as the Bulldogs play every Thursday and Saturday. So Gonzaga's only wiggle room is early in the week. Baylor's only early-week slot is on Feb. 8, and that would put the Bears playing two straight three-game weeks. From a wear-and-tear standpoint, that feels like a no-go.
None of that is good news for a matchup. But what about the first week of March?
The Big 12 implemented a one-week buffer between the end of its regular season, and the Big 12 tournament, which will be held March 10-13. That would be a logical opportunity for Baylor to play Gonzaga. But there two logistics to deal with.
First, Baylor has the matter of rescheduling its OTHER game with Texas, the one that was postponed on Dec. 13. To this point, the game has not been rescheduled, and given the schedule ahead, it seems most likely the Bears and Longhorns will have to convene in Waco, Texas, sometime between Feb. 28 and March 9.
Second, the West Coast Conference Tournament begins on March 4, which is a Thursday. That's right in the middle of that buffer week for the Big 12. Gonzaga will be busy, right?
Not necessarily. Take a look at last year's West Coast Conference bracket and you'll note that Gonzaga didn't play until the fourth day, in the semifinals. The Bulldogs will get several byes as the No. 1 seed. If the WCC starts March 4, the Bulldogs may not need to play until March 8. Head coach Mark Few may not want his Bulldogs sitting idle for a full week.
There's our window.
First, Baylor and Texas could agree, if the Big 12 Tournament seeding is settled by that point, to cancel the game completely. Texas may need that game for seeding more than Baylor, though. So, if seeding is still in play, they could agree to play early in the week, perhaps Monday or Tuesday.
After that, the Bears and the Bulldogs could set up a game for, perhaps, March 5, which is a Friday. Here, the Bears need to be a little flexible and agree to play the Bulldogs in Las Vegas. Agreeing to do that makes little easier for the Bulldogs to stay in town for the WCC, which won't need the Bulldogs for a few days.
Finding a neutral site won't be a problem. It's Vegas.
This would amount to the best postseason warm-up game in college basketball history.
Right now, that seems to be the only logical avenue for the Bears and Bulldogs to meet before the NCAA Tournament. Baylor would need to hope no more of its games are postponed due to COVID-19. Gonzaga would need to hope its season ends as scheduled, too.
Everybody wants to see the Bears and Bulldogs to play at some point this season. Everyone would LOVE it to be in the national championship game, but we know there are no guarantees in the NCAA Tournament. In fact, there really is NO guarantee period that there will be an NCAA tournament.
If there's a chance for Gonzaga and Baylor to play, it's going to be the first week of March. The two programs just have to hope things fall right and that they can agree to terms.
See? Problem solved. What's next?
Update: After this story was filed, Baylor announced that its games with TCU on Feb. 6 and Oklahoma on Feb. 10 were postponed due to COVID-19. That complicates the scenario as outlined, as the Bears now have two games against ranked Big 12 teams that will need to be rescheduled. It's now unclear if this scenario is even possible.
You can find Matthew Postins on Twitter @PostinsPostcard. Send him a tweet with your question to be included in this week's Big 12 Basketball Mailbag, which appears each Friday during the conference season.
**Want to win a $20 gift card? Go sign up here and join our conversation! The best poster each week wins a gift card to your favorite establishment!**