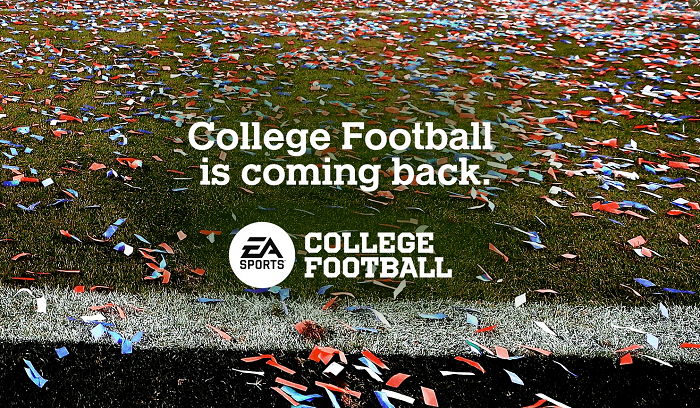 In case you are living under a rock, NCAA Football the video game is back folks! It certainly would have been nice to have it during this pandemic, but it is better late than never. Oh, and by the way, if you have not told your significant other about the comeback of this game you may want to do that because you will be explaining why you are playing this game so much.
I can see it now, pizza boxes stacking up and empty beer cans everywhere but before we can get out hands on this game, we must talk about what changes need to be made before we start playing. With the last game coming out over six years ago, several things have changed within college football and I believe that EA Sports should take my ideas into consideration.
Fix the College Football Playoff
Since the game last came out, there was no such thing as the College Football Playoff, so I am curious to see what EA Sports does here. Obviously four teams will get in but how will they handle the committee? Will there be favoritism? Will it be fair? And how will group of five schools be viewed? I truly hope that this game can take conference bias completely out. I mean what could be worse than having four SEC teams in the college football playoff?
Road to Glory Features
It has been a hot minute since I have done this feature due to my passion for taking programs such as Texas State to blueblood status, but some things need to be shaken up in this feature. First off, I want my created player to have the option to accept money. Give me all the bagmen, crazy recruiting reporters trying to sway me to a school and 100-dollar handshakes. Maybe I go to the local McDonald's to grab my monthly payment at Tennessee or maybe I go on a wild recruiting visit.
I want my own hat ceremony and my own fake Twitter account to clap back at all the 50-year-old men being mad at me for not picking their schools. Either way, I want all the craziness.
Transfer Portal
While transfers were a thing in the old games, they must update them and at minimum have five players looking to transfer each year. This is a now kind of world and very few players are willing to sit and wait for playing time. Maybe a coaching change happens, and ten players decide to transfer. Who knows, let's get crazy with this thing. And please, put a limit on the transfers. We don't need Tate Martell in the game until 2030.
Opt-Outs
Back in the day, this was not really an issue. But does your former five-star recruit and potential first round pick need to play in the Outback Bowl or the Alamo Bowl? Maybe if you were a better coach your team would be in a better bowl game so suck it up and play.
Ban All Big 12 Refs
Well, if you are reading this then you totally understand this rule.
Dynasty Mode
Like I mentioned earlier, as the man in charge, you should be able to dictate how you run your program. Maybe you do the right thing and sell prospects on your school for what it is or maybe you want to run a dirty program who hands out wads of cash. The option should be yours.
Make It Real!
I understand it is just a video game, but it is the year 2021. I want it to feel real. That means no Pac-12 in the college football playoff. It also means that Nebraska will never be good at football again and the never-ending question of "Is Texas back?" will be asked before each season.
**Want to win a $25 gift card? Go sign up here and join our conversation! The best poster each week wins a gift card to your favorite establishment!**