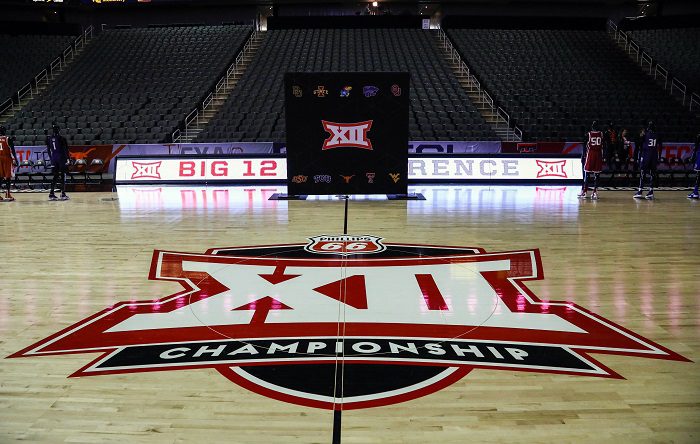 The 2021 Big 12 Men's Basketball Tournament starts March 10 in Kansas City. Here, I predict what I believe will be the seeding for the Big 12 Men's Tournament.
No. 1 Seed: Baylor Bears
The Bears won't get through the season undefeated. At some point, one of the league's Top 5 teams will beat them. But I just don't see the Bears losing more than two league games, and that should be more than enough to secure not only their first outright Big 12 regular season title, but also the conference tournament's No. 1 seed.
No. 2 Seed: Texas Longhorns
The Longhorns had two league losses at the end of January, and they'll likely absorb a couple of more. I envision a scenario where the Longhorns split with Baylor, the teams below them in the Big 12 standings beat up on each other, and Texas heads to Kansas City with the No. 2 seed in hand, albeit by a one-game cushion. The loss to Baylor on Feb. 2 doesn't convince me the Longhorns will fall much further down than this.
No. 3 Seed: Texas Tech Red Raiders
Texas Tech plummeted at the end of the regular season a year ago, losing its final four games. I don't think that's going to happen this season. The Red Raiders seem to have their act together and can play nine players deep now. I think they will win a few games they shouldn't and surge into that No. 3 spot. But that's more of a gut feeling than actual data that I can use to back it up.
No. 4 Seed: West Virginia Mountaineers
I'm not wild about the Mountaineers having to play four games in nine days in late February (and three of them are against Baylor and Texas). The Mountaineers are going to be part of that group of teams that are going to spend February beating up on one another. I think WVU can split with Texas Tech, and earn a split with Kansas and Oklahoma (teams they've already lost to). While Baylor and Texas may sweep the Mountaineers, I think they'll win enough to claim the No. 4 spot.
READ MORE: Baylor's Davion Mitchell leads Big 12 Top Basketball Players of The Week
READ MORE: Seven Big 12 Teams Among Top 20 Seeds in CBS Bracketology
No. 5 Seed: Kansas Jayhawks
Unlike most years, the Jayhawks are part of the beat-up group in the Big 12, and entering February they're not the Jayhawks we're used to seeing, thanks in part of a dip in Jayhawks recruiting (by their standards, of course). I see Baylor and Texas finishing off sweeps against Kansas. The Jayhawks DO have an advantage that not every team has — two games each against Iowa State and Kansas State. I'm not sure winning those four games is a) a given and b) enough to get them out of the No. 5 seed.
No. 6 Seed: Oklahoma Sooners
The Sooners won four games against AP Top 10 teams in January. They played great basketball, but they also feel like a team that may be peaking a bit too soon. The Sooners have four games against ranked teams in February and a back-to-back with a testy Oklahoma State team. The Sooners have four games in seven days to end the season. Those stretches could put them in a bind, wear them down and send them to a No. 6 seed. Of course, this seems out of line with a Feb. 2 Bracketology that has the Sooners as a Top 16 seed in the NCAA Tournament. But the Tournament doesn't start for six weeks. Let's see what happens. I personally think they're the most fluid seed from Nos. 2-6.
No. 7 Seed: Oklahoma State Cowboys
Here's the team that has the potential to wreak havoc on the Big 12 Tournament and reach the semifinals, much like that West Virginia team two years ago. But with such a young group of players, and even with the special freshman that is Cade Cunningham, they'll end up with a seed that will require them to play on Day 1 of the tournament. But they could easily end up playing on Day 3, too.
No. 8 Seed: TCU Horned Frogs
The Horned Frogs don't feel like a team that will get far in the Big 12 Tournament, but their hot start to Big 12 action gave them a head start on the remaining two teams on this list. TCU will find enough wins on the table to maintain a No. 8 seed. But I have a hard time seeing the Horned Frogs finish the league slate any higher than this.
No. 9 Seed: Kansas State Wildcats
These Wildcats might make it to Day 2 of the Big 12 Tournament, given how young talent can sometimes come together late in the season and pull off a surprise. Still, I see the Wildcats getting no higher than this in seeding, which means they'll have to pull off a minor upset to get to Day 2 under head coach Bruce Weber, who sounds like he's on solid ground in Manhattan.
No. 10 Seed: Iowa State Cyclones
It's not hard to project the Cyclones bringing up the rear and playing the No. 7 seed in the first round. The Cyclones were the only Big 12 team without a conference win after January, and the way the race is shaping up the only way they can avoid the No. 10 seed is to pass Kansas State. It's not impossible. The Cyclones are just a game behind. But their winless record in league play includes a loss to K-State. If the Cyclones lose the rematch, they're basically sunk. And the Big 12 Tournament could be curtains for Cyclones head coach Steve Prohm.
Note: Predictions as of Feb. 3.
You can find Matthew Postins on Twitter @PostinsPostcard. Send him a tweet with your question to be included in this week's Big 12 Basketball Mailbag, which appears each Friday during the conference season.
**Want to win a $20 gift card? Go sign up here and join our conversation! The best poster each week wins a gift card to your favorite establishment!**