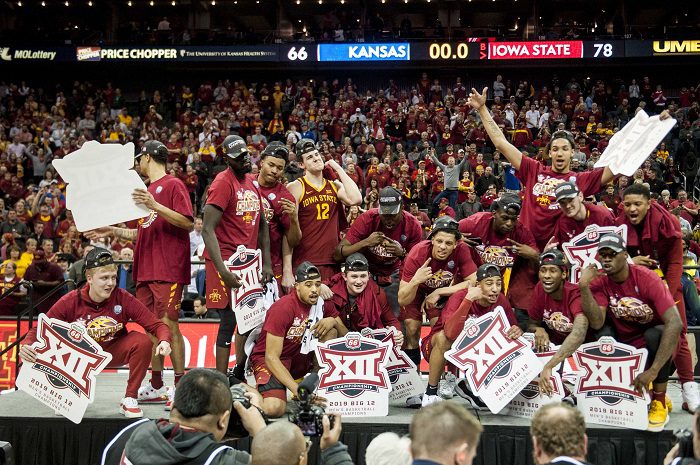 With just over a month left until the men's Big 12 Championship in Kansas City, conference games are about to take on a new meaning and intensity. 
Baylor (9-0) has become the clear front-runner for the tournament's No. 1 seed, but every other spot remains open as teams fight for valuable wins.  
Conference tournament seeding, however, may not matter as much by the time March gets here. Every day it's becoming clearer the top priority for college basketball this year – and possibly college athletics as a whole – is playing the men's NCAA Basketball Tournament.
In an effort to make this happen, coaches and administrators have talked about skipping conference tournaments and sending their teams straight to the NCAA Tournament.  
All About the Money
As Baylor women's head coach Kim Mulkey stated, the "almighty dollar" is running college basketball right now.
Frankly, she's right.
Cancelling the 2020 NCAA Tournament due to the COVID-19 pandemic cost the NCAA more than $800 million in revenue, a 54% drop from the previous year. A $270 million insurance helped offset some of the lost income that comes mainly from television contracts. Still, it was far from the usual income the NCAA, conferences, and universities count on for operating expenses.
The Big 12's share of NCAA revenue dropped from $36 million to $18 million.  
The NCAA distributes 60% of tournament revenue to each conference based on the number of teams that conference had active in each round of the tournament, excluding the Final Four and championship game. Conferences determine how much each school receives as the payments are released over a six-year period.  
Selection Sunday Approaches
Selection Sunday is less than six weeks away, and with so much riding on the 2021 tournament, the NCAA has already made significant changes to keep everything on schedule.
The tournament will take place entirely in Indianapolis and the surrounding area for a bubble-like environment. Replacement teams are also being considered in case any of the 68 teams selected can't attend.
Before leaving for the NCAA Tournament, anyone traveling with a team, including staff and administrators, must have seven consecutive negative COVID-19 tests.
The NCAA Tournament starts with the "first four" teams playing on March 18 followed by the first round March 19-20. The Big 12 Championship is currently scheduled for March 10-13.
If the negative tests are not allowed to count until after a team is done playing in the conference tournament, March 18 is the earliest a Big 12 team could leave for Indianapolis. That does not leave much time for an on-site practice before a first-round game.
Even if negative tests at the conference tournament can count, there's a risk the virus could make its way in despite the meticulous health and safety protocols sure to be in place. A disruption would probably cause delays or cancellations and affect a conference's availability for the NCAA Tournament.  
Is it Worth it for the Big 12?
Electing not to play in a conference tournament and staying on campus does cut down on possible exposures through travel or from people outside the program. It's still possible for COVID-19 to show up while on campus, but it is a more controlled environment.
So, is it worth playing a conference tournament?
It may not be for the Big 12.
The conference is projected to have seven teams in the NCAA Tournament right now and that would probably hold with or without a conference tournament providing plenty of access to NCAA-distributed revenue. If the Big 12 does conduct a tournament and COVID-19 causes a stoppage, any number of those tournament-bound teams may be forced to stay home.
Imagine if a projected No. 1 NCAA Tournament seed, like Baylor, wins the regular season conference title, wins the conference tournament, and then misses the NCAA Tournament because someone got COVID-19 at the conference tournament.
What a tough way to end a season especially after being tournament-bound in 2020 too.
If individual teams skipped conference tournaments, that might leave the automatic qualifier bid available for a team other than the regular season champion. The selection committee would need to consider that scenario on top of disrupted and uneven schedules.
Would the automatic qualifier still come from the conference tournament or would it default to the regular season champion? Would sitting out or cancelling a tournament affect seeding or bubble status if other teams elect to play?
Depending on the answer to these and other possible questions, the decision to play or not play a conference tournament becomes even harder. Conference tournaments bring in much-needed revenue from television, ticket sales, and other game-day purchases.
The question for every conference becomes is conducting a conference tournament and possibly missing the NCAA Tournament worth the risk.
The National Association of Basketball Coaches has started talking about the viability of playing conference tournaments this year and some coaches think cancelling is the right move. A few conferences have already decided to move forward with their tournaments while others, including the Big 12, have yet to make a final decision.
Over the coming weeks, conference tournaments will receive a lot of attention. Cancellations and modifications are almost expected through this process. The ultimate goal, though, is to play the NCAA Tournament and increase revenue for every team even if that means conference tournaments take a hit.
All hail the almighty dollar.