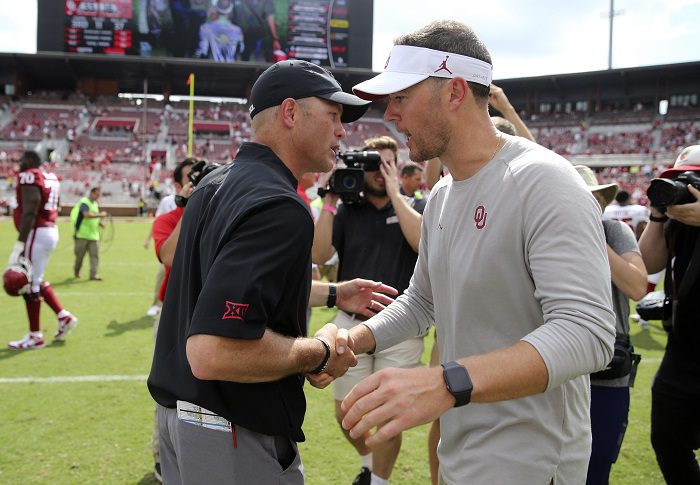 We are currently in a football drought and what better what to heat things up even more than a coaching hot seat? Here I will rank all the Big 12 coaches from least hot to most hot. While some coaches have an ice block for a seat, others are sitting on a bed of coals so let's get started.
10. Oklahoma Head Coach Lincoln Riley
I mean, duh right? Lincoln Riley has won a Big 12 championship every year since taking over at Oklahoma and has had three appearances in the College Football Playoff. In fact, I would say he is a top five coach in all of college football and any program would be lucky to have a coach like him. His seat is about as hot as the North Pole.  
9. Iowa State Head Coach Matt Campbell
Coach Matt Campbell is fresh off Iowa State's first ever appearance in a conference title game and a Fiesta Bowl victory. And while Iowa State didn't win the Big 12 this past season, he has done a remarkable job with the program in Ames. He has fully turned the Cyclones from a pushover to a bully in the Big 12. Since 2017, Iowa State has a better Big 12 record (24-12) than the Texas Longhorns (22-13). Let that sink in.  
8. TCU Head Coach Gary Patterson
Despite, having three sub-par seasons over the past three years, Gary Patterson is TCU football. He built the program from the ground up and has taken the program through three different conferences now. Basically, when Gary calls it quits is when TCU starts looking for a new coach.
7. Kansas State Head Coach Chris Klieman
I know this past season did not go as planned, but how about beating Oklahoma in back-to-back seasons? Of course, losing your starting quarterback throws a wrench into the entire season as well. I think Chris Klieman is a solid head coach and as long as he is in Manhattan, Kansas, this program will be in good shape. Some may have him lower on this list, but I feel like Kansas State feels good about the future with coach Klieman.  
6. Baylor Head Coach Dave Aranda
After a 2-7 season, most people would be freaking out but not Baylor. Remember Matt Rhule's 1-11 2017 season?  Everyone knew Baylor was going to take a step back this past year from their magical 2019 season. I am not saying Aranda is a home run hire as a head coach, but he will need more than one bad season to be on any sort of hot seat. I mean, he just got to Waco.  
5. West Virginia Head Coach Neal Brown
We knew West Virginia needed some time having a huge overhaul after the 2018 season. Neal Brown did a good job of keeping the Mountaineers competitive over the last two seasons, but quarterback play his been the Achilles heel in Morgantown since Will Grier left. Since Brown took over, West Virginia has a 7-10 Big 12 record and I believe he will need to have a productive 2021 season before we start talking about his seat getting warm.  
4. Oklahoma State Head Coach Mike Gundy
Yes, he is a man, but he is no longer 40. He is 53 and has been the face of Oklahoma State since he took over in 2005. Mike Gundy made Oklahoma State into a Top 25 program. However, the problem has been getting over the hump not only of his archrival Oklahoma but making it to a Big 12 title game. Since the Big 12 conference championship game return in 2017, Oklahoma State has not made it to the dance quite yet. In fact, the Cowboys have a Big 12 record of 14-13 over the past three seasons. The question is, where is this program headed? Up or down? I think the Cowboys have potential in 2021 but the problem hasn't been potential, it's been results.  
3. Kansas Head Coach Les Miles
It is time to start wondering when it will be time to call it quits for Les Miles. He has a 3-18 record and just went winless this past season. Sure, he is bringing in some donations and is doing things the "right way" recruiting but he still leaves plenty to be desired as a head coach. I doubt Kansas will part ways even if he goes winless in 2021 but at some point, progress on the field matters. And losing your offensive coordinator to a group of five school is not a good way to start 2021.  
2. Texas Head Coach Steve Sarkisian
I know what you are thinking, "DEREK HE JUST GOT THERE!" But you don't pay 15 plus million dollars to get rid of your old head coach for no reason. That means you want to win and win now which is what Texas wants despite not getting it. Steve is on the hot seat from day one until his time in Austin is up. Making a conference title game should be expected and if Texas falls short this upcoming season, 2022 will be interesting.  
1. Texas Tech Head Coach Matt Wells 
This should come to no surprise to anyone. Texas Tech football has been stuck in the mud for years and has been desperately trying to get out. I questioned the Wells hire and after back-to-back four-win seasons, I would say it would be fair to question the hire going into year three. Someone tell me, since Matt Wells arrived in Lubbock what has gotten better within the football program? Getting a new offensive coordinator was a step in the right direction but if another four-win season happens, Matt Wells should be worried about making it to 2022.  
**Want to win a $20 gift card?  Go sign up here and join our conversation! The best poster each week wins a gift card to your favorite establishment!**